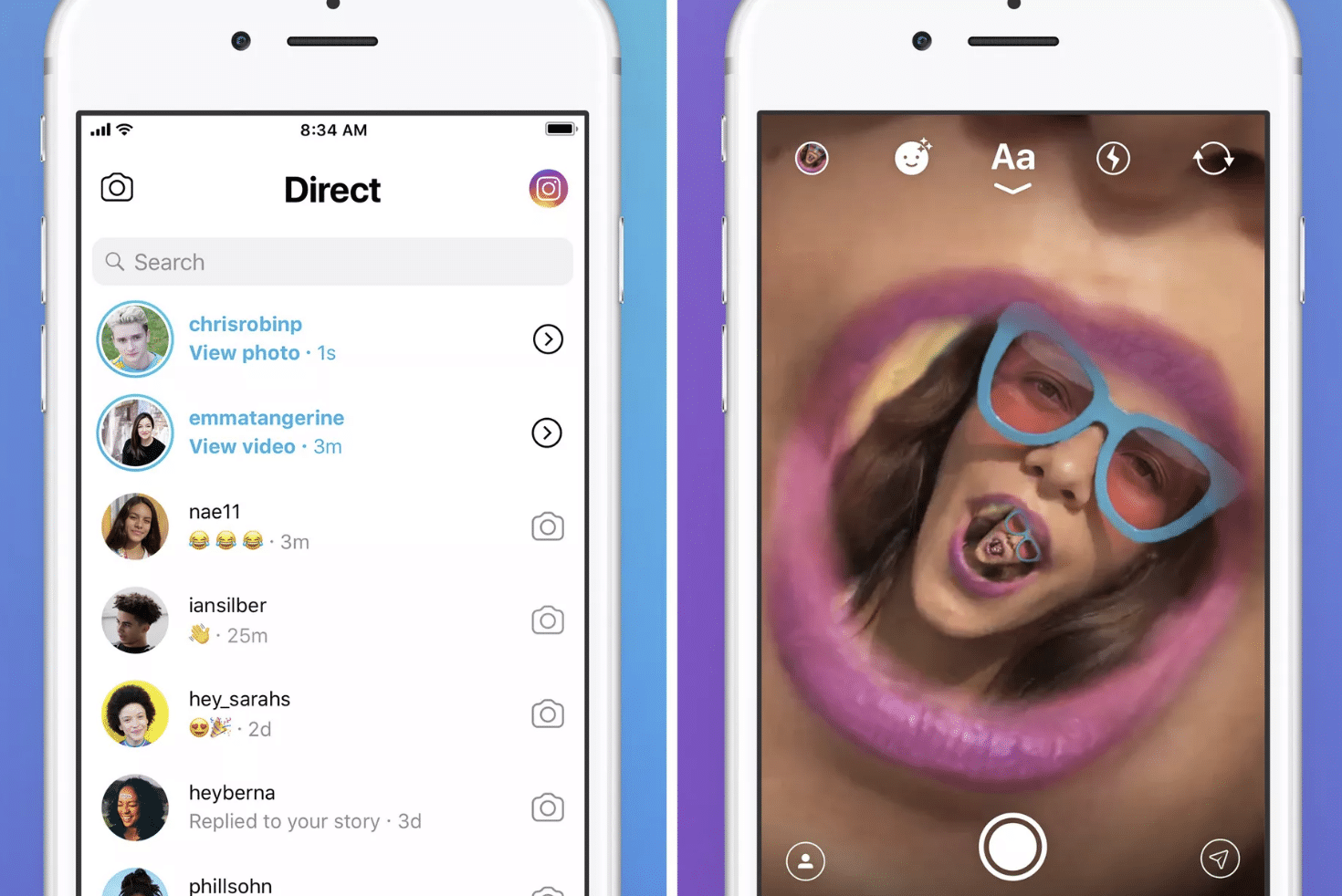 Much like Snapchat, Direct opens to camera and sends chats, photos, and videos. Photo courtesy of The Verge.
Instagram is turning its messaging feature, Direct, into a Snapchatesque standalone app. The resemblance between Direct and Snapchat is hard to ignore.
Much like Snapchat, Direct opens to camera. From there, users can either send a message or take a photo or video, applying Direct's three available filters. To the left of the camera is the profile where users can view settings, switch accounts, and navigate to various parts of Instagram. To the right of the camera is the inbox. If users wanted to return to Instagram, they could swipe right on the screen. Similarly, they can swipe right on Instagram to return to Direct.
Instagram is currently testing Direct in Chile, Israel, Portugal, Italy, Turkey, and Uruguay. Once it is downloaded to Android and iOS devices, the messaging version in Instagram disappears.
According to Instagram's product manager, Direct must become its own app to improve and evolve.
"We want Instagram to be a place for all of your moments, and private sharing with close friends is an important part of that," said Instagram Product Manager Hemal Shah in an interview with The Verge. "We can make it even better if it stands on its own. We can push the boundaries to create the fastest and most creative space for private sharing when Direct is a camera-first, standalone app."
However, enhancing the user experience is likely not the only reason Instagram is testing Direct. Given Direct's suspiciously similar appearance and functionality to Snapchat, Instagram may be, once again, testing Direct for the same reason it launched Instagram Stories: to copy Snapchat and steal its users.
Additionally, Instagram may be preparing to monetize Direct if it's anything like its parent company, Facebook. Much like Direct, Messenger was once a feature that lived within the Facebook app until 2014 when it existed as its own. When Messenger launched, the messaging feature disappeared from Facebook, forcing users to download the app version. CEO Mark Zuckerberg's reason for this change echoes Shah's reason for testing Direct.
"On mobile, each app can only focus on doing one thing well. Asking folks to install another app is a short-term, painful thing, but if we wanted to focus on serving this [a better messaging feature], well, we had to build a dedicated and focused experience," said Zuckerberg in an interview with The Verge after Messenger launched.
A few years after Facebook perfected Messenger and gained more monthly users, the media giant launched Direct-to-Messenger ads and tested Messenger carousel ads, Messenger Broadcast, and Streak, an engagement feature created to increase users and time spent on the app, perhaps to create an environment perfect for advertising.
Given Facebook's history of monetizing its family of apps, it wouldn't be surprising if, a few years after Direct rolls out globally, Instagram follows in its parent company's footsteps by forcing users to download the app and testing ads inside of it.