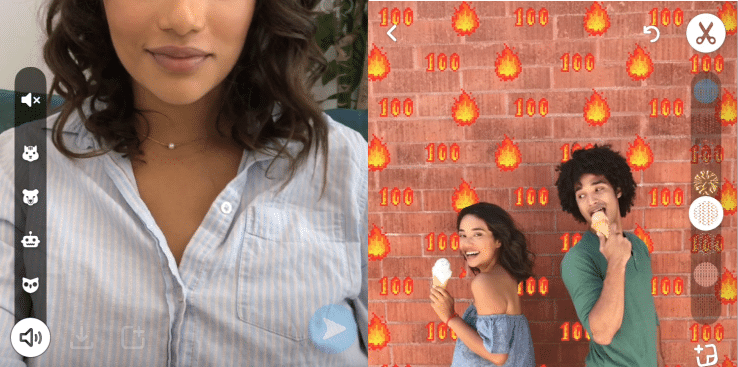 One thing that has continued to put Instagram Stories in the lead against Snapchat is the ease of discovery. Users can easily discover content, celebrities, personalities, and businesses. Now, Snapchat is violating its steadfast aversion to discovery and branding with its latest rollout of links and creative tools that encourage branding across the platform.
The primary distinction between Instagram Stories and Snapchat Stories has been the ease of discovering people. Celebrities, personalities, or businesses can easily promote themselves without having to pay for ads. To compete, Snapchat is now making itself more open to discovery tools.
According to TechCrunch, Snapchat's newest link and creative tools are rolling out globally on iOS and Android. The new Snapchat tools to explore are:
Paperclip
You can now attach a website link to a Snap. Users simply swipe up to open the link in Snapchat's internal browser. The Paperclip button is accessible through the Vertical Toolkit. To take precautions against phishing scams or dangerous websites, Snapchat mandates strict obedience to the network's terms of service, community guidelines, and privacy policy. Additionally, according to TechCrunch, Snap will use automated trust and safety tools as well as Google's Safe Browsing service information to warn users when necessary. Users are encouraged to report suspicious content.
Backdrops
Cut out objects in Snaps and place creative backgrounds to enhance them. The Backdrops tool is accessible through the Scissors and Vertical Toolkit icons. Brighten a scene with this simple photoshop-like feature, giving your image creative depth.
Voice Filters
If you thought the voice-changer AR lenses were fun, you'll enjoy Snapchat's newest voice filters. You can now remix voices in all your video Snaps. Tap the speaker icon and select your desired character voice. Be silly and creative! For businesses that want to engage with their audience, voice filters make for a fun storytelling tool.
Will Snapchat prove successful in its competition with Instagram Stories? Will the newest addition of links, backdrops, and voice filters be enough to lure loyal Instagram users away from the opposing network? Instagram Stories already allows link attachments; how might it retaliate to Snapchat's recent updates?
Time will only tell. Either way, this latest announcement is good news for businesses and personalities currently using Snapchat. They will now be able to increase their chances of being discovered across the Snapchat Stories platform without paying a dime.