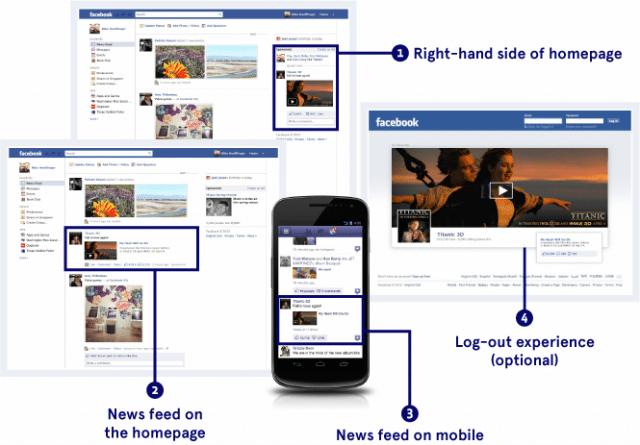 If you've been itching to start your own advertising campaign but do not possess any Facebook advertising knowledge, you have landed on the right page. Here, I'll discuss questions that have likely been beating against your skull. As a top FB ads agency, you can trust this information.
How Did Facebook Advertising Start?
Although Facebook has existed since 2004, Facebook advertising did not boom until 2014. Before 2014, Facebook disapproved of advertising and kept its news feed exclusive to posts by friends and families. Unlike today, Facebook ads never appeared on users' news feed. Instead, they remained on the right hand side of the page as sidebar ads. However, in 2013, Facebook began allowing ads to appear on users' news feeds, commencing the rise of the social advertising industry. Unlike other social media sites, Facebook could target ads toward users who are likely to show interest based on Facebook's years' worth of data: liked and shared posts and Facebook friends.
What is a Facebook Advertising?
Facebook advertising refers to the process of promoting products, services, or content through paid advertisements on the platform. Unlike traditional advertising methods, Facebook allows businesses to target their ads to specific audiences based on various parameters such as demographics, interests, and behaviors. This precise targeting ensures that your ads reach the most relevant users, maximizing your return on investment (ROI).
Companies can use several types of ads provided by Facebook, from sponsored stories to canvas ads.
Sponsored Story
Sponsored stories are content created by the consumer's interaction with a brand. Sponsored stories function similarly to organic stories: only the user's Facebook friends can see the ad.
Companies can also adjust its target audience based on age, gender, and location. This helps the company reach the right audience.
Sponsored Ads
While sponsored stories are the voice of the consumers, ads are the voice of the company. Marketers create the ads, controlling its content and audience. Marketers can create standard ads (ads placed on the right hand side of your Facebook page) and  page post ads (promoted organic page posts).
Sponsored Posts
Sponsored posts are regular posts that business owners pay to turn into an ad. It can be a simple post discussing the owner's background and business history, etc.
Carousel Ads
Carousel ads allow advertisers to show 3-5 images, videos, or both in a single ad unit. Carousel ads allow advertisers to feature multiple products or one long image.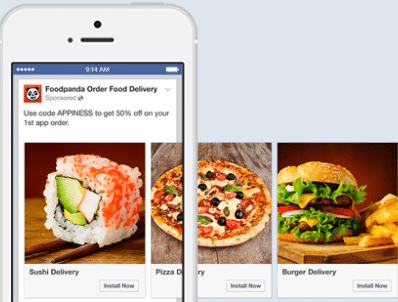 Canvas Ads
Canvas ads are full-screen, mobile-optimized ads that feature a combination of images, videos, texts, and links for an immersive user experience. Canvas ads are highly interactive. Users can pan in and out, play, pause, click, and swipe without leaving Facebook.
How Does Facebook Advertising Work?
Ads can appear on a user's page through paid search or paid social. Paid search helps consumers find a company while paid social helps companies find consumers. This can be done through targeting: Facebook uses user data to match users with your products. Facebook directs ads that are only relevant to users based on their activity and interests: what the users like, view, etc.
Benefits of Facebook Advertising.
Utilizing Facebook advertising can significantly benefit businesses. One of the most significant advantages of using Facebook is its massive user base of over 2.9 billion people. This presents an incredible opportunity to connect with a global audience and potentially attract new customers worldwide. Moreover, Facebook's advanced targeting options enable businesses to connect with specific groups of people who are more likely to be interested in their offerings.
The cost-effectiveness of Facebook advertising is another advantage. With flexible budgeting options, businesses of all sizes can create effective ad campaigns without breaking the bank.
Additionally, Facebook provides detailed analytics and insights, allowing businesses to measure ad performance, understand audience behavior, and optimize campaigns for better results.
Setting Up a Facebook Ad Campaign.
Creating a successful Facebook ad campaign involves careful planning and execution. The first step is defining your campaign objectives, such as increasing generating leads, website traffic, or product promotion. Based on your objective, Facebook will optimize your ad delivery to achieve the desired goal.
Next, you'll need to define your target audience. Facebook's robust targeting capabilities allow you to narrow your audience based on behaviors, demographics, interests, and connections. These precise targeting options ensures that your ads are shown to the intended audience, increasing the chances of conversion.
Once your objectives and target audience are defined, it's time to create your ad creatives. Whether it's eye-catching images or engaging videos, compelling ad content is crucial to capture your audience's attention.
Best Practices for Facebook Advertising.
For optimum results with your Facebook ad campaigns, it's crucial to adhere to best practices. Conduct A/B testing to ascertain the most effective ad creatives, copy, or targeting strategies for your target audience. Keep a close eye on ad performance in Facebook Ads Manager to pinpoint top-performing ads and allocate your budget wisely.
Furthermore, Ad relevance is a critical factor in Facebook advertising. Ensure that your ad content is aligned with your campaign objectives and is relevant to your target audience. Irrelevant ads can result in low engagement and negative feedback, ultimately impacting your ad's performance.
Landing page optimization is also equally crucial. Make sure that the landing pages users are directed to after clicking on your ads are user-friendly, visually appealing, and provide a seamless experience. A well-optimized landing page can significantly improve conversion rates and drive business growth.
Why Facebook advertising?
Facebook ads are seen by over 2 billion people every day.
Facebook has over 2.9 billion users.
Studies have shown that Facebook ads can generate a return on investment (ROI) of up to 28%.
Facebook advertising generated over $113 billion in revenue.
Measuring and Analyzing Facebook Ad Performance
In the world of digital advertising, data is king. Facebook Ads Manager has a wealth of data and metrics to measure the success of your ad. Key metrics to track include conversion rates, cost per conversion, click-through rates (CTR), and return on ad spend (ROAS).
Analyzing the data from Facebook Ads Manager empowers you to make well-informed decisions for optimizing your campaigns. For instance, if you find that certain ad creatives have a higher CTR and conversion rate, you may consider reallocating your budget toward those ads to drive better results.
FAQ's
What exactly is Facebook advertising?
Facebook advertising refers to creating and running paid advertisements on the Facebook platform. Businesses and individuals can promote their products, services, or content to a targeted audience based on demographics, interests, behaviors, etc.
Why is Facebook advertising important for businesses?
Facebook advertising offers businesses a powerful platform to reach a massive and diverse audience. With over 2.9 billion monthly active users, businesses can precisely target their ideal customers, drive brand awareness, increase website traffic, and even generate leads or sales.
What are the different types of Facebook ad formats available?
Facebook offers a range of ad formats, including image ads, video ads, carousel ads, slideshow ads, and more. Each format serves different purposes, allowing advertisers to choose the one that best aligns with their campaign goals and creative preferences.
How does Facebook's targeting system work?
Facebook's ads allow advertisers to target specific audiences based on age, gender, location, interests, and behaviors. Custom audience options are also available. This precise targeting maximizes ad effectiveness.
What kind of results can I expect from Facebook advertising?
The results of Facebook advertising can vary based on your campaign objectives, ad quality, targeting, and budget. However, businesses often see increased brand visibility, higher website traffic, improved engagement, and a boost in conversions. Regular monitoring and optimization can help improve your ad performance over time.