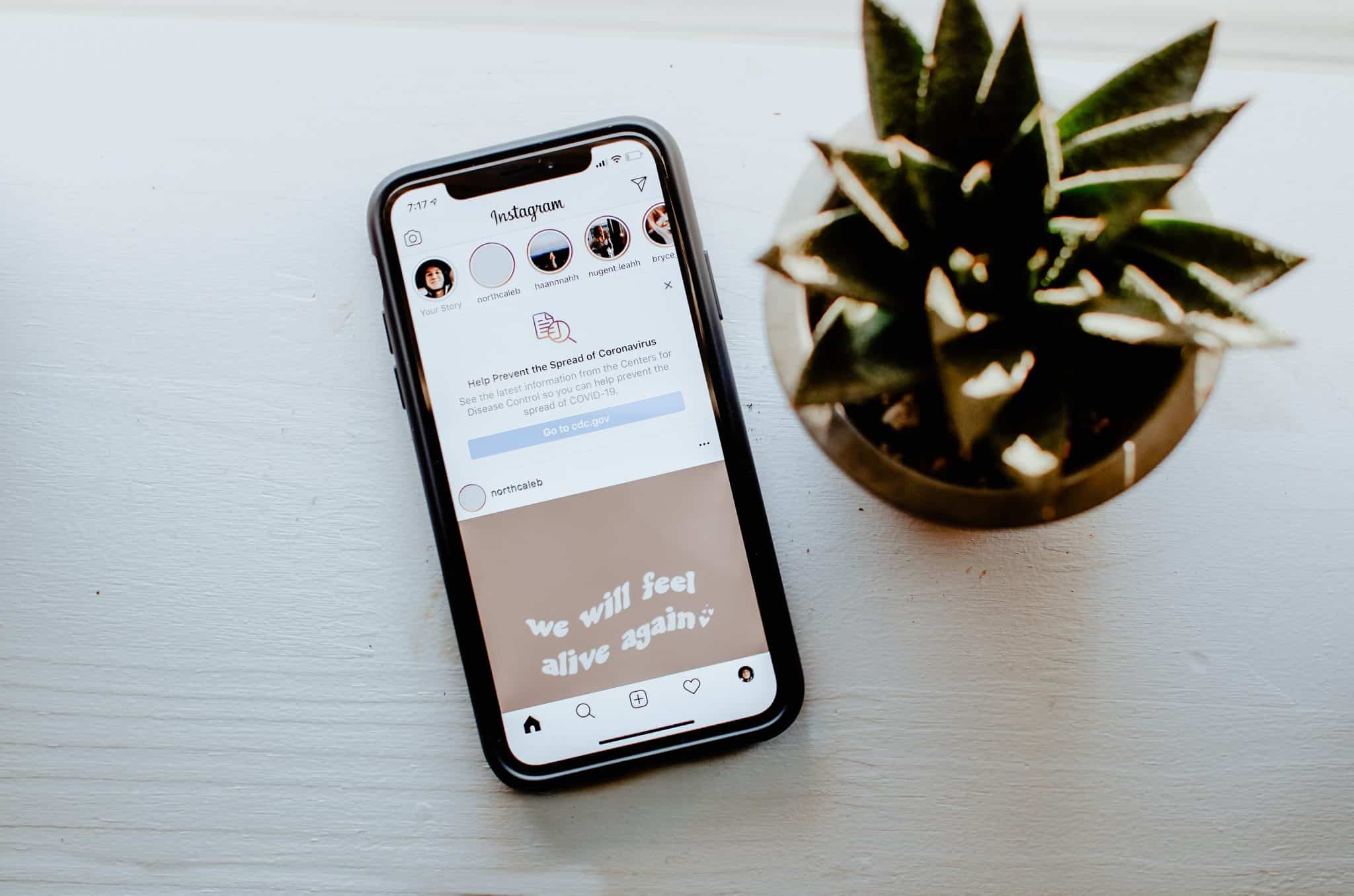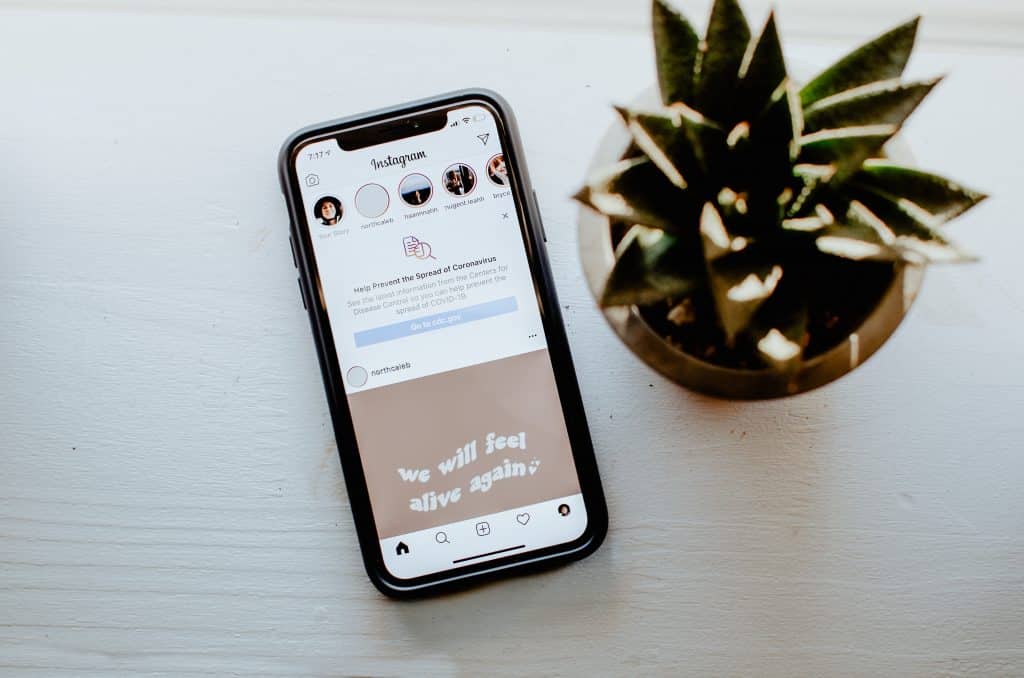 Alex Bracken / Unsplash
Just how effective is Instagram as a marketing medium? With more than 1 billion users as of January 2020, Instagram is one of the largest social networks worldwide. Half of these users, around 500 million, use Instagram Stories every day. 
Stories has now surpassed Snapchat as the most popular short-form content-sharing platform. With Facebook (which owns Instagram) throwing its full support behind the technology, the feature won't be going away any time soon.
Businesses have now made Stories a crucial part of their marketing strategy. Around one-third of the most-viewed stories come from business accounts. Advertisers are now spending 23% more on IG-focused content compared to two years ago, and much of this growth is driven by Stories. Because Instagram allows businesses with 10,000 followers or more to post links to e-commerce sites, customers can now make purchases directly from an IG Story. 
Instagram Stories are effective because they are non-intrusive, and users can choose when and if to interact with them. Unlike channels such as email, where spam filters determine what a user receives in their inbox and what doesn't make it, Stories are more targeted and generate more purposeful clicks. 
If your brand's marketing strategy doesn't include using Instagram Stories as a marketing channel, you might be missing out on a lot of potential revenue, especially among younger consumers. As long as you follow IG Stories best practices, you will improve your user engagement rates significantly. Here are some examples of brands that have gone all-in with their IG Stories ad campaigns.
Prada: Catering to Target Audience
Luxury fashion brand Prada (@prada) doesn't always post Stories on their global Instagram account, but when they do, they're bound to be mysterious and enticing. In fact, when Prada announced its 2020 Holiday collection, it set the bar high for all other fashion houses' IG campaigns.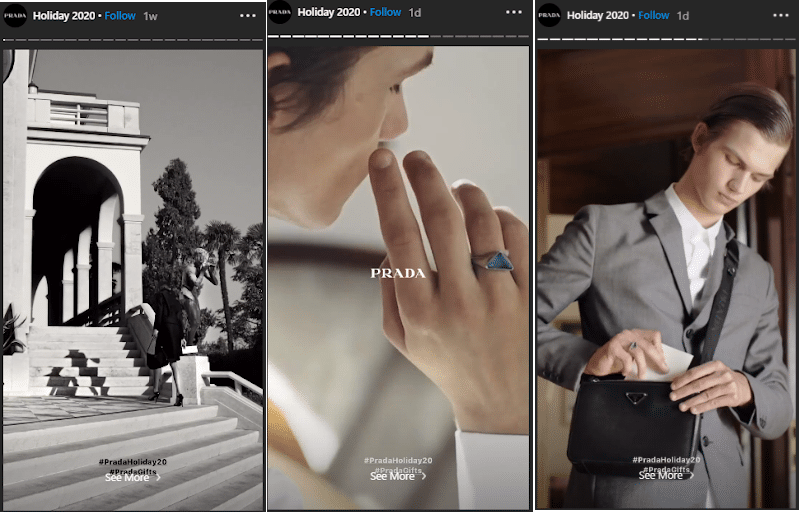 @prada / Instagram
The brand's announcement was low-key but elegant, starting with the first few Stories images being shot in monochrome. Each succeeding story had a bit more color in it, and some panels had polls to engage the audience. There was no need for a fancy soundtrack or celebrity endorsers. The brand and the products spoke for themselves. 
Prada succeeded in maintaining its air of luxury and exclusivity through its IG Stories campaign. While Instagram is an open platform, Prada's marketing language spoke directly to its elegant, stylish, and affluent customer base.
National Geographic: Partnering with Like-Minded Brands
With travel restrictions in place over large swathes of the globe, more people are staying home and working from home than ever in 2020. Unfortunately, this can disrupt our mental and physical health. This is why National Geographic (@natgeo), which is known for excellent nature photography, recommends that people spend plenty of time outdoors, whether walking through a forest or climbing up a peak.
The magazine has a long history of partnering with brands that share its values. The print version of the publication, for example, used to carry ads for cameras and all-terrain vehicles. This tradition of collaborating with like-minded brands carries over to its IG Stories campaigns.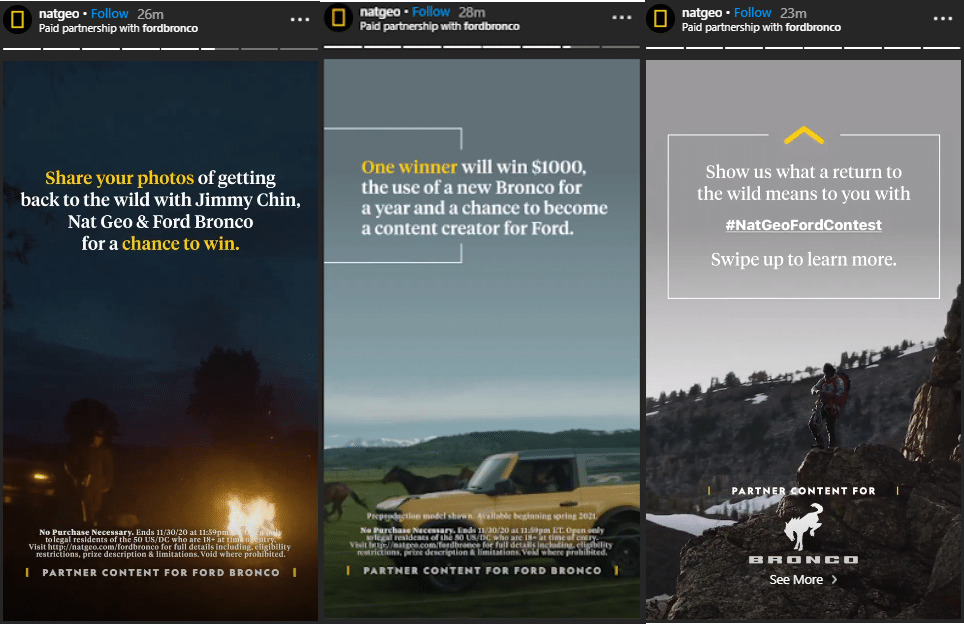 @natgeo / Instagram
This November, National Geographic partnered with Ford Bronco to encourage people to submit their nature photographs for a contest judged by famed nature photographer Jimmy Chin. This contest is not only intended to collect fine nature photographs. It's also a way for NatGeo and Ford followers to enjoy life a bit more despite the current health crisis by going out into nature. 
Nike: Championing Diversity
While most sports brands have just one IG account, Nike chooses to segment their Instagram presence according to the product line. There's one main Instagram account for Nike, then there are separate accounts for Nike Basketball, Nike Running, Nike Sportswear (@nikesportswear), Nike Women, and even Nike Skateboarding.
With such a diverse product line catering to everyone from weekend warriors to some of the greatest athletes on the planet, one would expect Nike to be vocal about ethnic and cultural diversity. The brand does not disappoint in this regard as it chose to feature historically Black colleges and universities (HBCUs) in its #YardRunners campaign.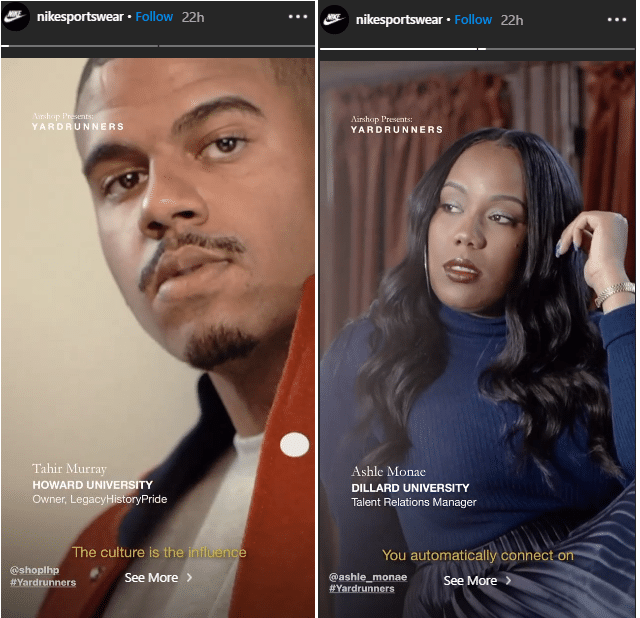 @nikesportswear / Instagram
The term "yardrunner" is closely tied in with HBCU fraternity and sorority culture, and for its October campaign, Nike featured alumni of Howard and Dillard universities who have achieved greater heights thanks to the support systems they developed in college. This was the brand's way of paying tribute to the institutions that helped shape Black culture into what it is today.
Nintendo: Cultivating Customer Loyalty
For Nintendo (@nintendo), the customer journey doesn't end when a customer purchases a console or a game. In fact, when done right, it's just the beginning of a long, fruitful relationship. 
Let's say you bought the Mario Kart Live: Home Circuit game. As a beginner, building a good AR-enabled kart course might be tricky, and your first few courses might not be able to support faster cars. Nintendo's IG Stories help Mario Kart Live users create more challenging circuits, even suggesting a course in the shape of an infinity sign.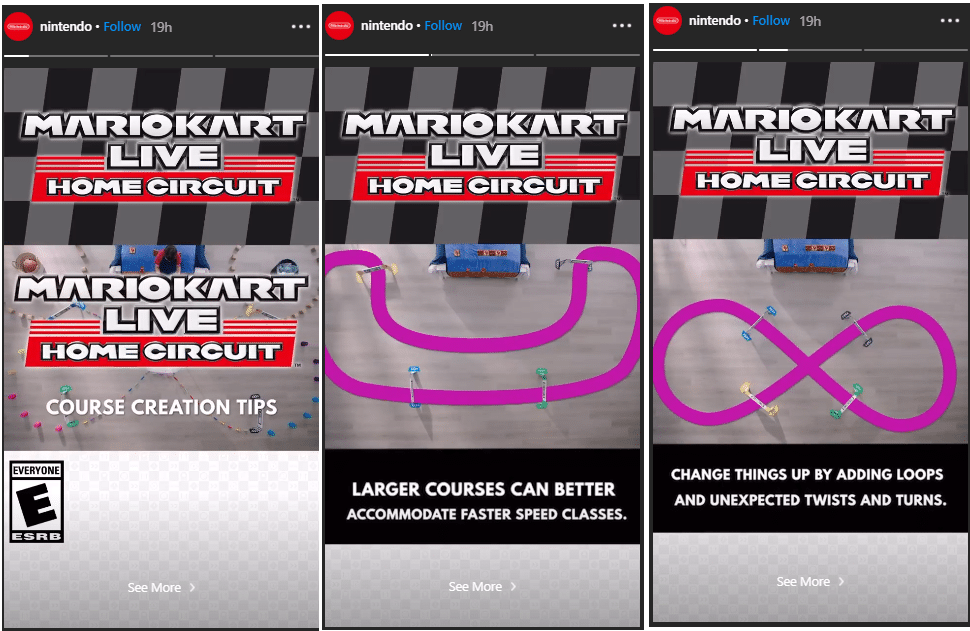 @nintendo / Instagram
With the continued success of the Mario Kart Deluxe game (26.7 million copies sold to date), it looks like Mario Kart Live: Home Circuit will continue to be loved by fans, especially with the course suggestions above.  
Disney: Engaging Followers
While entertainment giant Disney (@disney) has diversified into other fields such as broadcasting, theme parks, sports, and independent films, it is still best known for its iconic cartoon characters, including Mickey and Minnie Mouse, Donald Duck, Pluto, and Goofy. Almost everyone has a favorite Disney character, and most people associate Disney with good childhood memories.
It shouldn't surprise us that even Mickey Mouse has his own Instagram account. Did you know that the first words he ever spoke on screen were "Hot dogs"? Neither did we — we only learned about it when we took the Mickey Quiz on Disney's IG Stories!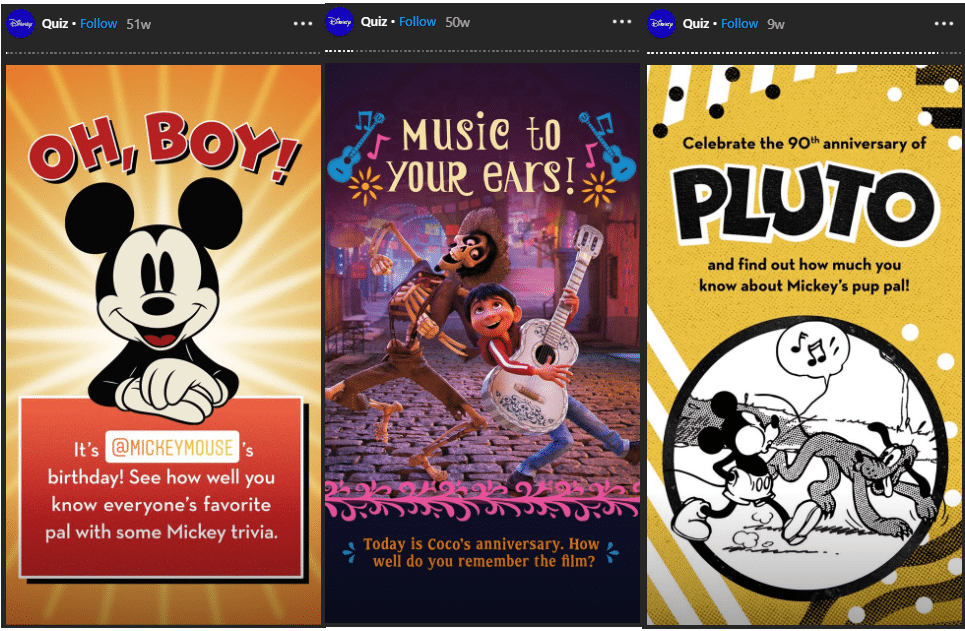 @disney / Instagram
Aside from Mickey Mouse, Disney's Instagram account also has IG Stories quizzes about their other iconic characters and feature films, such as Pluto and Coco. Taking these quizzes is like taking a trip back to childhood and Saturday mornings spent watching Disney cartoons. It looks like Disney has found the perfect way to mix classic content and Instagram Stories to keep its fans engaged.
NBA: Generating Buzz
The National Basketball Association (@nba) features some of the greatest players on the planet today, and each year players, teams, and fans experience new highs and lows. Will the Warriors recover from their disastrous season? Was the Lakers' "bubble" championship the beginning of a dynasty? 
The new season kicks off with the annual NBA draft, where teams pick from a pool consisting of the most talented young players from the National Collegiate Athletic Association and leagues outside the US.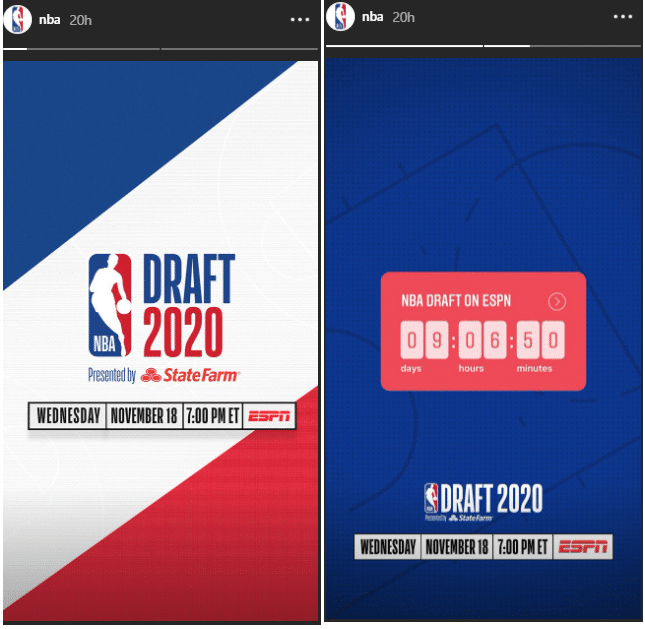 @nba / Instagram
For fans watching out for the 2020 NBA Draft, the NBA's IG account is also counting down the days, hours, and minutes with them. The countdown builds up the anticipation and promises some stability in what has been a topsy-turvy year for sports fans everywhere.
Stephen Colbert: Stories Takeover
Stephen Colbert has successfully stepped out of his "Colbert Report" persona and settled in as the host of a late-night show. Even if the pandemic has kept A Late Show (@colbertlateshow) from packing in the crowds, Colbert is still actively producing and publishing content across different platforms.
For instance, just a few weeks back, Colbert featured country music legend, Dolly Parton, on one of his episodes. There couldn't be a more unlikely crossover, but the duo was able to pull it off and entertain fans of both Parton and Colbert. 
@colbertlateshow / Instagram
A Late Show promoted Parton's guest appearance by letting her take over the show's Instagram Stories for one day. Parton walked the show's IG followers through her daily schedule, starting with her makeup routine and ending with an invitation to watch the show. Colbert is fond of IG Stories takeovers, and it's been working out splendidly for both him and his guests.
Forever 21: Promoting Other Platforms
Gone are the days when brands placed all their bets on just one social media platform. People have learned that it's important to have a consistent presence on at least the three major networks (Facebook, Instagram, Twitter), then explore other networks in addition. 
Forever 21 (@forever21) is no exception to this rule. Aside from publishing content for more than 15 million followers on Instagram, it also generates content for TikTok, which is one of the fastest-growing social platforms today. Despite threats of a U.S. ban on the app, its user figures are expected to continue rising as it gains popularity among younger people.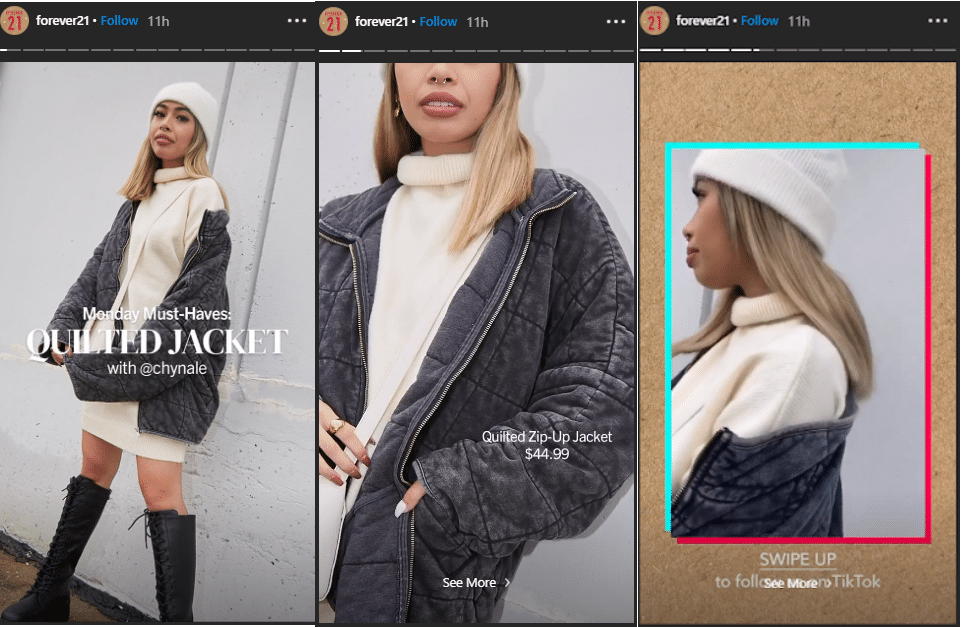 @forever21 / Instagram
Forever 21's latest campaign, featuring southern Californian influencer Chyna Le, showcases its upcoming fall and winter collection. But instead of attaching a link to its online store, the brand invites followers to follow Chyna's TikTok account as well. It's a sign that Forever 21 is really serious about boosting its presence on that platform, where the brand already has close to 22,000 followers.  
The New York Times: Featuring Diverse Voices
When it comes to politics and divisive issues, people need to hear different voices in order to form an educated opinion. The New York Times (@nytimes) recognizes this need for diversity, and one of their advocacies is featuring people from all walks of life across America in their Instagram Stories. 
Their post-election IG Stories campaign, for example, asked voters about their hopes and dreams in the next four years. While the people they featured included Democrats and Republicans, city-dwellers, and people from the rural areas, they all agreed on one thing: they all wanted to get along together and start working for a better future.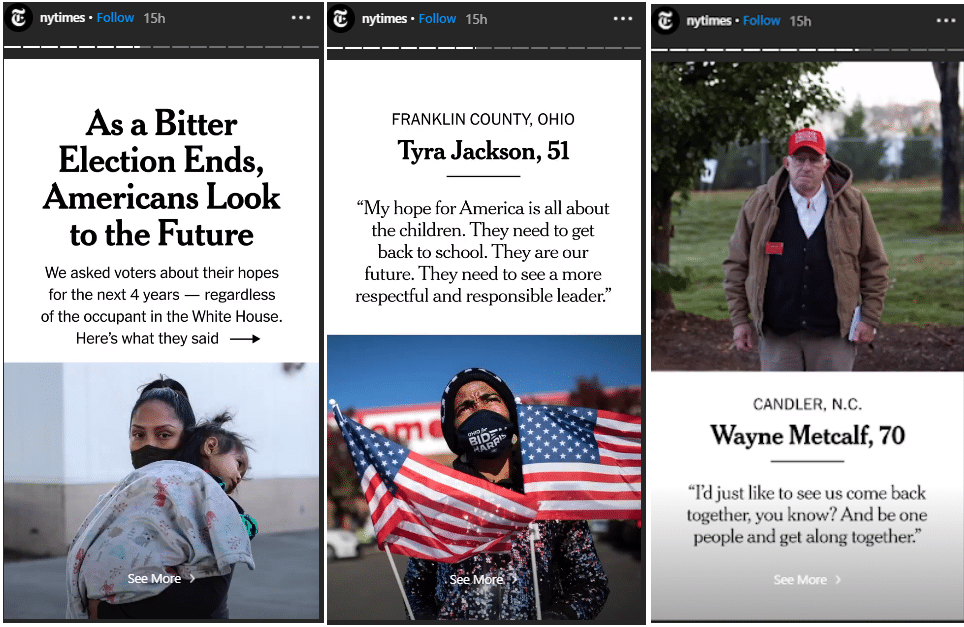 @nytimes / Instagram
When your brand is trying to expand its reach (as the New York Times has successfully done far beyond New York and the northeastern US), you need to listen to people who don't necessarily agree with you. In fact, as you share your thoughts with them, you might find out that you have a lot more in common than you think.
Taco Bell: Featuring UGC
Brands love Instagram Stories because it is one of the most interactive platforms out there. Users can send direct messages and reactions from IG Stories. However, by featuring user-generated content, you take your engagement with your followers to a whole new level.
We saw something like this from Fast food chain, Taco Bell. The brand (@tacobell) is particularly good in featuring content created by its followers, which falls under their well-designed marketing plan. Every Monday, it posts fan art submitted using the hashtag #TacoBellMuse to its IG Stories. Aside from showing Instagram how much everyone just loves Taco Bell, the brand gives these up-and-coming artists exposure to more than 1.5 million people who follow the Instagram channel.
@tacobell / Instagram
Taco Bell might claim that it seriously has the coolest fans, but we think the way the company promotes fan-created content is just as cool.
How to Create an Instagram Stories Campaign That Works
You might be feeling inspired after seeing all the IG Stories campaigns above. If you're still not using Stories and would like to start somewhere, you need to know the things that go into a successful IG Stories campaign:
Create content that is made for Stories. The dimensions should be correct, and video clips should be 15 seconds long at most. This means you should also keep text to a minimum. Less is more!

Use either a video or several slides to tell a longer story. Single static images don't work as well as they normally would because your audience can only view them for a few seconds. 

Make your campaign interactive. Whether you're asking your followers to respond to a poll, swipe up to go to your landing page or an

affiliate page

, or submit fan-created content, always go for active engagement. 

Keep it real. Use the voice your brand normally uses. If your brand is serious and luxurious like Prada, go ahead and follow your branding. But in many cases, nothing beats a healthy dose of humor.

Your Stories must provide something of value. If your audience sees that your Stories just repeats something you've posted previously, your brand won't get the traction it needs. However, if your IG Stories campaign offers something you haven't offered yet, like a special discount, a giveaway, or a chance to get involved directly, your audience will get involved. 
Instagram Stories is one of the best channels you could ever use to reach out to younger audiences. If you want to get a glimpse of what will work with a younger market, try looking at the accounts that your target audience follows. Keep pushing your creative boundaries and don't be afraid to try new things. Best of luck with your campaigns!
By Owen Jones