Jan. 18, 2021

Polina Tankilevitch / Pexels
Social media marketing is vital to engaging with your target audience and reaching out to your prospects.
As per 2019 stats, social media has 3.5 billion global active users. And 97% of customers between 18 to 34 years read online reviews to evaluate a local business.
Also, if you look at the Local Consumer Review Survey 2020, 34% of consumers said that they used the internet to find local business information in 2020.
So, you might want to use social media to reach your target audience. In this article, we will be looking at four social media marketing tips to earn more traffic for your local business.
Choose the Right Social Media Platform
Different social media platforms have different types of audiences. Depending on your target audience, you should choose the right social media platform.
Here's some information on the type of audience on two popular social channels and what they are best for:
Facebook
The majority of Facebook users are usually 25 years or older. You can use Facebook to share different types of content. Videos, milestones, infographics, behind-the-scenes snippets, and competitions are content that works best on Facebook.
Also, a great way to reach more people is by using Facebook's local business promotion. Local business promotions will let you reach as many people as possible.
If there are people who don't respond to your posts, you can run local business promotion ads. You can either set up the ad using Ads Manager or set it up directly from your page. 
There is an advantage to setting it up from your page, as you can select from several call-to-action buttons to help you drive sales and inquiries.
Instagram
Instagram is another great platform to earn more traffic for your local businesses, especially if your business is more visually appealing. 
To use Instagram for your local business, first, set up a business profile. It will give you access to your analytics, the Ads dashboard, and allow you to add users that can manage your account.
Consider using a free service like LinkTree to add several links in your bio and direct your clients to the right place. Since Instagram is driven by visuals, your posts will not get enough traction unless your images are engaging. 
It is best to select a theme and stick with it. It will create consistency. Also, conduct a little research on which hashtags to use.  Studying your competitors, using location-specific hashtags, and using relevant hashtags that suit your brand and content are some great tips.
While creating stories, if possible, add text overlay that includes talking.
Also, by going Live, you can share events and in-the-moment announcements. Live videos are interactive, and it makes it possible to answer questions in the moment, thus giving you an effective way to engage with your audience. 
Run Contests and Offer Special Discounts 
Many people follow your brands on social media in hopes of getting special offers. So, a great way to gain followers and drive sales is to offer discounts to your social media followers.
Here's an example of how Yo Yogurt in Marlboro, NJ ran their "Let's YO! Name Fame" on their Facebook page and offers a 50% discount for a name every day.
You can also engage your prospects in a contest by having fun and strengthening your relationship with them.
Instagram is another social media platform to win over more customers for your local business. 
The use of Instagram has been increasing rapidly, reaching over 1.5 billion users internationally as of December 2019. Thus, it is a great idea to add this social media channel to your marketing campaign.
Take this example of an Instagram contest by Cellucor, an American sports nutrition brand: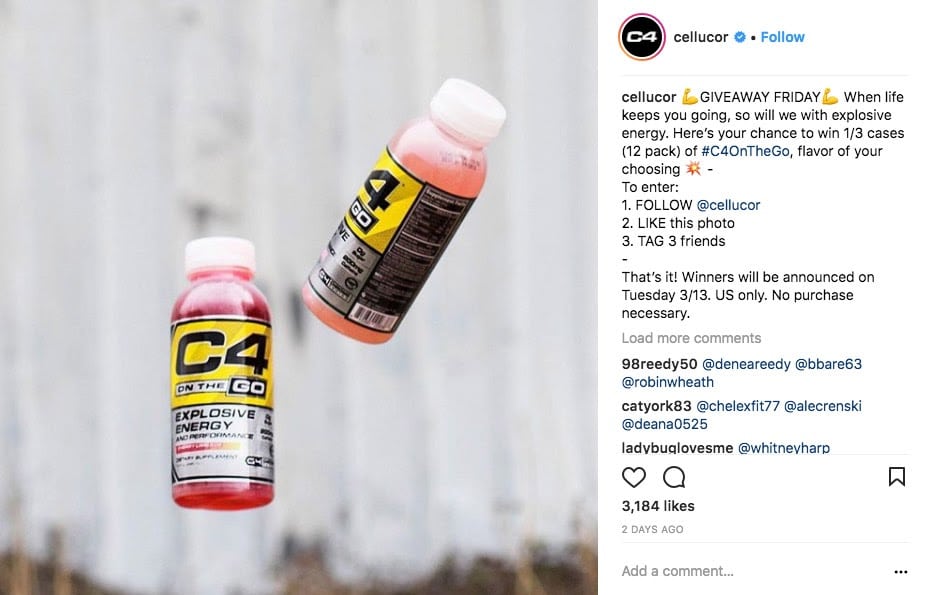 It's a mix of a hashtag contest and a giveaway contest. The entrants were asked to follow the brand's Instagram page, tag three friends, and like the photo.
A contest like this is bound to get a lot of traction to your local business' page and eventually, many of those visitors will even visit your store to check out more products. 
Apart from this, here are some more types of Instagram contests that you can run to engage your audience.
Instagram hashtag contests

Photo contest of selfies

Photo contest with your product

In-store photo contests

'Like' and 'follow' to win Instagram contests
Harness the Power of User-Generated Content
User-generated content can make your audience feel engaged, and it saves you from having to create content. Statistics suggest that user-generated content on social media channels gets 28% higher engagement  as opposed to standard company posts.
Also, people trust user-generated content over a generic marketing copy. As per other stats, 92% of consumers trust UGC and brands saw a 50% conversion rate for visitors to pages featuring UGC.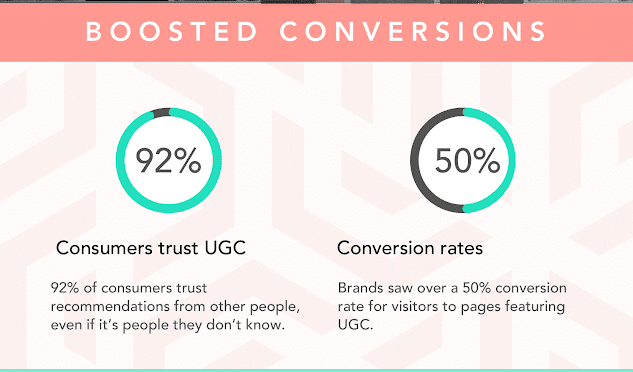 Some ways to get UGC to use on social media include:
Contests: 

Run a contest and ask your followers to send in their video testimonials of your product or photos of them using it. The UGC you gather will most probably be more valuable than whatever you pick as your prize.

Reviews:

Apart from the UGC that you gather on your social media platforms, you can also visit third-party websites, like TrustPilot or TripAdvisor.

Q&A sessions:

Q&A sessions become especially useful if you are able to offer a range of products with different solutions. The insights can then be used to craft your campaigns and products. You can also consider posting about them.

Blog posts: 

You

can collaborate with bloggers but ensure that you're partnering with someone who shares the same brand values and audience.
Also, have a look at the digital adoption solution by Whatfix, which promises increased application adoption rates and decreased content creation time, among other benefits. You can leverage such tools to put out content more quickly to engage your target audience. 
Use Social Listening
Social listening is the process of tracking your social media platforms for mentions and conversations about your brand. You can then analyze them to gain insights and discover chances to act.
Social listening is a two-step process. You can either monitor social media networks for mentions of your brand, competitors, products, and keywords associated with your business. Or analyze the information and find opportunities to put what you have learned into action. It could be anything from responding to a happy client or shifting the position of your entire brand.
Note that social media monitoring is different from social listening. While social media monitoring looks at metrics like engagement rate and the number of mentions, social listening looks at the mood behind the data.
It will let you understand how people feel about your brand and your competitors. In turn, you will be able to use this knowledge to improve your marketing and product development efforts. Plus, you will be able to respond right away to positive or negative posts.
Some of the most significant benefits of social listening include gaining the opportunity to engage with your clients about your brand, tracking competitors, discovering new sales leads, and the chance to identify influencers and advocates.
Wrapping-Up
By connecting with your potential customers on a social media channel, you can generate leads and build real engagement. More and more people are searching for information about local businesses online. You will be missing out on a lot if you don't leverage the opportunity and take your business online. Follow the four social media marketing tips mentioned in this article to earn more footfalls for your local business.
By Hazel Raoult