In recent history, live chat has increasingly become one of the best customer support innovations that allow businesses to service queries as they face them in real-time. However, the overarching benefits of live chat far exceed just that. How, you might ask? It's an excellent way to boost your e-commerce site's conversion rate without having to go through the hassle of conducting a split-test on your landing page. It lets you foster meaningful relationships with your consumers so that they can speak to you personally for a customized experience.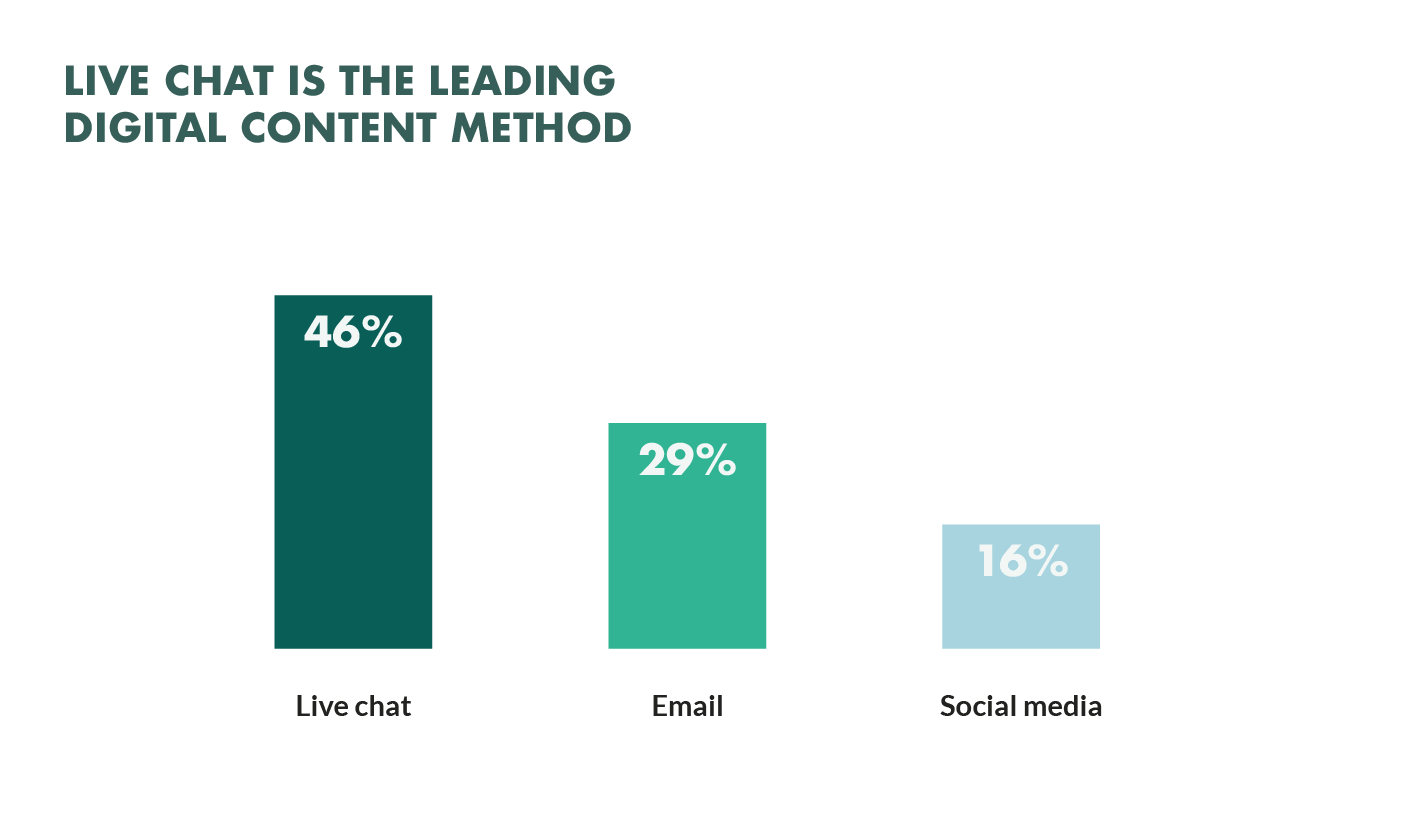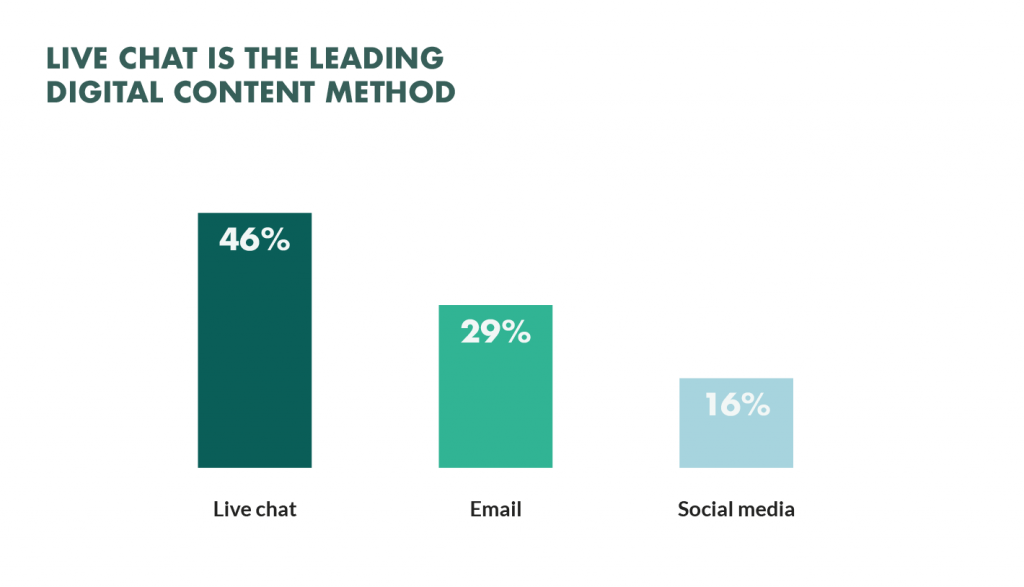 In addition, customers prefer it over most communication channels. In fact, a J.D. Power survey found out that live chat is the leading digital communication channel for online customers, with an unprecedented 42% of customers preferring it over email (23%) and social media (16%).
Why Is Live Chat So Useful?
With competition between businesses rife in every sector, marketers need to focus on improving their conversion rates to transform prospects into paying customers. Live chat is a communication platform that enables consumers to correspond with the customer service team in a way that is faster and more convenient than the conventional means of contacting support teams.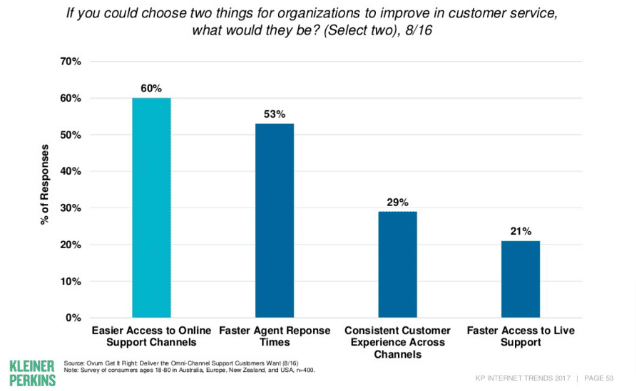 Live chat greatly eases correspondence between parties and offers easy access to online support channels, as well as quicker access to live support by reducing agent response times. All customers need to do is start a conversation via a live chat widget instead of having to contact the company or ask them to call back anytime they have a question.
According to an Invesp survey, implementing a live chat feature on your website can lead to a 20% increase in conversion rates. By enabling users to talk to you in real-time through a live chat tool, you not only satisfy their increasing demands, but you also gain a competitive edge while doing so.
5 Ways to Use Live Chat for E-Commerce Conversion Optimization
If you're grappling with low conversion rates, it's highly likely that the issue has to do with optimization. Here, we will take a look at five ways in which you can leverage live chat software for your conversion optimization efforts to improve sales:
1. Decrease response times.
If there's one thing you can be sure about when it comes to online shopping, it's that consumers will have concerns about their potential orders. Although they may not always ask these questions, the lack of information is a primary reason behind e-commerce cart abandonment, which hovers at an alarming 70%.
Once you integrate a live chat software with your website, consumers can prompt chats with you and ask questions anytime they want to. Receiving the answers to these queries quickly via the live chat interface will allow the customer to make an instant decision while they are in the mindset to buy, thus leading to higher purchase rates.
2. Provide personalized customer service.
According to a Segment study, 71% of customers feel annoyed when their shopping experience isn't personalized. That is why it is important to provide not only the highest level of customer service, but also the best possible personalized customer service that you can.
It is extremely easy to introduce a touch of personalization to your conversations. By integrating a live chat software with your current CRM, you can extract relevant customer details such as name, email address, geolocation, product search history, information about your previous chats, etc.
Equipped with this knowledge, you can tailor customer services, starting with a customized greeting. When consumers see this, they realize there's someone out there who's going to tend to their questions. This also has a direct effect on conversion rates, with a survey by the American Marketing Association showing that companies employing live chat witnessed a 20% rise in conversions as compared to companies that didn't.
3. Leverage chat invitations.
Chat invites are a great place to start interactions with consumers who may not even know that they need additional support. These chat invites are essentially short prompts that allow the customer to have a word about them. They're also a fantastic review tool to analyze why customers may be abandoning carts.
You can utilize them in a variety of circumstances. For instance, you can create a greeting message template that shows up on the screen when someone oscillates between product pages, or when a site visitor shows a high rate of interest in a particular product or service. In such situations, you can provide assistance that could lead to a purchase.
4. Enable decision making through powerful analytics.
The more premium live chat tools will have smart analytics capabilities that can help you discover which pages do website visitors visit the most, how they get there, and the amount of time they spend there. This offers sales reps enough context and information to prompt live chat sessions.
The analytical capacities of a powerful live chat software will offer your sales reps with crucial insights into consumers who have been comparing your product against similar ones of different brands. Your sales reps can then accordingly utilize the information they gained to offer answers, assist them in making the right decisions, and close more sales.
5. Track team effectiveness.
The quality of the customer service you offer will decide if your customers will return to purchase from you. If the loading speed of your website is slow, or if your billing processes are obscure, or if your team doesn't service queries fast enough, it can result in a below-par customer experience.
Fortunately, there exists a way of monitoring the efficacy of your chats. By tracking the performance of your customer support team, you can tally how many chat sessions your agents initiated, how soon they responded to them, how did customers enjoy the chat session, and how many chat sessions ended up in a conversion. Based on this experience, proactive steps can be taken to increase the quality of customer service in order to directly influence the conversion rate.
Conclusion
Live chat and its popularity show no indication of slowing down. As of today, it is considered as one of the best tactics to offer proactive customer service and improve site conversion rates. If businesses follow a data-driven method and build benchpemarks, they are guaranteed to achieve instant results and enjoy the benefits mentioned above.