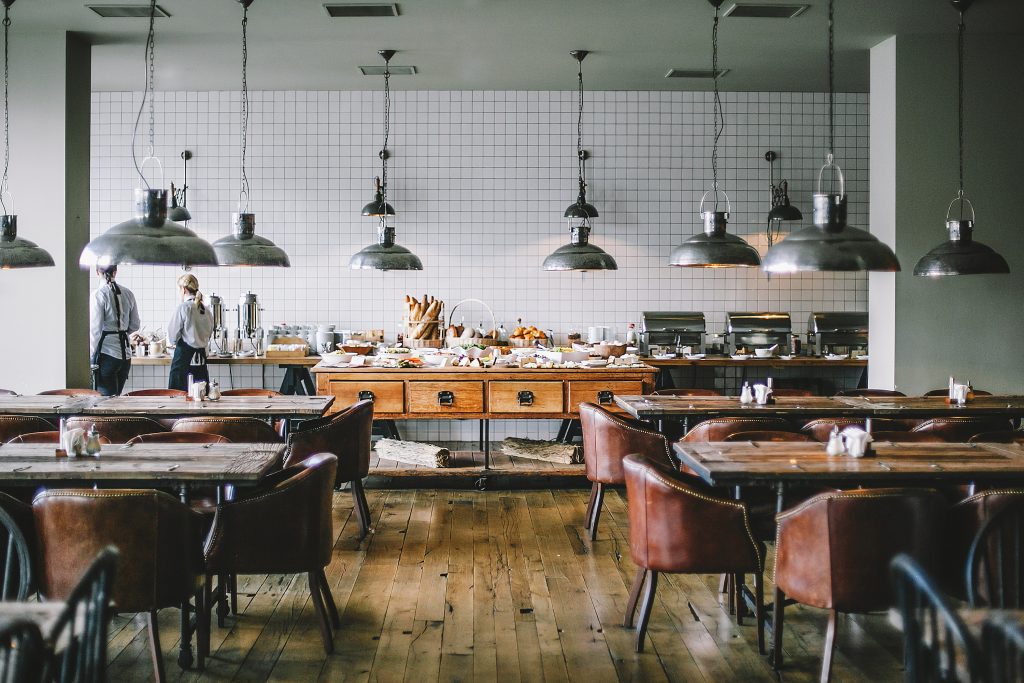 On March 15, restaurant revenue dropped by 25 percent, according to software company Womply. The COVID-19 pandemic has hit many industries hard. Restaurants, in particular, have suffered a blow from the inability to open for dine-in experiences, relying solely on delivery and pickup to maintain operations.

A difficult time like this demands creative solutions. Restaurant owners may be financially suffering from the lack of foot traffic to their establishments, but they can still find ways to keep their businesses going, even at a time of quarantine and social distancing.
Sell Gift Cards That Don't Expire
With the panic-buying brought on by President Trump's declaration of a national emergency in mid-March, people right now may have too stocked of pantries and refrigerators to purchase meals from restaurants. To combat this, sell gift cards: Customers can purchase from you now and cash in on orders later. Make sure the cards don't expire to entice customers to buy.
Sell DIY Kits to Customers
Restaurants can't function the way they used to during pre-COVID-19 days. Customers' needs have changed, and your services should evolve accordingly.

With the government mandate to stay at home, people have more time in their hands to pick up a new hobby they can easily learn in the comfort of their abodes. Encourage their quest for new skills by offering do-it-yourself cooking kits. You provide the fresh ingredients, recipe, and cooking instructions.

Before you dismiss this idea, know that there are already several successful companies offering this service, including Hello Fresh, Blue Apron, and Green Chef. This is proof that demand for this service exists.
Sell Ready-to-Heat Frozen Meals
With the requirement to stay home and minimize human contact, households are stocking up on food that lasts, including dry goods, canned food, and frozen meals. The demand for frozen food increased so much that people were wiping out grocery shelves and even buying out freezers for storage.

Not everyone wants to cook and not everyone feels comfortable ordering hot meals from restaurants, fearing COVID-19 contamination. For this reason, sell ready-to-heat frozen meals that customers can easily heat on the stove or in the microwave.
Host Cooking Classes
People bored at home can only binge-watch so many Netflix movies. At a certain point they will look for other ways to entertain themselves. Satisfy the need to beat boredom by offering virtual cooking classes. You can host through video call services such as Zoom. Email your recipes to students and deliver the ingredients straight to their doors.

Many video call services are free, including Zoom, which you can easily learn in 40 minutes.
Add Groceries to Takeout Option
Today, a lot of people are limiting how often they go to the grocery store, but what happens when they run out of a kitchen staple in between trips? Your restaurant can offer groceries on top of prepared meals. Panera is doing this right now — in addition to ordering breakfast or lunch to-go, you can add-on essentials like milk, bread or fruit.
Add Family-Sized Meals to the Menu
Families are sharing meals together at home, now that restaurant dine-in services have been temporarily paused. For this reason, single-person meals will not satisfy their needs. Be the solution to their problem by offering family-sized items on the menu. Turn that single portion of lasagna to a portion for four. Offer family packs for a cheaper price.
Feature Pizza on the Menu
When on-site dining restaurants were ordered to close mid-March due to COVID-19, daily restaurant connections fell by 54 percent. Pizzerias, meanwhile, experienced a 44 percent increase. This increase can be attributed to the ease and affordability of the popular Italian dish. If in line with your brand, try adding pizza to the menu.
Add "Order Now" Capability to Social Media Posts
Instagram and ChowNow teamed up to add shoppable "Order Now" buttons and stickers to posts. These elements have links that go straight to the order processing company, making it easy for customers to see a delicious meal and then order it right away. Additionally, followers can share those stickers on their own content, which can increase awareness and sales.
Offer Pickup and Delivery
Offering pickup and delivery services will keep your business running even though you've closed down your restaurant from dine-in customers. Apps such as Postmates and Doordash will help you connect with people who will deliver your orders. Now is the best time to use them.

For pickups, make sure to set up a hand-sanitizing station for customers to use before leaving your store and remember to wear a mask that covers your mouth and nose, as recommended by the CDC.
Make Delivery Free
What's better than having a great meal delivered? Not having to pay for the service. DoorDash has teamed up with numerous restaurants during the pandemic, and not only are they delivering from restaurants that don't typically deliver, but they're not charging for delivery, either. Since so many restaurants are already offering free delivery, you should, too — that's the only way to compete right now.
Use Social Media for Brand Awareness
Your customers may not be dining in at the moment, but they're still out there, and many of them are online. Use social media to keep brand awareness levels high. Food pictures and videos are still as popular as they were before. When you're officially back open, they'll remember that your restaurant (or brewery, like in the example below) exists.

Give Away a Secret Recipe
A lot of people are preparing food at home and spending their free time baking. Add to their list of favorite recipes by giving away one of your own. Instead of step-by-step directions for a main dish, though, tell fans how to prepare a side dish, sauce or dessert. They'll be able to use the recipe in addition to what they order from your restaurant instead of replacing an entire potential order.
Use Social Media to Connect with Customers
Because of the pandemic, your hours of operation have likely changed. You may, for example, have shorter hours, opening later and closing earlier than usual.
Make sure to promote any changes to your restaurant on your social media accounts, website, and Facebook page to give your customers the most accurate information. You can also use your accounts to spread word of your new services, whether that's your DIY kits, frozen ready-to-heat meals, or cooking classes. Because most of your customers will be ordering online or through the phone, make sure your menu is also featured on social media.
Sell Branded Merchandise Online
Selling branded merchandise is another way to make money for your restaurant business, a common practice among some establishments. You've seen it before: bars selling shirts, cafés selling tote bags, coffee shops selling mugs. You, too, can sell merchandise from your brand, listing them on the "shop" section of your restaurant's website.
Clarify How You're Practicing Safe Methods
Right now, people are afraid of everything: being in public, getting any type of product from a store, and even standing too close to another person. Assume that your customers are just as nervous about getting takeout from your restaurant. Use your website, newsletters, and social channels to talk about how your staff is being as safe as possible. Customers need to trust that they won't get sick when getting takeout or delivery from your business. Schatzi's did this by showing its manager wearing a mask:

Keep the Drive-Thru Open

If your café or restaurant has a drive-thru, keep it open even if the rest of the restaurant is closed. Customers feel safest when they don't have to leave their car to pick up food. Make sure window attendees wear masks and gloves so customers see that they're being safe. To prevent the spread of germs, allow customers to use the credit card processor on their own, then wipe it down in between.
Make Online Ordering and Payment an Option
Sites like Grubhub make it possible for any restaurant to set up online ordering. Letting customers order online is a convenient way for them to browse your menu and decide what to have for dinner. More important, online ordering means customers can pay online, a safer way that prevents contact with others.
Offer Takeout
You may have never offered takeout in the past, preferring that customers always dine in rather than pick up food to go. Now is the perfect time to change that, though. In addition to your regular menu, you can continue offering specials. You may also want to let customers know you're happy to make special orders to their preferences. If someone is in the mood for something that's not on your menu, you can still take the order.
The situation has changed. Traditional methods of maintaining your restaurant business must now be abandoned. Be creative, and you will find ways to help keep your business afloat. If that isn't enough, consider applying for financial help.

By Anne Felicitas and Lindsay Pietroluongo