Do you want to learn how to handle Amazon quantity limits?
Amazon changes its quantity limits from time to time. So, Amazon FBA sellers must stay informed on changes to avoid issues.
This guide will cover the latest Amazon quantity limits. We will go through the following:
Amazon's FBA capacity limits
The current Amazon quantity limits
Control your Amazon restock limits
View your Amazon FBA quantity limits
Frequently asked questions for Amazon's fulfillment centers
Why Does Amazon FBA Have Capacity Limits?
Amazon FBA, or Fulfillment by Amazon, enforces quantity limits for several reasons. Firstly, Amazon has a finite amount of storage space in its warehouses. Quantity limits help prevent overstocking, ensuring enough room for a variety of products from different sellers.
Limiting quantities also ensures fairness among sellers. It prevents a few sellers from monopolizing Amazon's storage and helps smaller businesses compete on a level playing field.
Additionally, Amazon wants products to move quickly to provide customers with fresh and readily available items. Quantity limits encourage sellers to maintain a healthy inventory turnover. Hence, sellers with higher turnovers get to send more products to Amazon's fulfillment centers.
The Current Amazon Quantity Limits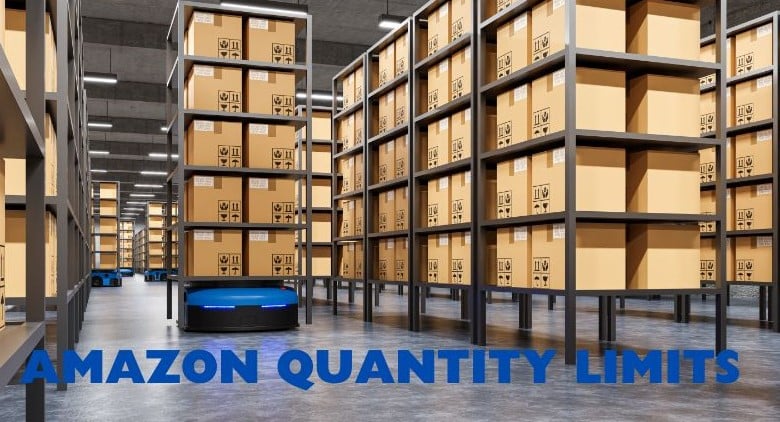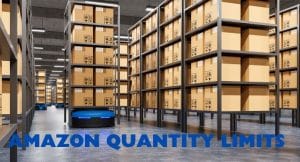 Amazon moved from ASIN-level inventory limits to storage-level limits in 2021. Since then, products have had maximum storage limits based on their size. The available storage types include standard-size storage, oversize storage, etc.
Then, in 2022, Amazon introduced restock limits for each type of storage. Your restock limit includes the products you have at Amazon's fulfillment centers and the ones in transit.
Though many Amazon FBA sellers are happy with the new storage style, it poses some challenges. Let's assume you have 4000 units of standard storage space. If you have 2,000 units of standard-size products and 2,000 units on the way, your storage is full. This will pose a challenge if you need to create a new shipment. Hence, proper inventory management is essential.
How To View Your Amazon FBA Quantity Limits
Suppose you want to know your restock limits on Amazon; all you need to do is follow these steps:
Go to your "Manage Inventory" menu and select "Manage FBA shipments" from the drop-down menu.
Scroll down and look for the "Restock Limits" tab.
Once you navigate it, you can view your Amazon FBA capacity limits for each stock and size.
How To Maximize Your Amazon Restock Limits
Here are ways to navigate the challenges posed by Amazon restock limits:
1. Use an Amazon inventory management tool.
Sellers can navigate Amazon's limited storage space effectively by using an inventory management tool. Inventory management tools provide insights into which products are selling well and which are slow-moving. This helps sellers stock what customers want, reducing excess stock.
They also use data and analytics to predict future demand. This enables sellers to plan their inventory accordingly, especially during peak seasons.
2. Boost IPI score.
Amazon IPI, or Inventory Performance Index, is a metric Amazon uses to evaluate and manage the inventory performance of sellers in its fulfillment network. It measures a seller's overall inventory health and efficiency. The higher your IPI score, the more storage you get.
IPI scores are based on the following:
sell-through rate
excess inventory
in-stock inventory capacity
stranded inventory performance
3. 3PL (Third-party fulfillment).
By using third-party fulfillment services like Fulfilled by Merchant (FBM) or third-party logistics providers (3PLs), you can store some of your inventory off-site. This helps you circumvent Amazon's storage limits.
With FBM, you handle shipping and customer service, which can give you more control over your inventory. Store excess or slow-moving items at your location while sending popular products to Amazon's warehouses.
Final Thoughts
Understanding and navigating Amazon FBA quantity limits is essential for any e-commerce seller looking to thrive on the platform. By staying informed about these limits and utilizing strategies to manage your inventory effectively, you can optimize your business and avoid potential setbacks.
Do you want to increase your IPI score on Amazon? Get the best Amazon advertising agency to boost your sales!
Frequently Asked Questions on "Amazon Quantity Limits"
Are restock limits the same for Amazon individual and professional sellers?
The restock limit for Amazon's individual sellers is only ten cubic feet, while the Professional sellers have more than 25 cubic feet for standard oversized items, footwear items, and clothing.
When does Amazon's quantity limit reset?
There is no specific time when Amazon's capacity limits will reset; however, Amazon calculates each seller's IPI score in three months.
What range is a good IPI score for Amazon sellers?
Every seller on Amazon must prove their IPI score to obtain greater capacity limits for their products. The average Amazon IPI score varies from 400-800.
Related Articles:
Online Arbitrage Guide: Everything You Should Know
Preparing for Amazon Prime Day: Things You Should Know