Are you seeking the best Facebook marketing guide to help take your digital presence to the next level?
According to DataReportal, Facebook has almost 3 billion active users. So, it's the ideal marketing platform for businesses and organizations that want to promote their services or products.
Our guide includes the information you need to run effective campaigns. Moreover, we'll share detailed instructions on boosting engagement, generating leads, and increasing conversions through Facebook.
Read on as we cover the following:
Begin Your Facebook Marketing
Guide for Effective Facebook Marketing
Final Thoughts on Facebook Marketing
Frequently Asked Questions on Facebook Marketing
Begin Your Facebook Marketing
Facebook presence lets small businesses connect with their current and potential customers.
Before we get into Facebook marketing tactics, use this beginner's checklist to set your marketing strategy up for success:
Make a Facebook business page. A Facebook business page is like a regular Facebook profile. Submit your brand name and add a profile picture and cover photo. Moreover, tell people about yourself in your bio. Then you can reach out to people who will follow or like your page.
Open a Facebook shop. If you want to sell products online, you can use Facebook Shops. Your shop will let people buy items from your business without leaving the Facebook app.
Make a Meta Ads Manager account. If you plan to advertise, an Ads Manager account can help you promote your business. It has special features that let you reach your target audience.
Set up the Meta Pixel. Meta Pixel helps you reach more people with your ads. Moreover, this feature provides insights into the actions people take on your website.
Guide for an Effective Facebook Marketing
About 80% of small businesses use Facebook as a marketing platform, especially since it has proven to be a profitable sales channel.
So, investing a few hours each week in managing social media can benefit your business.
Here are some tips on implementing effective Facebook marketing campaigns:
Know your target audience.
People have chosen to follow you on social media, which means they will see your content in their news feeds.
You'd want to attract people who are interested in your products. So, even with 20,000 followers who are not interested in what you sell, your ads won't be successful. After all, these people have no intention to buy from you.
You need to know who your customers are to use Facebook for ads effectively. Consider what your buyers and customers have in common.
Use these elements to create content for the platform. It would help if you focused on the following traits:
Demographic data (age, gender, location)
Interests
Purchase intent
Pain points or challenges
Objectives and desires
Consolidate and review customer feedback surveys, Google Analytics, and competitor analysis.
Elevate your content.
1,500 Facebook posts are qualified to appear in a user's news feed every day.
You can elevate your content strategy and attract competition by combining the following formats:
Video. Post videos directly on your page, stream them live, or publish them as a story. Facebook likes good quality videos because they make people spend more time on the app.
Images. Pictures are more easily seen in a news feed when accompanied by text. Post photos from behind the scenes or pictures of customers using your products.
Text-only posts. Some companies do well when they post longer stories on Facebook. People generally like posts like this, but it depends on who reads it. It works best when you are telling a story.
Here's an example of how AdvertiseMint incorporates image-based news feed posts into its social media content strategy.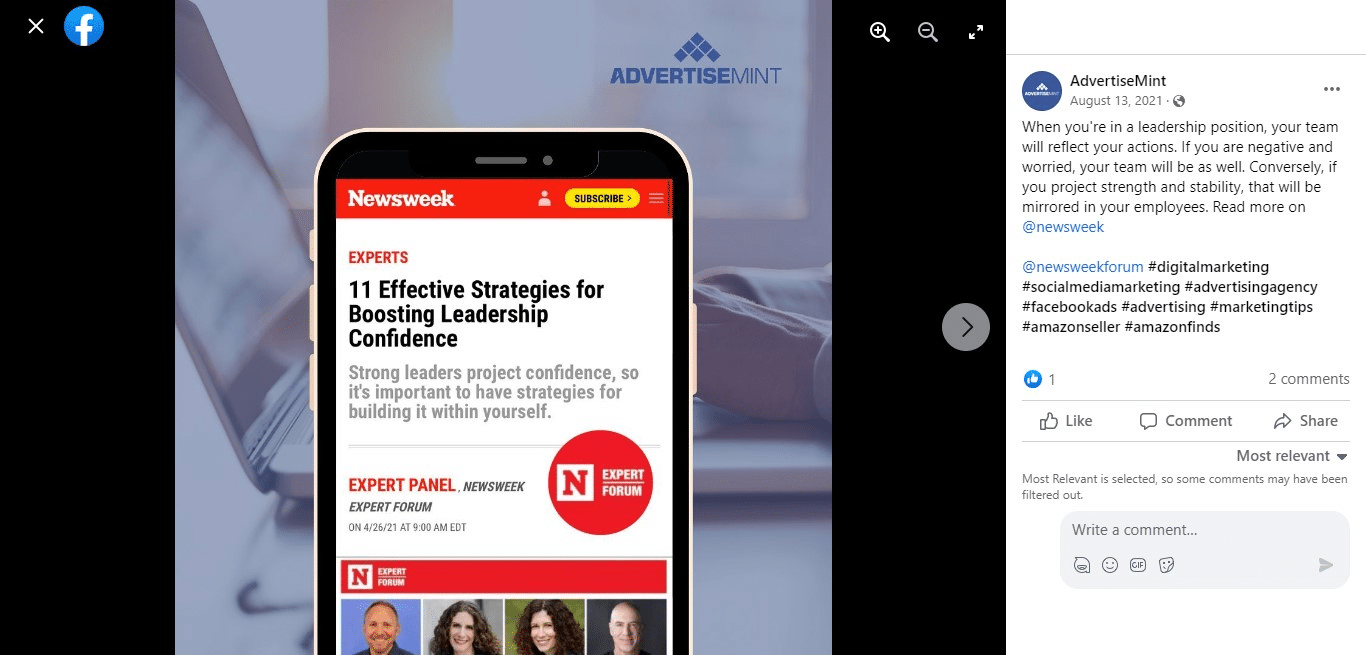 It is important to use your Facebook posts to build relationships with people. Try different types of content to see what works best.
Schedule your social media posts when your followers are most active.
If you use Facebook for your business, post when your target audience is online. Late-night publishing means competing with too many posts in the morning. Consequently, people won't see them.
Research shows the best time to post on Facebook is between 7 a.m. and 9 a.m., from Monday to Thursday. Optimal times for your small business on Facebook may vary based on the following:
Your follower's time and location. Suppose you begin scheduling several Facebook posts for 9 a.m. daily in North America, but your target audience is in Australia. So, if it's 9 a.m. in your location, it would be 1 a.m. in the area where your audience is located.
Selling to businesses (B2B) or consumers (B2C). There is a link between people's Facebook usage and their daily routines. For instance, office workers use Facebook while commuting or during lunch breaks.
Schedule content at contrasting times throughout the week and monitor your Facebook Insights to find optimal posting times.
Share influencer or user-generated content and partnerships with other brands.
Marketing is all about influence. Whether you're convincing your Facebook followers to like your posts or to purchase a product you're promoting, get assistance by partnering with influencers.
Popular social media users influence each generation, particularly ages 20-29 and 13-19.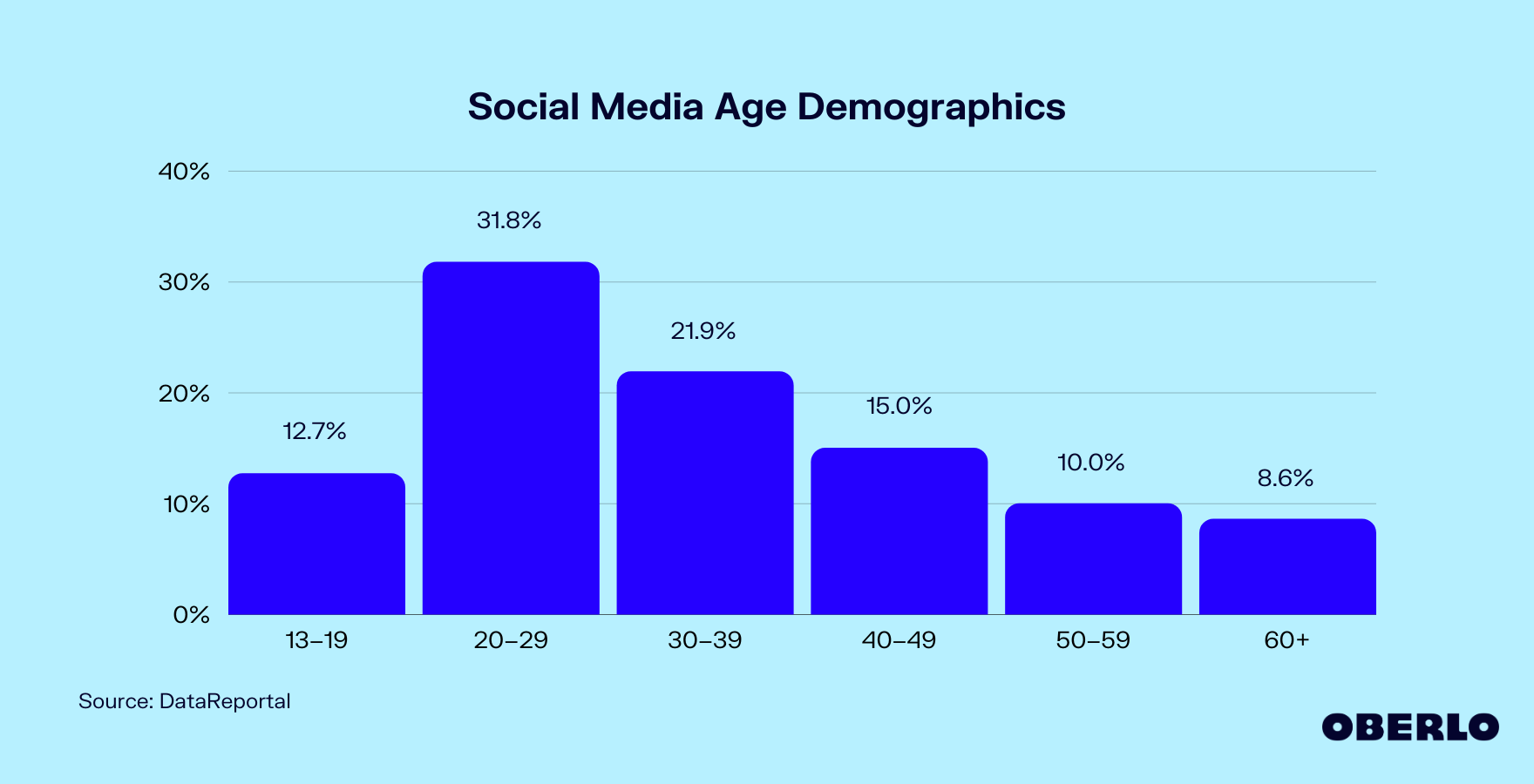 Popular methods to collaborate with influencers:
Finance for a sponsored post.
Let the influencer "take charge of" your Facebook page for a day.
Mail free products to the influencer with the hope they'll share it with followers.
Your Facebook page can grow even with the help of influencers who have a limited number of followers.
Moreover, you can collaborate with other brands and influencers with similar target markets to expand your audience base.
Get recommendations and reviews.
Most people look at reviews before buying something online. Customers who are happy with your company can tell others, which will help attract people to your small business.
People using your product or service can be beneficial when reaching new customers. Find your Facebook reviews by going to facebook.com/username/reviews.
Direct existing customers toward the link through purchase confirmation emails.
Moreover, incentivize reviews and reward repeat customers. For example, give a 10% discount code redeemable on their next transaction or in exchange for a testimonial.
Join Facebook Groups.
You can talk online about the products you like. Over 1.8 billion people worldwide use Facebook groups monthly to connect with others.
Ask your customers what Facebook groups they use to determine where your target market is engaged. You can also search on Facebook for your industry and look at the groups that show up there.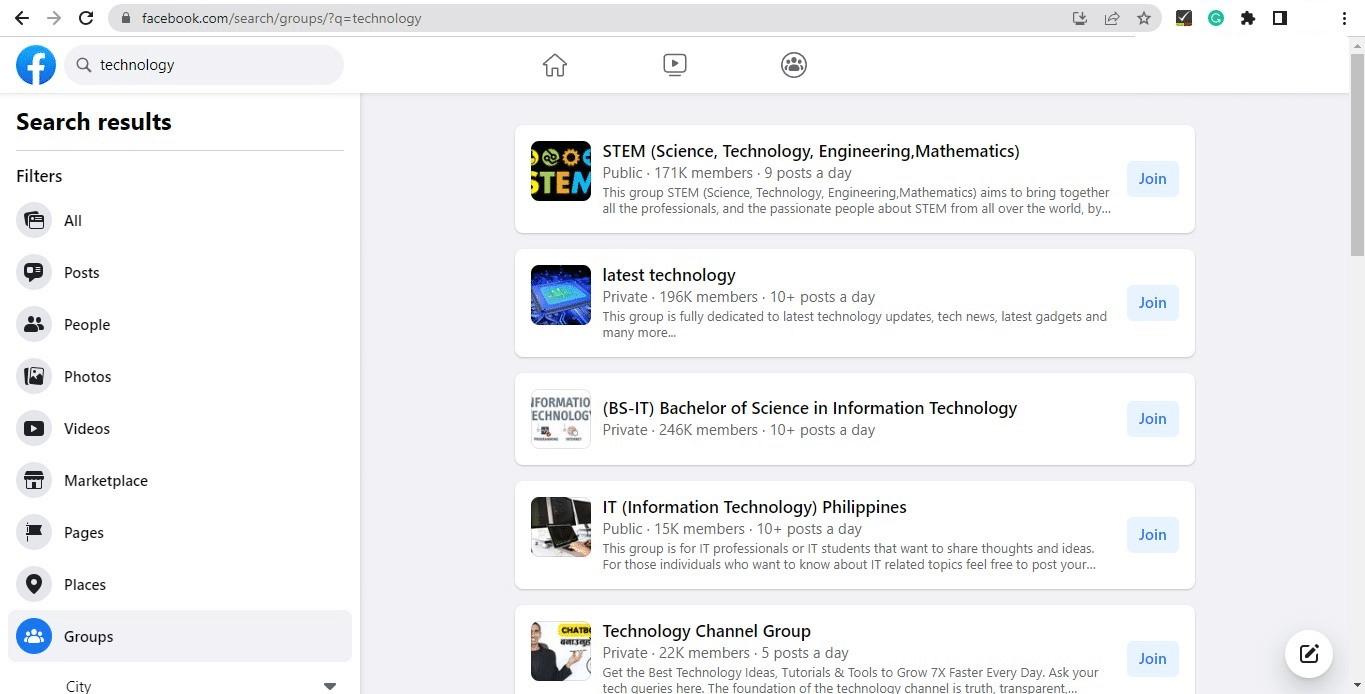 To be seen more on Facebook, you should comment on posts in the group. However, remember that some groups have rules you must follow. Otherwise, they might stop you from posting. Check the rules before posting anything to make sure it is allowed.
Monitor your Facebook insights.
The secret to Facebook's marketing success is trying new things. What works for one small business may not work for another. So, you should be flexible enough to see what's effective for you.
Know whether your strategy is working by monitoring Facebook Audience Insights. Important metrics to pay attention to include:
Follower demographics. Check if people who follow you on Facebook will buy from you. Look at your Facebook followers' countries, ages, and genders to see if they match those you want to sell to.
The number of unfollows. Once someone follows your Facebook page, your job doesn't stop there. You can measure how you're doing by reviewing the number of unfollows.
Where follows happen. Find out where people discover your page. Monitoring followers will help you ensure that more people see your page, which is especially important if you need to spend more time marketing your Facebook page.
Actions on the page. What is the number of people who click your Facebook page's call to action (CTA)? See whether your organic content drives people to visit your website, ask questions, or reach your small business.
Success by post type. It is a good idea to vary your content when advertising your business on Facebook. 
Improve advertising targeting for website visitors.
You can advertise your business on Facebook for only $5 a day, which will help get more people to see your website. It would help if you ran ads often to reach the right people.
If you are new to Facebook advertising, show ads to people who already know your business and product. It will be easier since they already know about you.
Create Facebook custom audiences for people who have:
Visited your website.
Interacted with your mobile app.
Engaged with a video you posted to Facebook.
Bought a product from you.
Set up Meta Pixel on all your platforms, which will help you get information about Facebook users who interact with your website or app.
If you own a small business, you can use Custom Audiences to retarget people. After all, 97 out of 100 visitors leave a website without buying anything.
You can remind these visitors about what they want to buy by showing up on their Facebook news feed.
Run Facebook ad campaigns with influencer endorsements.
We've already touched on influencers' power when marketing a business on Facebook.
Include influencer endorsements in your Facebook ad campaigns to build trust and credibility.
Perform A/B testing tool.
The first Facebook ad campaign you make will be different from the winner. Much like organic posting, the advert with the highest return on investment needs some experimentation.
Run Facebook's built-in A/B testing tool to experiment with the following:
Ad format. Facebook ads come in different types. Some get more attention than others. So, try different styles and see which your target audience likes the best.
Placement. The Facebook news feed is a good place to show ads, especially for small businesses. Try other places like the right-hand column or Meta Audience Network to see if your ads improve.
Campaign objective. Facebook has a tool that helps businesses advertise. Local businesses can use the tool to get people to like their page or sign up for something. Meanwhile, e-commerce companies can use it to help them sell products.
Call to action. Below your advertisement, there is a small button. Find out which of the three options, "Book Now," "Shop Now," or "Learn More," will help people do what you want them to.
Convert your Facebook followers into subscribers for your email list.
Building an audience for your Facebook pages is beneficial because having more followers means a bigger group for promotion.
Despite the hard work put in by marketers to build an audience on Facebook, the platform's algorithm changes. Moreover, its limitations on organic reach can impact your ability to connect with your audience.
So, some marketers view Facebook marketing as constructing an audience on borrowed land. There's always the risk of pages getting shut down.
To decrease risk, you can convert your Facebook audience into email subscribers. You can do this by using ads that lead your target audience to a lead magnet, such as:
Quizzes
Coupons
Free workbooks
A direct line of communication with your desired audience will enable you to contact them in case of unfortunate events.
Final Thoughts on Facebook Marketing
Despite the controversies surrounding Facebook, it still presents an important opportunity for marketers to connect with their target audience, no matter their budget.
Marketers can enhance audience engagement by testing different content formats, campaign goals, and posting schedules.
Moreover, they can use Facebook Insights to determine which strategies work best for increasing conversions among their audience.
Is your company seeking to enhance its marketing strategies? AdvertiseMint, the premier social advertising agency specializing in Facebook and Instagram ads, can assist you.
Check out AdvertiseMint's user-friendly marketing guides and the related articles section of this blog post.
Frequently Asked Questions on Facebook Marketing
Is Facebook marketing free to use?
Creating a Facebook Page or Group for your business is free, but you must pay if you want to use Facebook Ads. Depending on your ad type, the cost is per click or impression.
What are some ways to increase the number of followers on my Facebook page starting from scratch?
Consider investing in ads to grow a Facebook page through social media marketing quickly. Choose the campaign objective as "Page Follow," define your target audience, and spend at least $1 daily to increase your follower count rapidly.
How can I make effective Facebook ads?
To maximize the effectiveness of your images and videos in ads, keep them simple and highlight your call-to-action and value proposition.
It's important to determine your advertising goals in advance so that you can choose the most appropriate ad format for your needs.
Related Articles
A Complete List of Facebook Marketing Partners, Advertising Agencies, Influencers, and Resources
Tips on Making a Killer Facebook Marketing Strategy
What Is Cost Per Click? A User's Guide to Facebook Advertising