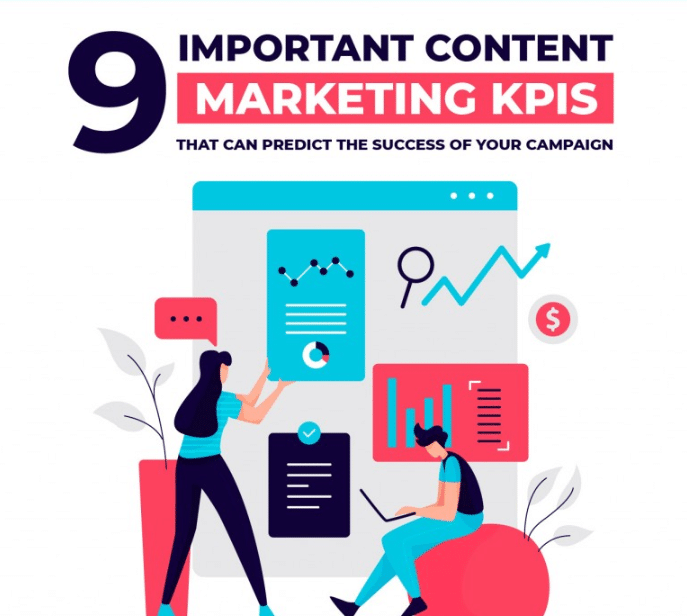 Most businesses today have a content marketing strategy in place. Done right, content marketing can help you increase brand awareness, generate leads, boost sales, and elevate your business.
Is your content marketing strategy really working? You won't know until you measure the results of your campaign. Tracking the right KPIs (key performance indicators) allows you to see what's working, what isn't, and what can be altered.
Start by Defining Your Content Marketing Goals
Oftentimes, marketers post content and jump to measurement without being clear about what they wish to accomplish. This can lead to a waste of resources and skewed results. To make the most of your content marketing strategy, you should identify your goals and then tie them with relevant KPIs. Here are two goals content marketing can help you accomplish.
1. Brand Awareness
Brand awareness represents how familiar your target audience is with your brand. An engaging content marketing strategy can increase brand awareness, subsequently leading more people to buy from you. If this is one of your goals, here are several KPIs you can track.
Article views: In addition to looking at the number of article views, you can also understand traffic source, average session duration, and bounce rate for each article.
Audience engagement: If people share or leave a comment, it means they genuinely like your content. The more they engage, the more likely they'll remember your brand.
Inbound links: Gaining high-quality backlinks can help you climb up the SERPs faster. Good quality content will be more likely to gain backlinks.
2. Boost Sales
The end goal of most content marketing strategies is to improve the brand's bottom line. If you want to track your campaign's success in this regard, you can track the following KPIs:
Conversion rates: Quality content can build trust, educate your target audience, and subsequently convert leads into customers. In addition to your content's conversation rate, you can take a look at which pieces of content are driving more sales.
Length of the sales cycle: The goal is not just to increase revenue but also to do this as quickly as possible. A good idea is to identify channels that help close sales faster.
Be Creative — Don't Restrict Yourself to the Common KPIs
The KPIs you must track largely depend on your goals and your strategy. While the above-mentioned KPIs are a great place to start, you shouldn't limit yourself to those. Some of the hard-to-track KPIs could be hoarding some of the most insightful information.
Keep Updating Your KPIs
Establishing content marketing KPIs is not a one-time event. Every time your goals or your strategies change, the KPIs must be updated, too. Besides, the world of content is changing every day, so revisiting the KPIs you once established is always a good idea. All that being said, creating good content is not as simple as it seems. If you find yourself struggling to curate content that converts, know that you're not alone.
You can always leverage a content marketing platform and improve your strategy. To learn more about content marketing KPIs, check out the infographic below.
Written by Shane Barker
Comments
comments