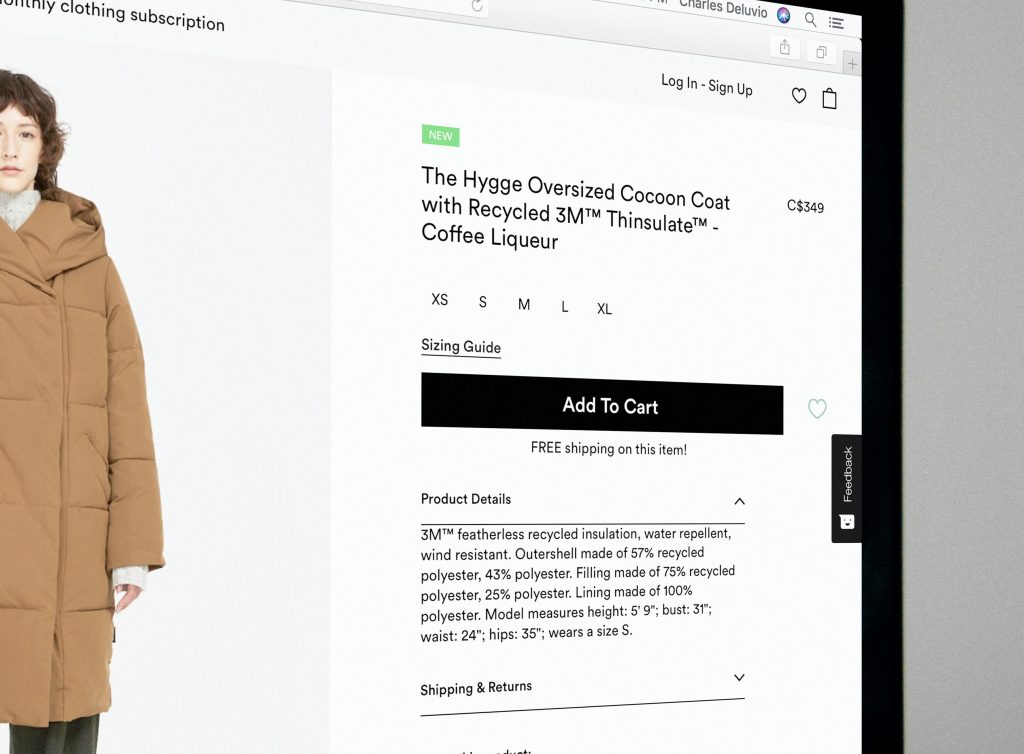 Every online retailer wishes for their stores to prosper. Regardless of which e-commerce platform you are using, Magento or Shopify or any other, you will need to put in effort in order to grow customers and turnovers.
These five digital marketing strategies outlined here can help boost your e-commerce store, brand, and business.
1. Personalize Your Communication
Current trends are drifting toward giving up the general one-fits-all approach. In fact, giving each client separate attention is the tactic that's proven to work. This can be done in many ways. For example, you can include a personalized product selection block on your website, such as the "You may also like" block.
This is how a "You may also be interested in" section looks like on the Lacoste website. It automatically generates picks based on the customer's earlier purchases.
By including a personalized block, you not only raise the chances of customers buying more than planned, but you also show them that you understand them, that you can cater to their tastes.

Another scope of information you can make use of is the items placed in abandoned carts or wish lists. An example of how Pandora allows users to add items to their wish lists can be seen on the screenshot below.
After incorporating wish lists to your website, you can offer customers specific items that they want at reduced prices. This is possible via email marketing campaigns. By offering your prospect an opportunity to get a discount for the very thing he or she wants, it becomes more likely for you to close the deal.
2. Sell on Instagram Shops
If you haven't already taken advantage of Instagram Shops as an extra opportunity to sell your products, embrace it as soon as you can.

Selling on Instagram Shops is quite simple. You need to connect your inventory with your official Facebook account that in turn is joined with your Instagram business account. After verifying your Instagram business account, you may tag the products that are visible on your posts and Stories. The user can then get all the details about the item and even buy it when tapping on the website link to your store that appears.
3. Feature User-Generated Content on Your Website
Furthermore, make sure to use social media and get a hold of user-generated content. By showing not only branded images but also real people enjoying your products, you build trust and can urge your potential clients to make purchase decisions. That said, you can, for instance, use Instagram as a powerful tool to engage your customers, or you may allow users to upload pictures to a gallery section of your website. Invite your followers to make posts of themselves wearing or using the product, put the specified hashtag in the post, and tag your account via "@."
Once your buyers start making posts on social media, you should link the channels to your website so that the feed can be seen on the homepage or wherever else you'd like such a block to be visible. The linking procedure will differ depending on the e-commerce platform that your store is running on. But in most cases, this could be done in the admin panel of your e-commerce store (for example, if your store is based on Shopify, this setup is added using a third-party plugin such as Shop Instagram Feed & UGC).
Take a look at how such a section with the #LiveInLevis harmoniously fits into Levi's website.
By taking a step toward paying the needed attention to cross-linking your channels and engaging customers across those channels, you win since
These customers could get featured on your website or your other official social media channels. (This can make many of your customers ultimately happier.)
You grow brand loyalty.
Your brand gets additional coverage and promotion, as it will flash before the eyes of each of your customers' followers.
You make your website more appealing and trustworthy to your shoppers.
4. Mend Your SEO & Analyze Customer Needs
Using SEO to your advantage is a strong ace up your sleeve. The better you do at search engine optimization, the higher the chances that users will find your store and the products that are offered.

SEO strategies should be applied across all the channels you are using, not only your website. If the channel clicks well with your business, invest the time in creating that channel and having it SEO-powered (regardless of whether it's YouTube, LinkedIn, Tik-=Tok, or anything else).

Make sure to use keywords in your product descriptions, use bullet points, have proper tagging, and include the ratings of your products. Take time to fill out all the meta information and image alts. Optimize every page in terms of not only headings but also speed — this is twice as important with images and pictures.

What's more, don't overlook the side of analytics. You must be on the same wavelength as your target audience; therefore, it's crucial to speak the same language with your customers: Give them what they want and predict the trends. You can find out their needs by

Using simple, concise surveys
Keeping an eye on items placed in wish lists and abandoned carts
Tracking the most often purchased items
5. Encourage Customers Reviews
Another great point to take is generating more customer reviews — this means real feedback from customers who have truly done business with you. The major reasons why reviews are important include

They build trust and credibility to the brand
They are read by those who are planning to buy something from your online store
They cultivate product ratings, vital for customer persuasion and SEO.
When a customer is debating whether they should buy an item or not, they turn to the experience of previous buyers. By having many reviews from actual customers who obtained the item to share their opinion or experience, you help potential customers make a faster decision in your favor. For instance, this is how the reviews on a product page look like on the MAC Cosmetics website.

Yet, how do you get your customers to leave reviews? To be fair, yes, not everyone likes spending his or her time writing reviews on an item or sharing opinions about a used service, especially if this involves filling out many fields, verifying the purchase, and uploading images. A couple of things that can be done here:

Encourage those who have bought something from you to write a review in exchange for some sweetener. This could be a coupon, bonus points, or free delivery on the next order.
Make it as easy as possible for them to leave a review. Provide a direct link from the email confirmation and narrow down the number of fields.
Final Word
Digital marketing and e-commerce fit so well together like a hand in a glove. This is why it's essential to put in the needed resources and effort into various cross-channel strategies. This way, you'll make a big step towards increasing your sales and making your online retail business thrive.