Are you curious about the right Instagram video size?
Using social media correctly can be tricky. This is particularly true when it comes to getting your Instagram video size just right.
Whether you're a seasoned Instagrammer or a beginner, understanding the ideal video dimensions can make a world of difference in your content quality and impact. This blog post will explore the right sizes and dimensions for your Instagram posts.
Instagram Video Sizes and Dimensions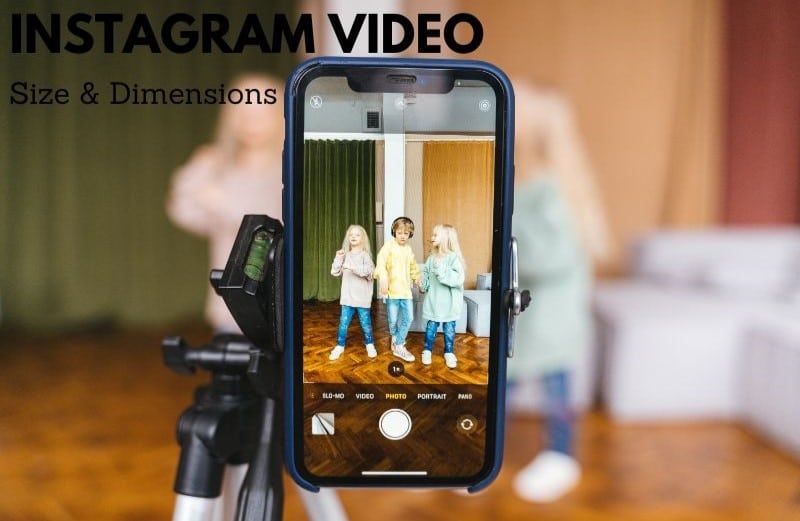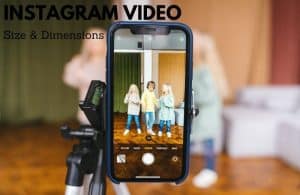 source: Canva
To ensure your content shines on Instagram, you must understand the ideal video sizes, dimensions, aspect ratios, lengths, and formats. Let us break it all down for you.
1. Instagram Reels.
Instagram Reels are short, fun videos you can create and share on your Instagram account. They are typically 15 to 60 seconds long and are a great way to entertain, inform, or engage your followers. Reels offer various creative tools, like music, filters, and text, to help you make eye-catching videos.
Additionally, you can find Reels by clicking the fourth icon at the bottom of your screen or on a user's profile. Reels are an excellent way to showcase your creativity, tell stories, or have fun on the platform. So, if you want to spice up your Instagram game, try Reels.
Size: 4GB maximum file size.
Video dimensions: 1080 x 1920p (Portrait).
Ratio: 9:16.
Length: 60 seconds.
Video format: MP4 and MOV.
2. Instagram feed videos.
Feed videos are standard video content accessible within your Instagram feed. They are a versatile format suitable for various types of content, such as product demonstrations, instructional guides, behind-the-scenes insights, promotional clips, and narrative storytelling. These videos seamlessly integrate into the primary feed of your followers, like regular photo posts.
Size: 4GB maximum file size.
Video Dimensions: 1080 x 1080 pixels (landscape) and 1080 x 1350 pixels (portrait).
Ratio: 4:5. However, the platform also supports 1.91:1 to 9:16.
Length: The recommended file size for videos 10 minutes long or shorter is 650MB, while for 60-minute videos, it should be around 3.6GB.
Video format: MP4, MOV, and GIF.
3. Instagram Stories.
Instagram Stories are short-lived, temporary posts on Instagram that disappear after 24 hours. They appear in a horizontal slideshow format at the top of your Instagram feed and are a fantastic way to share moments from your day. In your Stories, you can include photos, videos, text, stickers, and even interactive features like polls or quizzes. These posts are more relaxed and casual than regular Instagram posts, allowing you to share glimpses of your life, behind-the-scenes moments, or quick updates.
Size:

4GB maximum file size.

Video dimensions:

F

rom 1080 x 608 pixels to a maximum of 1080 x 1920 pixels.

Ratio:

9:16.

Length: 

15 seconds, but you can post a series of clips.

Video Format: 

MP4, MOV, and GIF.
4. Instagram Live.
Instagram Live lets you broadcast live videos to your followers in real-time. It's a fantastic way to interact with your audience, answer questions, hold Q&A sessions, host virtual events, and share live moments. When you start a live session, your followers receive notifications, and your live video jumps to the front of their Stories feed.
Size: 4GB maximum file size.
Video dimensions: 1080 x 1920 pixels.
Ratio: 9:16.
Length: You can go live for up to 4 hours.
Video Format: MP4 and MOV.
Read more: How to Post on Instagram in 8 Easy Steps.
7 Ways to Produce Quality Videos on Instagram
Producing quality videos on Instagram involves combining creative planning, technical skills, and a good understanding of the platform's features and audience. Here are some steps to help you create high-quality Instagram videos:
Plan your content: Define your purpose and audience, storyboard your video, and plan your shots and transitions.
Use good equipment: Invest in a quality camera or smartphone. You should also consider stabilizers and use external microphones for better audio.
Pay attention to lighting: Shoot in well-lit environments, preferably with natural light, to enhance video quality.
Edit your videos: Use video editing software to trim, cut, and arrange clips and add captions or subtitles if needed.
Optimize for Instagram: Use recommended formats, aspect ratios, and high-resolution videos for better quality.
Engage your audience: Craft compelling captions, use relevant hashtags, and encourage interaction with your content.
Monitor Analytics: Track video performance with Instagram Insights and adjust your strategy based on metrics like views and engagement.
Why Is the Correct Video Size Important?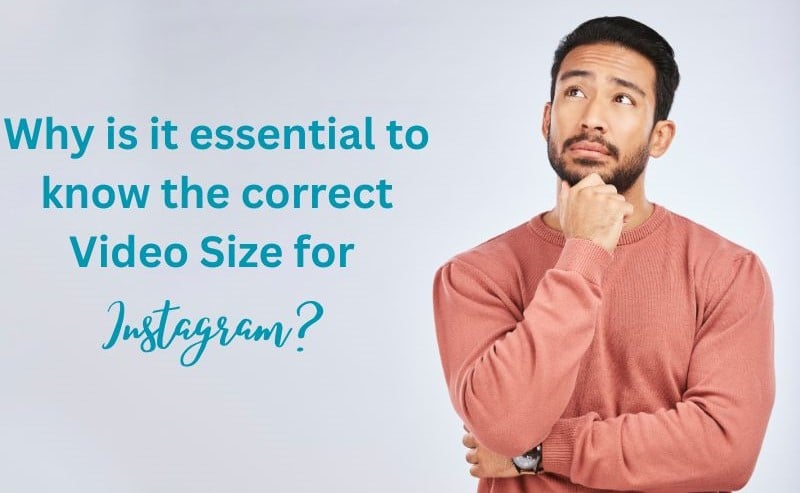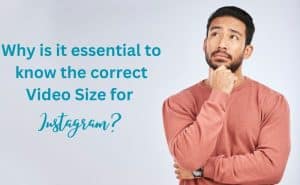 source: Canva
Below, we explain why using the correct video size on Instagram is not just a technicality but a strategic move:
Improved engagement

: Well-polished

and professional content tends to gain higher engagement rates, increasing visibility and popularity.

Mobile-friendly experience:

Most Instagram users access the application on mobile devices. Using the correct video size, you optimize your content for mobile use, ensuring a seamless and enjoyable viewing experience for your audience.

Brand consistency:

Using the correct video size aligns your videos with your existing content and improves your brand's professionalism.

No technical issues:

Videos that don't meet Instagram video specs may encounter technical issues such as playback errors or glitches. This can frustrate you and your audience.

Reach and visibility:

Instagram's algorithm recognizes high-quality content. Hence, videos with the correct size have a good chance of being shown on the Explore page, improving the content's reach and visibility.
Final Thoughts on "Instagram Video Size"
Nailing the perfect Instagram video size is a small but crucial step to elevate your social media game. Ensuring your videos align with Instagram's recommended dimensions enables you to captivate your audience with crisp, visually appealing content. Remember, the right size not only enhances the overall aesthetics of your profile but also improves engagement and discoverability.
Are you looking to unlock your Instagram business account's potential? Contact the premier Instagram advertising agency today!
Frequently Asked Questions on "Instagram Video Size
What is the best Instagram video format?
MP4 is widely recommended for all Instagram video formats due to its good video quality and file size balance.
What are the technical requirements for Instagram carousel video ads?
Instagram carousel video ads have a dimension of 1080 x 1920 pixels and an aspect ratio of 9:16 in portrait mode (or 16:9 in landscape mode). Also, the acceptable formats are MP4, MOV, and GIF with a recommended resolution of at least HD or 1080p.
Is 4K Supported on Instagram?
Instagram does not support 4K videos; the platform has a maximum video resolution limit of 1080 x 1920.
Related Articles
The Most Popular Instagram Hashtags
8 Instagram Story Ideas You Should Try