Would you like to learn how to create a successful TikTok marketing strategy?
TikTok is a powerhouse for businesses looking to connect with their audience in a fun and engaging way. Whether you're a seasoned marketer or a beginner, understanding TikTok marketing can be a game-changer for your brand.
But how can you use TikTok effectively for your marketing campaign? Get all the answers in this blog post.
What Is TikTok Marketing?
TikTok marketing is all about using TikTok to promote your brand or business. It involves creating fun videos, targeting specific viewers, using popular hashtags, and collaborating with influencers to connect with a broad audience.
Here is how TikTok marketing works:
1. Create fun video clips:

TikTok marketing requires you to create short and entertaining video content, like funny videos about brands, products, or services.

2. Reach a big crowd: There are over a billion TikTok users across the globe. That's a massive audience waiting to discover what you offer.
3. Show your style: L

et your creativity shine through your videos. You can make your TikTok content stand out with music, special effects, and cool editing.

4. Connect with your target audience:

TikTok marketing is like building a friendly fan club. People who like your TikTok videos can follow you, and you can talk to them in comments and messages.
Read more: How much do TikTok ads cost?
The Main Types of TikTok Marketing for Brands
Like the other top social media platforms, TikTok offers brands and businesses a dynamic space to shine. Below are the main types of marketing brands use on TikTok:
1. TikTok influencer marketing.
TikTok influencer marketing requires brands to team up with popular TikTok influencers with a dedicated following. If you partner with influencers, they will create engaging videos featuring your brand's products and services, effectively endorsing them to their audience.
In addition, TikTok influencers bring credibility and authenticity to brand promotions. Hence, your brand promotions will be more relatable for viewers.
2. Branded hashtag challenges.
Brands that use branded hashtag challenges initiate creative challenges on TikTok, encouraging TikTok users to participate. Users create content following the challenge theme and using the brand's hashtag. These trending hashtag challenges go viral, spreading brand awareness and user-generated content.
3. In-feed ads.
In-feed ads are short video ads that appear in users' TikTok feeds. Brands that use in-feed ads create catchy, brief ads that appear naturally in users' feeds. These ads blend seamlessly with user content and grab attention quickly.
4. Branded effects.
Brands that use branded effects design unique augmented reality (AR) effects for users to include in their videos. Users access these effects through the TikTok camera to create engaging and interactive content. Branded effects are effective because they foster user creativity and offer an immersive brand experience.
5. User-generated content (UGC) campaigns.
Brands that use UGC campaigns to market their products encourage TikTok users to create content related to their products and services. When users voluntarily share these content ads, they demonstrate their love for the brand. UGC campaigns build a loyal community and showcase real-life product experiences.
5. TikTok Live.
Brands go live on TikTok to engage with their audience in real time. Businesses that use live videos for TikTok marketing can host Q&A sessions, product launches, or behind-the-scenes content. Using live videos for TikTok marketing is effective because it fosters a direct connection with the audience and builds trust.
Read more: Discover how to fix TikTok Live not loading.
6. TikTok shoppable content.
If you use this type of TikTok marketing, you can link your products directly to TikTok videos for easy shopping. TikTok users can click on your products in the videos you link them to view details and make purchases. Using TikTok shoppable content to market your product effectively streamlines the shopping process by converting interest to sales.
How T
o Create an Outstanding TikTok Marketing Strategy
After choosing the types of marketing to use on TikTok, you need to create your own TikTok marketing strategy. Below are steps to follow to create a TikTok marketing strategy that stands out:
Step 1: 
Define your goals.
You can start with a clear objective by deciding what you want to do with your TikTok marketing. Whether it's increasing your brand's awareness, driving website traffic, or boosting sales, your goals will drive your strategy.
Step 2: 
Know your audience.
Understanding your audience is crucial. Know your ideal viewers: their interests, age, location, hobbies, etc. The more you know about them, the better you tailor your content to keep them engaged and build a strong TikTok presence.
Step 3:
 Competitor research.
Check out what your competitors are doing on TikTok. It would be best to consider what's working for them and what's not. Learning from their success and mistakes will refine your strategy. One tool that can help you do this is TikTok Top Ads.
Step 4: 
Content planning.
Brainstorm ideas for your TikTok content by being creative and thinking outside the box. TikTok is about unique and entertaining videos, so let your imagination run wild.
Step 5: 
Consistent branding.
Maintain a consistent look and feel in your videos. Use your brand's colors, logo, and messaging to make your content instantly recognizable to viewers.
Step 6: 
Engage with trends.
Just like other social media platforms, TikTok loves trends. You should participate in popular challenges and use trending hashtags to increase your brand's visibility.
Step 7: 
Collaborate with TikTok influencers.
Partner with TikTok influencers in your brand's niche. These individuals can help you reach a wider and more relevant audience.
Step 8: 
Hashtag matter.
Using relevant hashtags in your videos will improve your brand's discoverability. So, it would be best to research popular and niche hashtags that fit your content.
Step 9: 
Consistency is key.
While practicing TikTok advertising, you should avoid being a one-hit wonder. Post videos regularly to keep your target audience engaged and returning for more.
Step 10: 
Interact with your audience.
Respond to comments and messages to build a genuine connection with your viewers.
Step 11:
 Monitor and adjust.
Please monitor your TikTok analytics by checking which videos perform best and adjusting your strategy accordingly.
Step 12: 
Promote your TikTok content.
Share your TikTok video clips on other social media platforms to cross-promote your content and grow your TikTok following.
Step 13: 
Consider TikTok advertising.
Depending on your budget, you should explore TikTok ads. Exploring TikTok ads can help you reach a broader audience and boost your brand's exposure. You can also hire a TikTok ad agency to guarantee the best results.
How To Create a TikTok Business Account
Consider setting up a TikTok business account to advertise your business or products in the TikTok community. To have your TikTok business account up and running in no time, follow the simple steps below:
Step 1: 
Download the TikTok app.
If you don't already have the TikTok app on your device, download it from your app store.
Step 2: Sign up or log in.
Open the TikTok application and either sign up for a new account or log into your existing TikTok account. Use an email and password that you can easily access.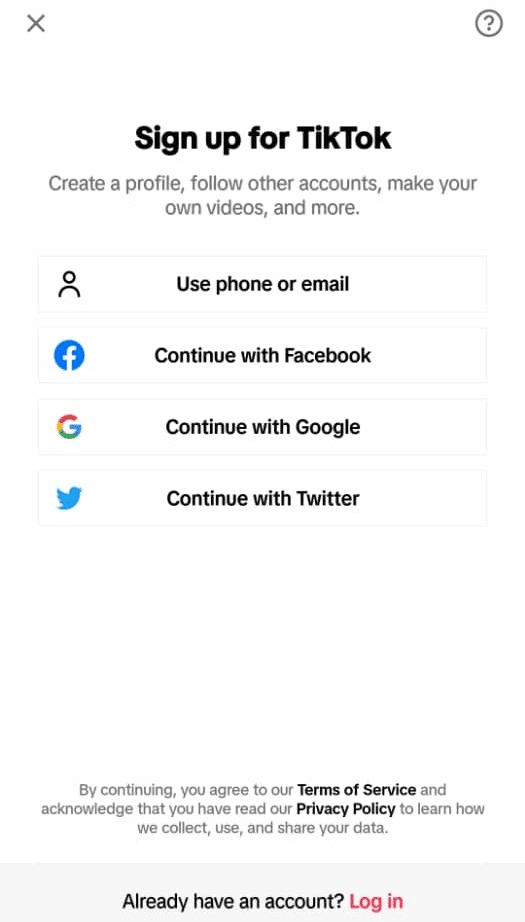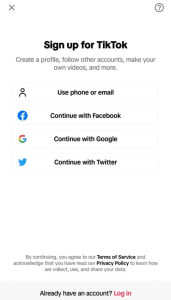 Step 3: Switch to a business account.
After logging into your TikTok account, follow the procedures below to switch to a business account:
Tap your profile's icon at the bottom right corner of the screen to access your profile.
Click the three stack lines in the top right corner on the next screen.


On the pop-up screen, tap "Settings and privacy."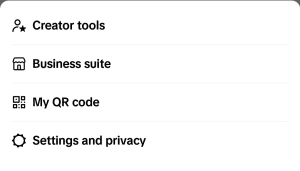 On the "Settings and Privacy" screen, click "Account."
On the "Account" menu, click on "Switch to Business Account."
Step 4: Access TikTok ads manager.
Go to ads.tiktok.com to access the TikTok ads manager and set up your business account. Follow the easy steps below to set up your TikTok marketing account:
On the landing page, click the "Get started now" option.
Log in with your TikTok login details.
Select your country region.

Fill in your business details like business name, website, and industry.

Verify your business by providing additional information or documentation if requested.
Step 5: 
Add payment information.
You will need to add your payment information to run ads on TikTok. TikTok accepts various payment methods, including credit cards. Follow the prompts to securely add your payment details.
Step 6: 
Review and confirm.
Double-check your information to ensure accuracy before finalizing your TikTok ad account setup. Once you're satisfied, click the "Confirm" button.
Step 7: 
Begin creating ads.
Congratulations! You now have a TikTok ads account. You can start creating ad campaigns, targeting your audience, and promoting your business or product on TikTok.
Final Thoughts
You can leverage TikTok's immense potential to boost your brand's visibility and connect with a broader audience. However, creating a successful TikTok marketing strategy involves certain key factors. These factors include setting clear goals, understanding your audience, and consistently delivering engaging content. 
Frequently Asked Questions
What is TikTok's marketing strategy, and why is it important?
TikTok marketing strategy is a plan businesses use to promote themselves on the TikTok platform. It is essential because TikTok has a colossal and engaged user base, making it a prime place to connect with potential customers.
How can I find the right audience for my TikTok marketing strategy?
Research your target audience's interests, behaviors, and demographics to find the right audience. Use this information to create content that appeals to them. You can also partner with TikTok influencers who already have a relevant audience.
What types of content work best on TikTok for marketing purposes?
Content that works best on TikTok are short-form videos that are engaging and authentic. Also, you can use trends, challenges, and storytelling to capture your audience's attention.
Related Blogs
How to Change Your Username on TikTok