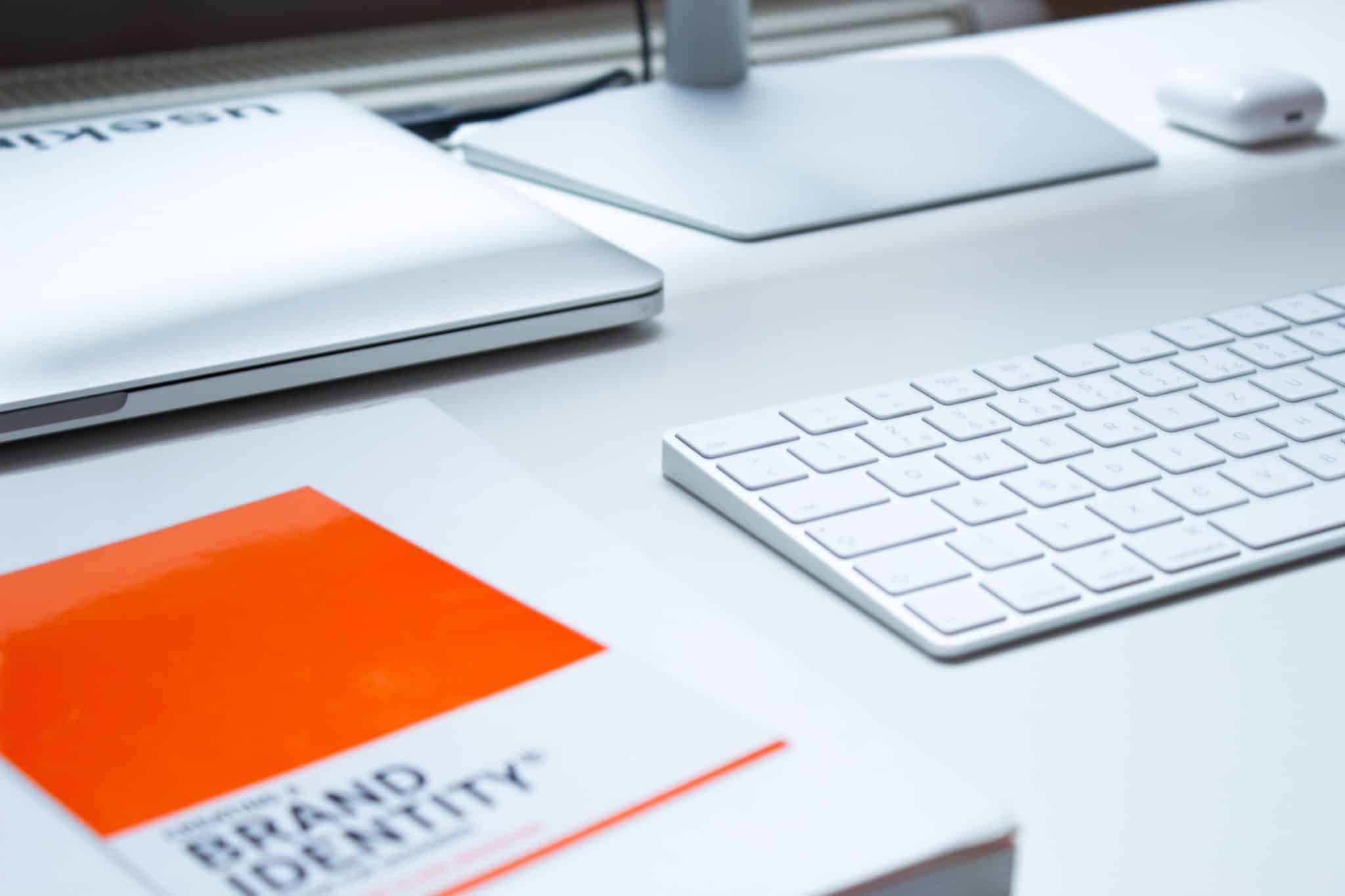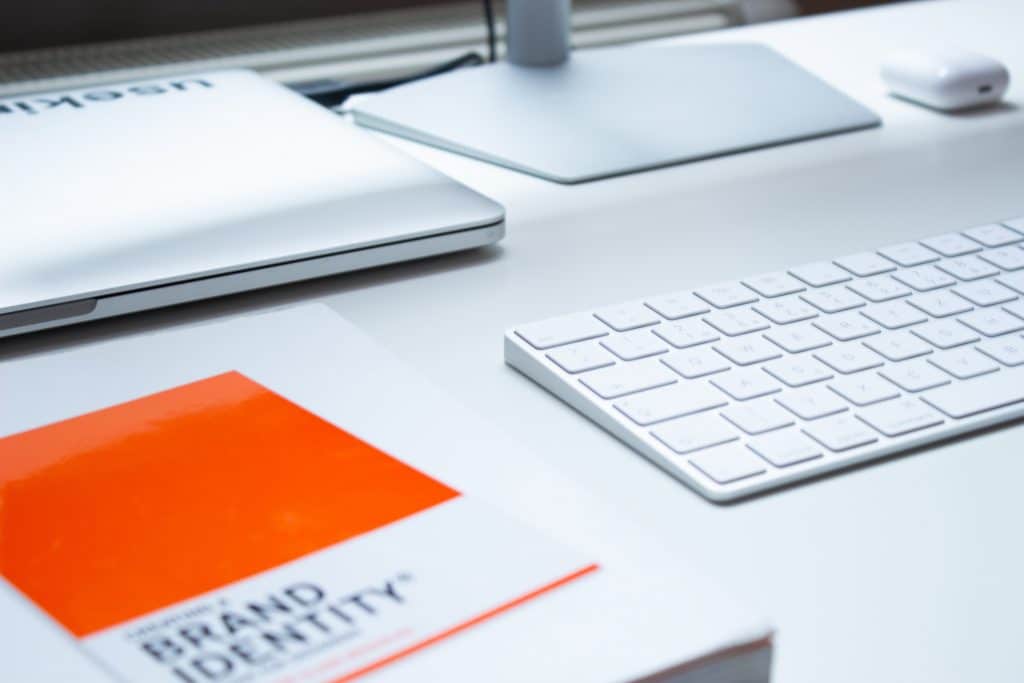 Researching the human experience and its relationship with consumer behavior, Deloitte conducted a study that encompassed more than 16,000 participants. And their findings largely impacted their 2021 marketing trends. It turns out that more than half of the people participating in the survey stated that they preferred shopping experiences that offered a human touch.
For brands wanting to make it in today's competitive market, this piece of information makes for a pretty straightforward guideline. Business leaders need to find ways to humanize their brands, and they need to do it consistently and with spot-on methods.
So if you, too, are looking for strategies that will make your company more approachable, the following are some of the best ways to humanize your brand.
Introduce Your Team
As it tends to happen in life, the best solutions are often the simplest ones. With this in mind, it's not a bad idea to get started with the most uncomplicated steps toward making your brand more relatable, and that would be introducing your team.
It doesn't matter if you do it via an About Us page or write about each team member in a social media post. What counts is that your existing and potential customers know exactly who the people behind the products or social posts are.
For example, doctors' offices have perfected the art of introducing their specialists so that each patient can choose the professional that best suits their needs. Similarly, any brand can find effective ways to get closer to its audience. The artisan plant-based cheesemakers from Kite Hill have an insightful Our Story page that introduces each founder. Furthermore, it gives a timeline of the company's progress from its humble beginnings until the present.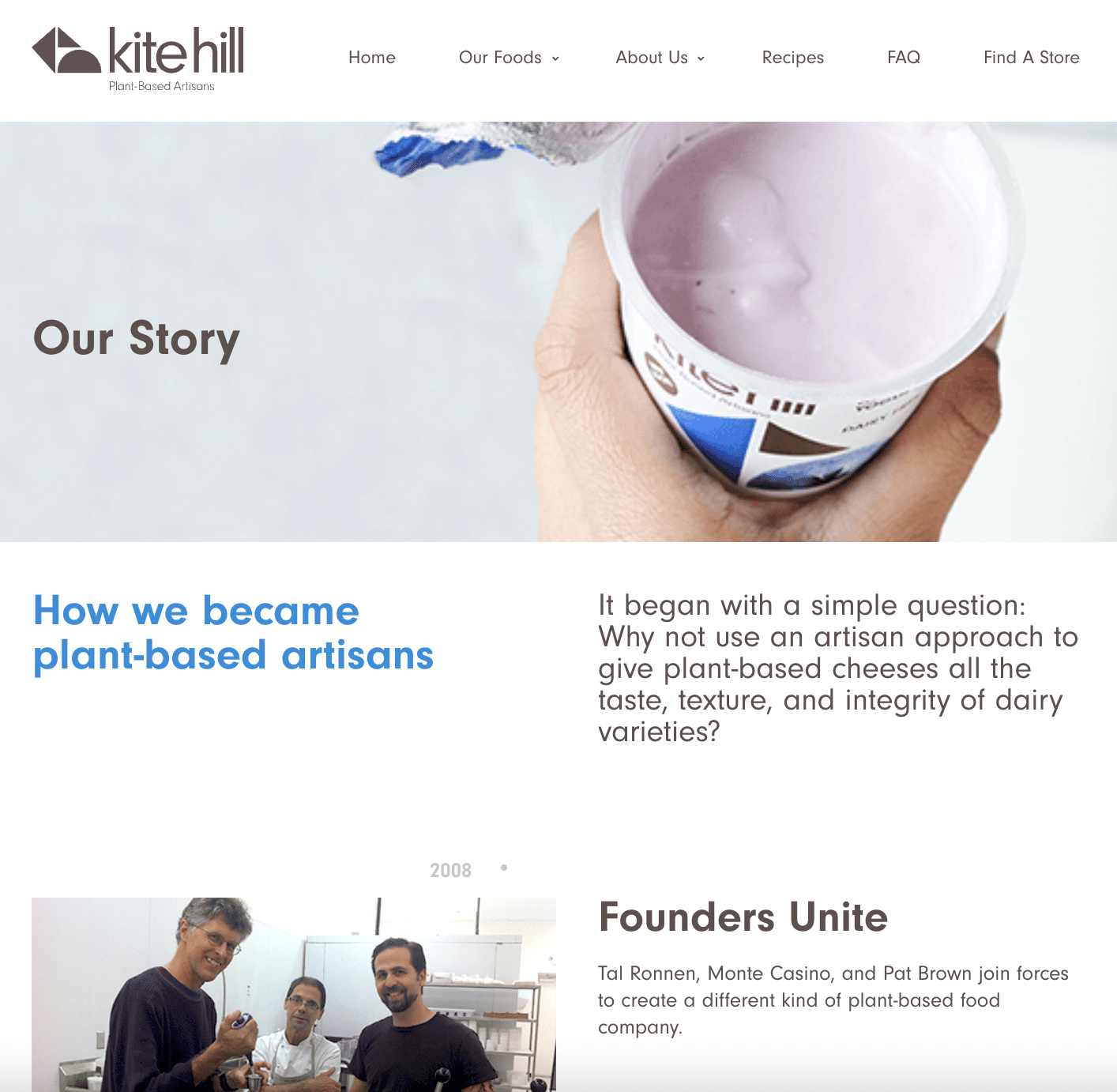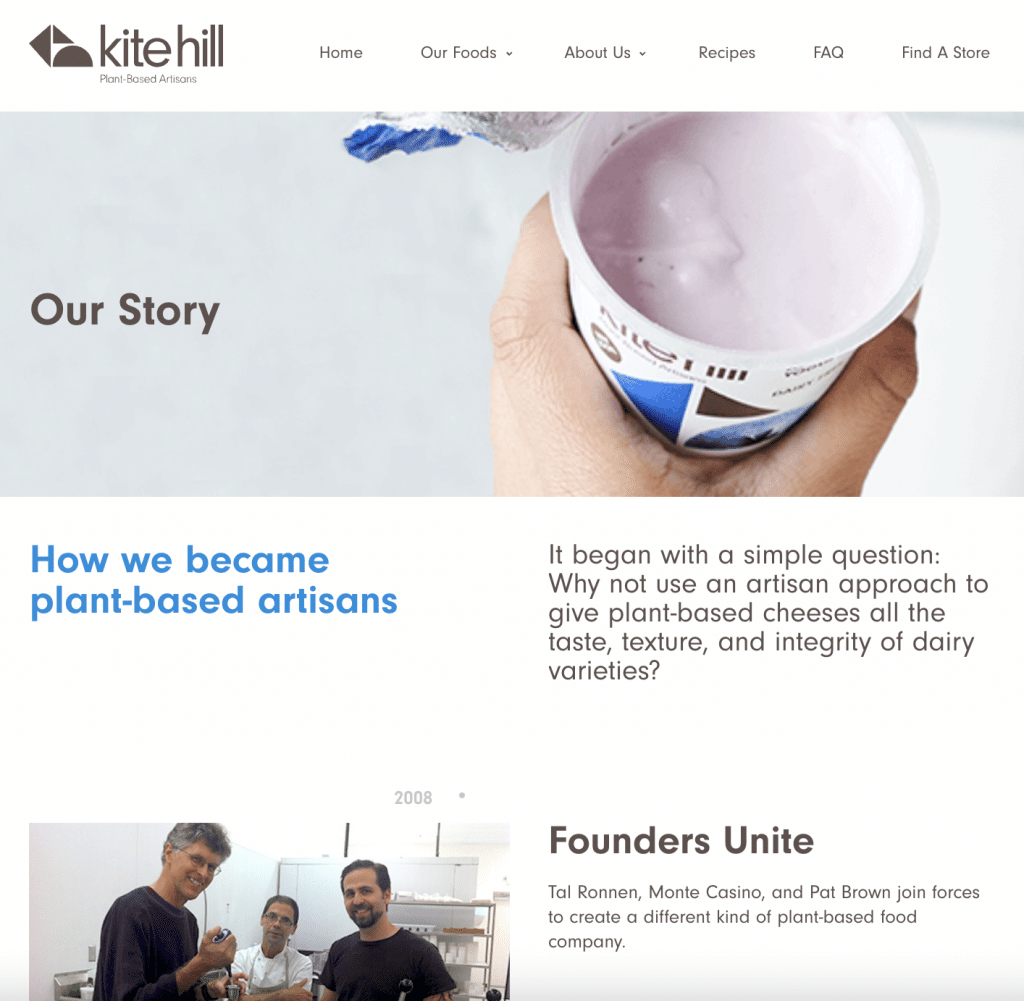 Source: kite-hill.com
Be Authentic
Branding is, naturally, a significant contributor to how your customers are going to perceive your business. So, in addition to paying attention to your visual identity and marketing methods, it may also not be a bad idea to define your voice and values.
Having a recognizable and consistent way of communicating is inevitably going to help define your position in the market. You may think you need to sound a particular way to fit into an industry, but rest assured that being authentic is bound to connect you with the customers who are the right fit for your business.
One brand that's got a hand of authenticity is Billy Tannery from the UK. The idea behind their brand is to build a zero-waste business and create a line of locally made leather products. The interesting thing about Billy Tannery is that their mission isn't just limited to a statement on their homepage. Instead, it's a guiding principle in their blog section and social media posts, too.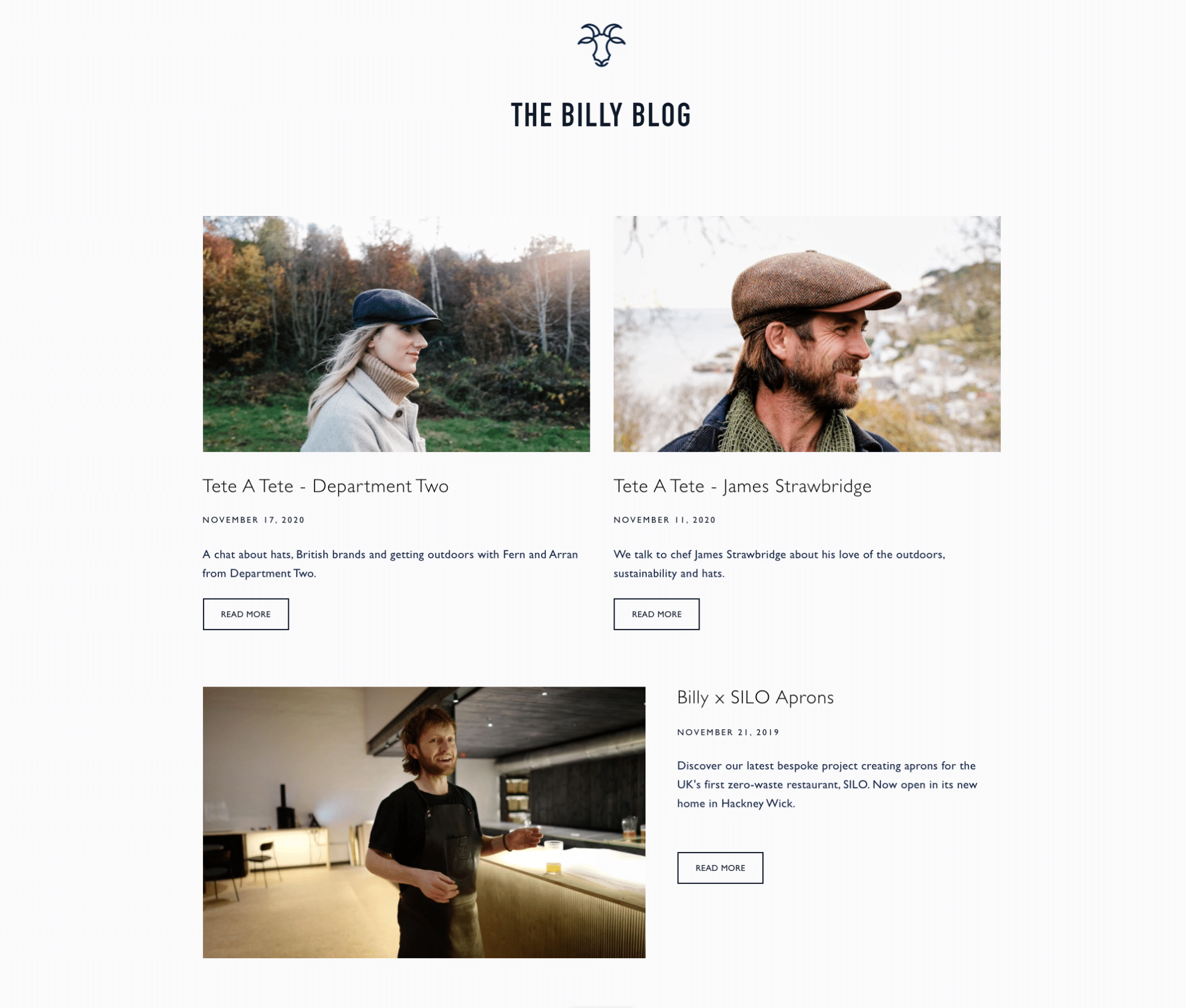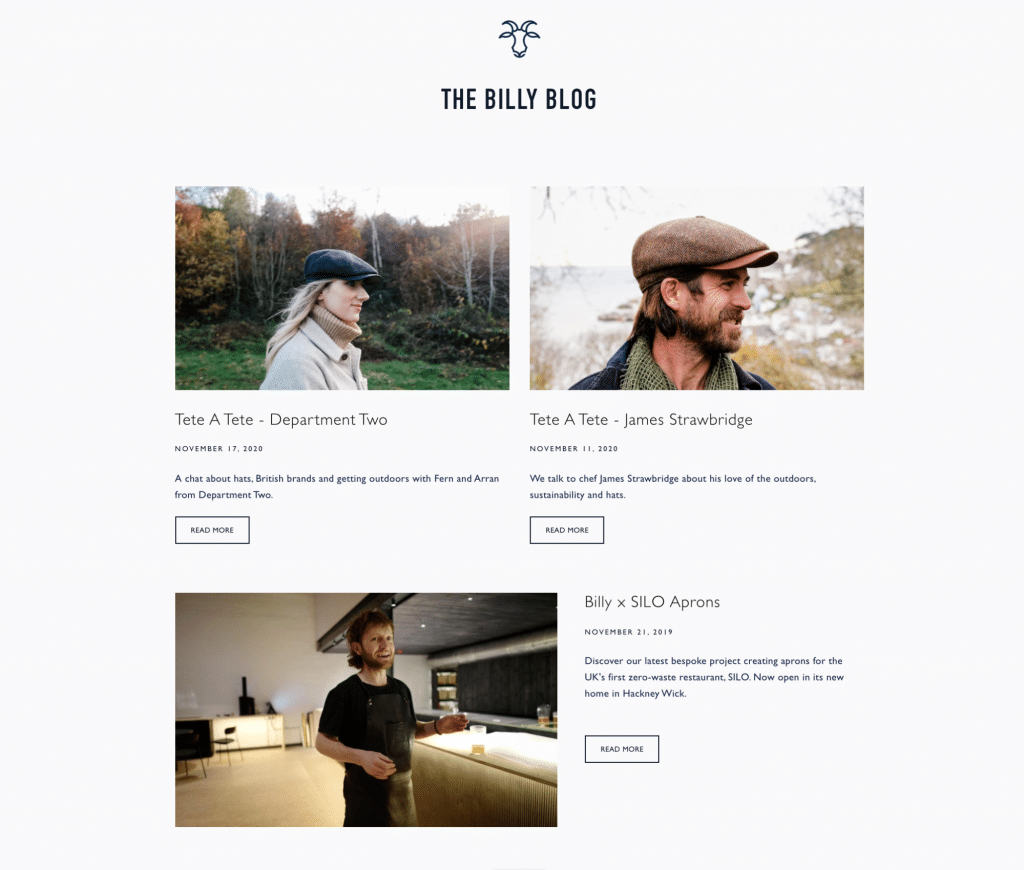 Source: billytannery.co.uk
Build Genuine Relationships
You're probably already aware of the fact that engagement is one of the best drivers of conversions. By humanizing your brand, you can boost engagement over all your communication channels. There are two basic methods of increasing engagement on all platforms.
The first one is social listening, an action that depends on specialized software. What social listening does is that it sends you a notification each time someone mentions your brand, product, or competitor on social media. With this kind of insight, your marketing and customer service teams can react without delay and reach out to these existing or potential customers. It's a great way to collect user-generated content and to address any issues before they even appear.
The second method for boosting engagement is to invest in the production of high-quality content that offers value to your customers. The simplest way to do just this would be through your blog section, but you can also do it through different social channels. One brand that's doing a great job in producing engaging content is Eachnight.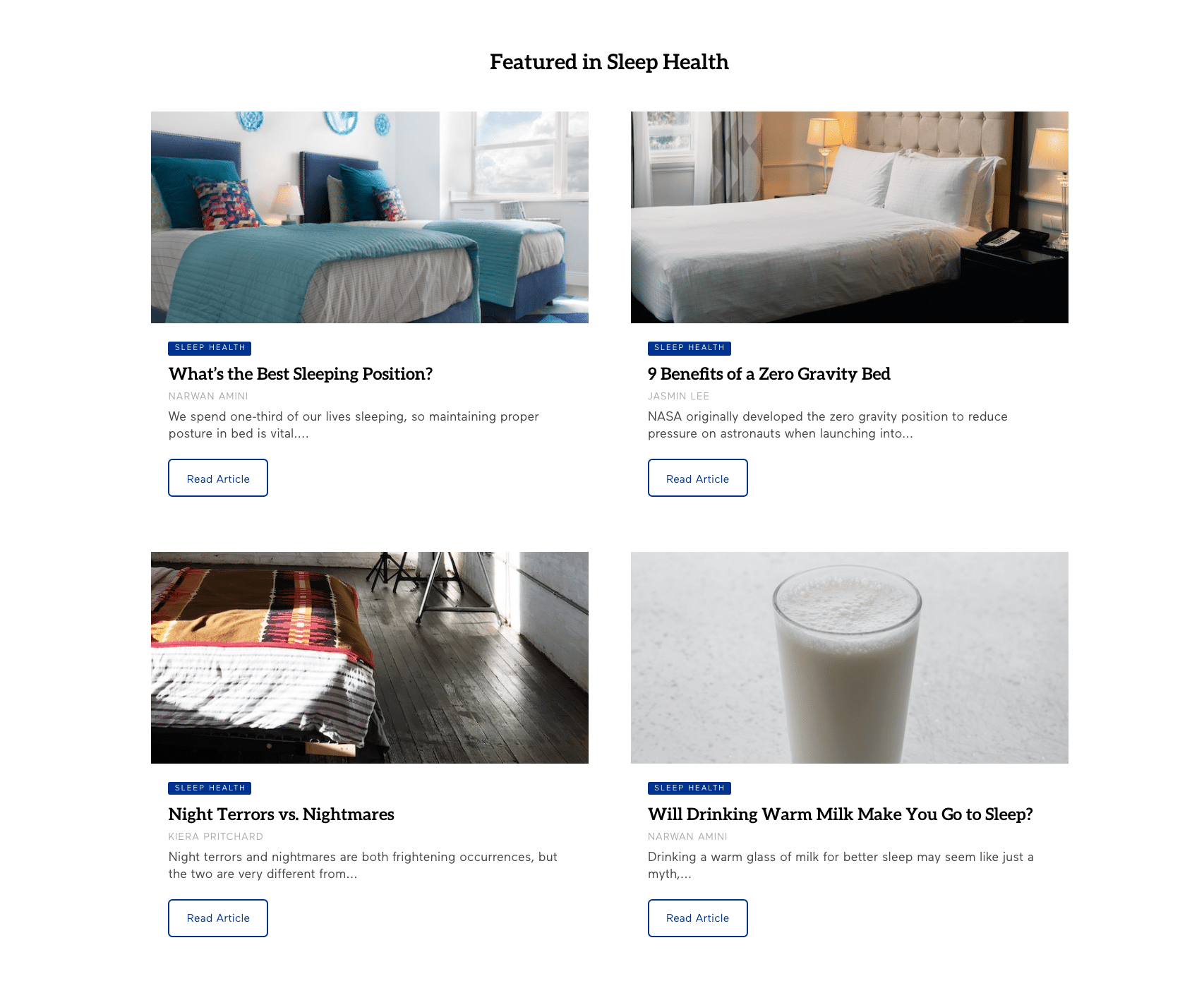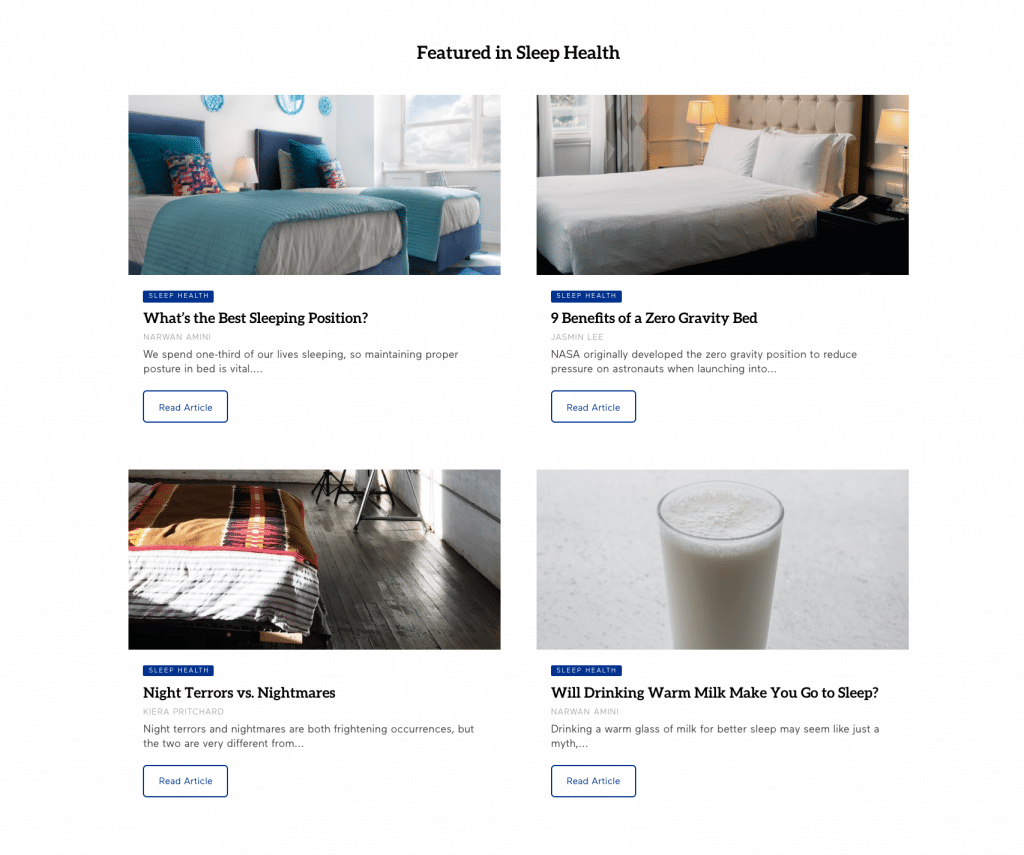 Source: eachnight.com
Their sleep health page is chock-full of educational posts on the best way for people to hack their sleep, how-to guides for achieving specific rest-related results, and well-researched articles about the impact of different external influences on the quality of sleep.
Personalization
The one thing to keep in mind about humanizing your brand is that the effect you're going to achieve with your customers doesn't just depend on how you present yourself and how you approach marketing. It's also influenced by how they feel about shopping with you.
According to age-old experience, personalization makes for one of the most successful sales strategies. The reason behind it is that consumers, essentially, want to build relationships with the brands they support. So, it's not a bad tactic to start implementing personalization into your online presence.
For one, you can update your email marketing campaigns to address your subscribers by name. Also, make sure that you have a well-developed recommendations section on all your product pages, like the one below from the Rei website. Finally, don't forget to use tracking data in a way that will help you provide your web visitors with a personalized experience.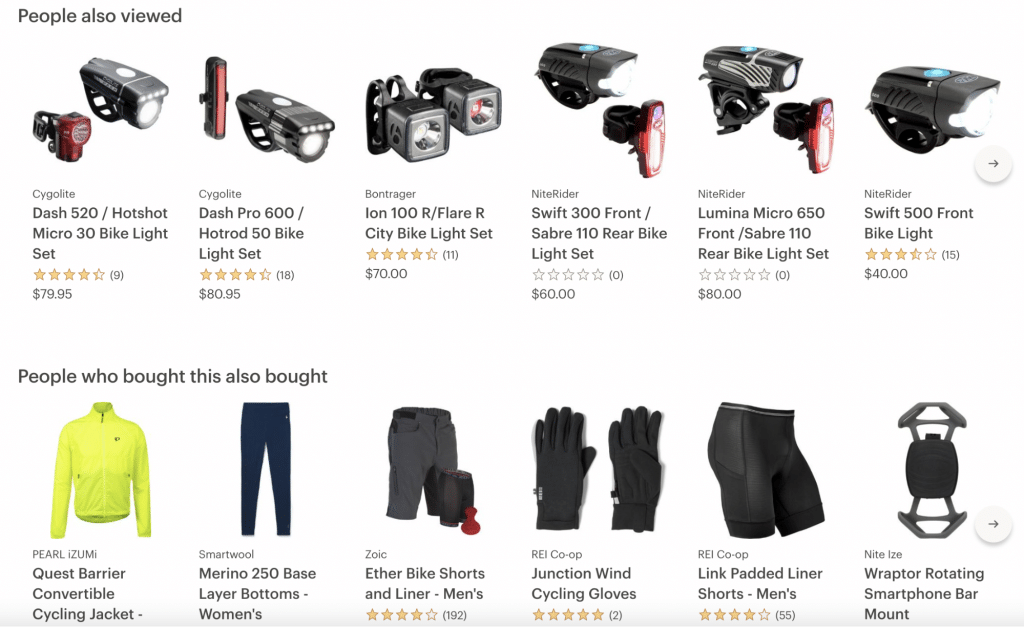 Source: rei.com
Give Sneak Peeks and Behind-the-Scenes Footage
Another excellent way to show the people who work at your company and reveal what things look like behind closed doors is to produce ephemeral content. Not only are stories (now available on an endless number of marketing channels, including Spotify) a way to induce a bit of FOMO amongst your followers, but they're also a way to achieve a closer connection with your audience.
There are numerous ways ephemeral content can help your brand become more relatable. For example, you can take inspiration from 368 and show followers how your employees have fun around the office. Or, if you're developing new products, you can give sneak peeks of the production process. Maybe you can even ask people for their input.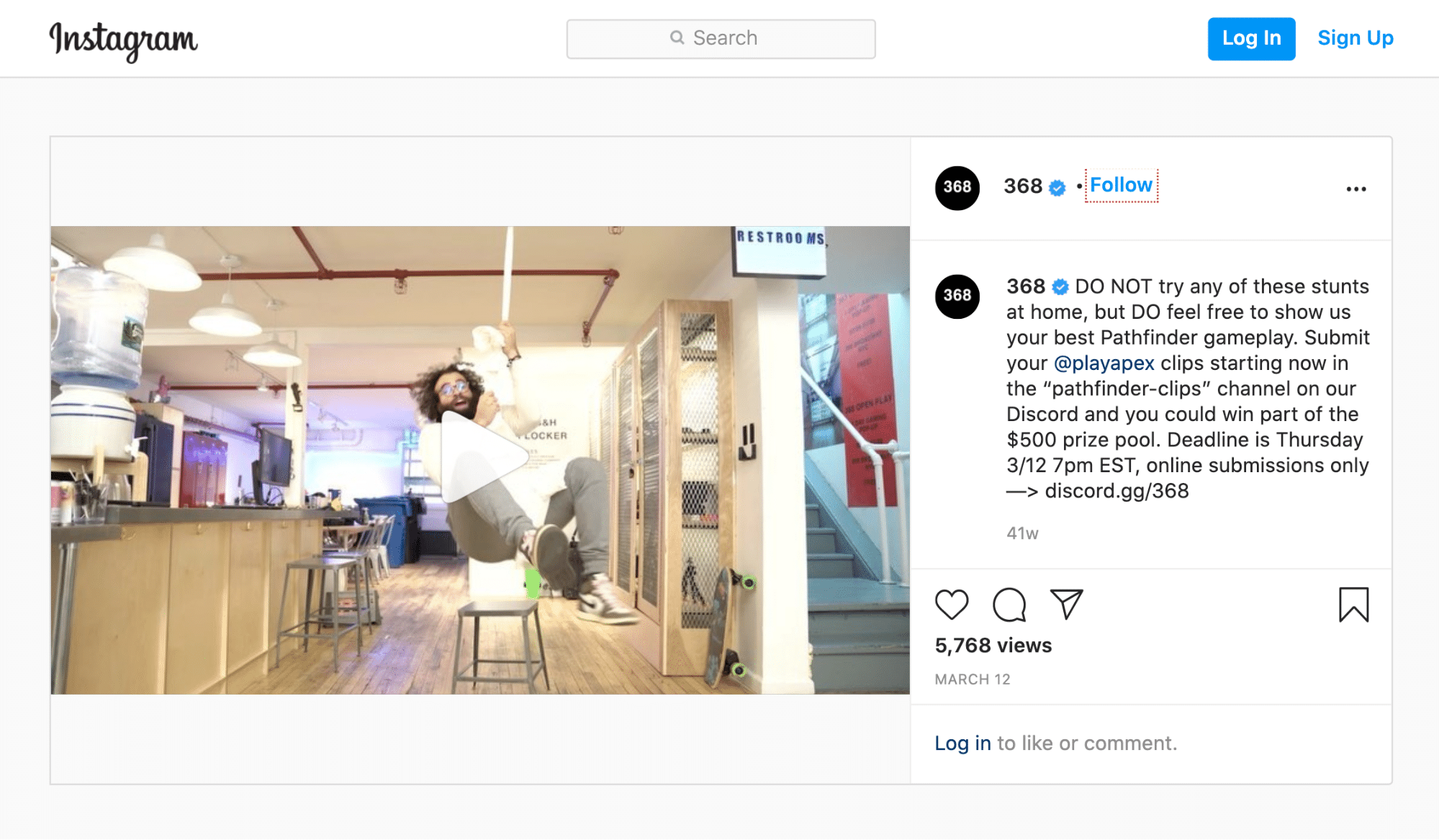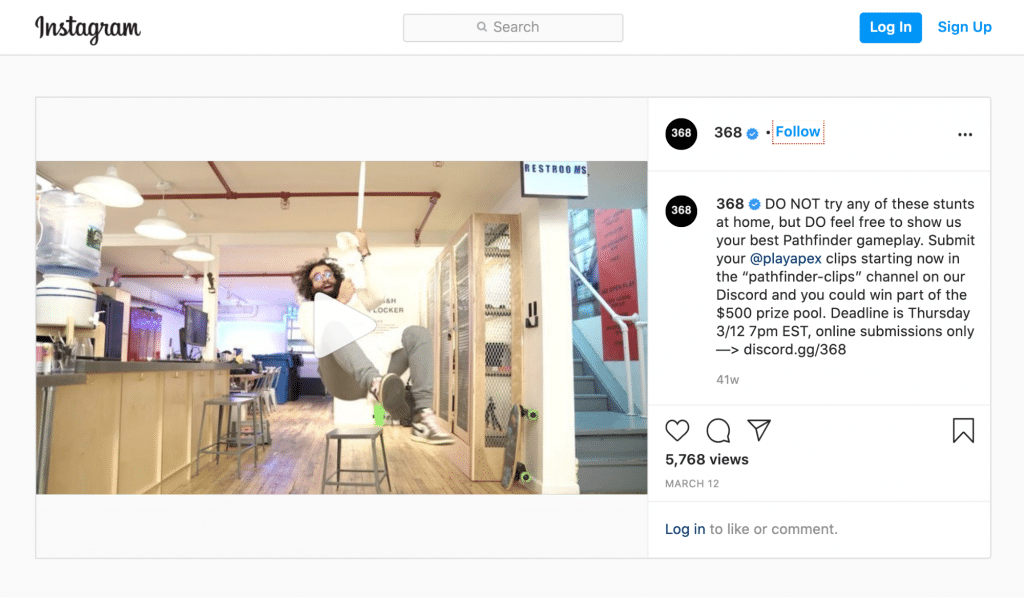 Source: instagram.com
On the whole, the success of this type of content lies in the fact that it's limited, current, and (most of the time) an unedited glance into the current state of things at your company.
Be Vocal About the Things You Love
The last way to make your business more relatable is to connect with your audience based on the things you're passionate about.
Perhaps you're committed to sustainability and know that your buyers will appreciate knowing how you source your materials. Or maybe you know they care about the workers in your factory being paid decent wages. Perhaps what you and your audience share is a passion for the well being of animals. Or freedom of speech. Or equal opportunities for everyone.
No matter what you stand for, know that 63% of consumers prefer to purchase from purpose-driven brands. So make sure that you're vocal about your purpose and your beliefs. In the end, being committed to a greater cause doesn't have to take up too much energy or resources. But, it may ensure that you reach buyers who had been looking for a company like yours all along.
Final Thoughts
As you can see, there are numerous marketing and branding strategies you can use to humanize your business and make it more relatable. The one thing they all have in common is that they require authenticity and honesty from start to finish. Don't fall into the trap of putting a face at the forefront of your brand just because it's the "right thing to do." Instead, dare to celebrate who you and your employees really are.
Finally, don't be afraid to share your values, passions, and ideas. In the end, they're what make you uniquely you. The perfect customers for any business will always be those who share your vision. So dare to stand out, and you'll quickly see the results.