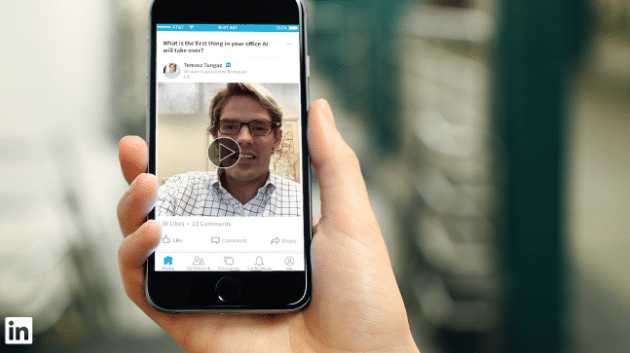 With the growing popularity of video (Facebook jumped from one to eight billion video views in fourteen months), LinkedIn understandably develops their own video feature. Yesterday, LinkedIn introduces a Q&A video feature for influencers. These 30 second videos provide a space for Influencers to answer their followers' top questions. More than 500 Influencers can discuss a wide range of topics such as professional trends, news, workplace culture, education, and innovation. Influencers such as Naomi Simson and Guy Kawasaki have already shared their thoughts via LinkedIn video. Not only does this new video feature bring LinkedIn to life, but it also creates a more personal interaction between Influencer and follower.
Although this new video feature is only available to Influencers, it may be available to the public in the future.
"I think that playbook [of first tapping Influencers and then expanding to others] has been successful for us," says Jasper Sherman-Presser, LinkedIn product manager and development overseer of the video feature. "We see this as part of the tools that people can use to successfully build out their personal brands."
Although there are no current plans to include ads or fees with creating and broadcasting the videos, video ads are a possibility in the future, given LinkedIn's plan to expand its advertising business.
How Does LinkedIn Videos Work?
LinkedIn videos can be used with the Record app. Through this app, Influencers can receive and respond via video to their followers' queries. Only Q&A videos from an Influencer you follow will appear directly on your feed. You can comment on the video or respond to other viewers' comments.
For both desktops and mobile phones, LinkedIn video will emerge into an immersive experience on a blackened screen. From there you will also be able to view a carousel of videos by that influencer or similar responses from other influencers.
LinkedIn's Q&A videos are available for viewing on your feed today.
Comments
comments