Are you looking for ways to market the services of your business effectively?
In this post, we'll discuss ten essential service marketing strategies.
Applying these techniques lets your target audience know about the services you offer. Moreover, you can apply strategies that will convince visitors to become customers.
Read on as we cover the following:
Use a Business Website
Determine a Unique Selling Point
Tailor Your Services
Value Existing Customers
Use Social Proof
Provide Excellent Customer Service
Facilitate Online Bookings
Create Content Strategically
Productize Service
Monitor the Results
Final Thoughts on Marketing of Business Services
Frequently Asked Questions on Marketing of Business Services
1. Use a Business Website
You'll need a business website when you want people to discover you online. Moreover, having one boosts your credibility while informing visitors about what you can offer.  
Make sure that your website is user-friendly and visually appealing. You can use images that explain how your product or service works. Moreover, show visitors how what you offer can solve their pain points. 
Put a description of the service on your website so customers know what to expect before they work with you. This way, they understand what the process will be like.
2. Determine a Unique Selling Point
The unique selling point in marketing showcases how valuable a product or service is for customers. It's not just about what they get, but also who gives it to them.
If your service requires you to talk to customers, highlighting your USPs is important. People want to know who they will be working with before they decide.
Remember that showcasing your USPs is crucial to building a long-lasting customer relationship.

3. Tailor Your Services
Product designers research to understand potential customers. They also identify problems that an item can solve. 
However, once a product is manufactured, there's little room for change. 
On the other hand, most service-based businesses can personalize what they offer.
A good service marketing strategy highlights this flexibility by offering customers various options for different needs and budgets.
4. Value Existing Customers
Keeping existing customers is more cost-effective than gaining new ones.
Moreover, attracting a new client costs 5 to 25 times more than maintaining your current customers.
Giving values is especially true in service industries where customer churns. Moreover, people get tired of services quite easily. 
Service clients can shop around and switch to competitors, especially since they are not tied to a physical product.
Service marketing efforts must prioritize maintaining and repairing existing customer relationships.
So, send emails to your clients regularly. These email marketing campaigns should give them something valuable, like information about new features or discounts. However, do not overdo it!
Moreover, answer customers quickly when they have questions or complaints. Ask them what you can do better.
Make changes to ensure they are happy with your service, showing them you value their opinions.
5. Use Social Proof
Social proof highlights how likable and effective your service is. You can showcase customer reviews or product feedback from famous individuals.  
Social proof helps the target market trust the product or service more.
Moreover, one of the best ways to boost your website's credibility is by adding customer reviews or comments on your homepage or landing page.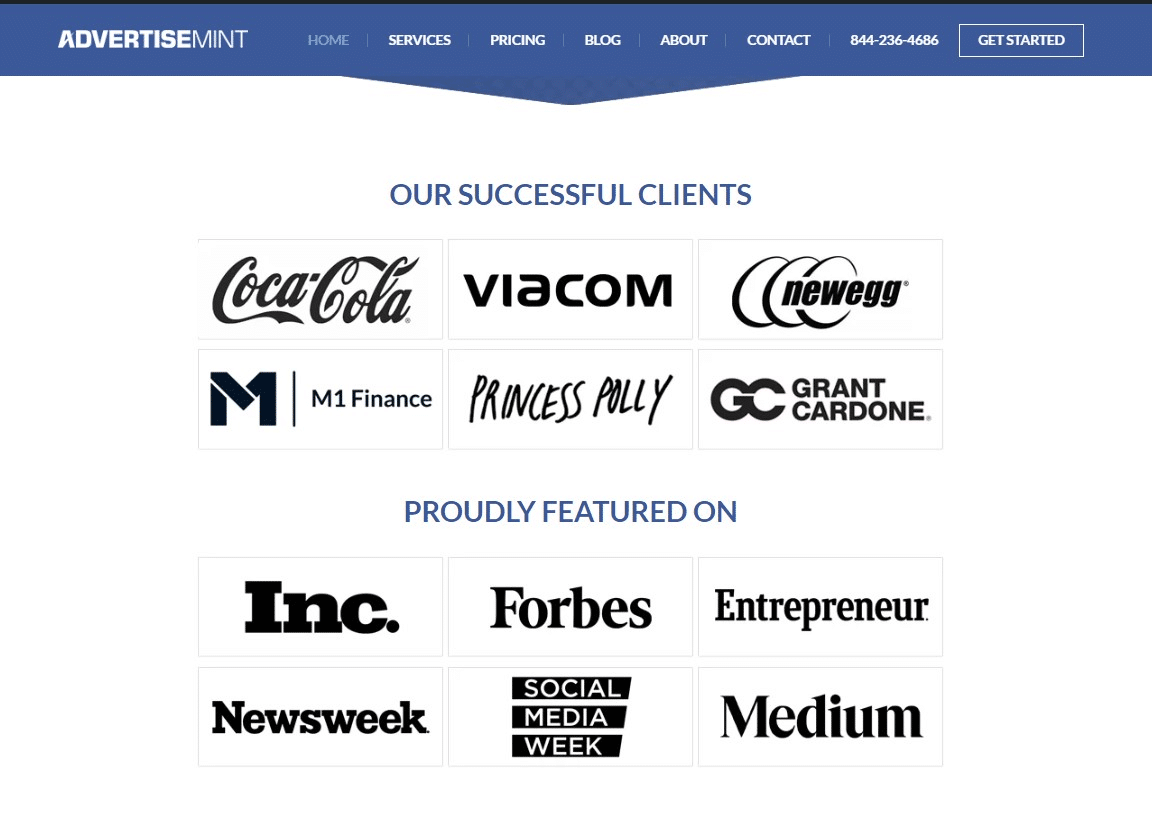 6. Provide Excellent Customer Service
To get more people talking about your service businesses in a good way, you need to ensure customers are happy.
If someone is dissatisfied with the service, use it as an opportunity to make things even better.
Handling problems is important. After all, it lets customers know that their opinion counts and that the company listens to them.
7. Facilitate Online Bookings
Adding a scheduling app to your website makes reserving appointments easier for potential customers. Moreover, it provides convenience for people using your services.
If you're offering a subscription-based service, provide a free consultation. This way, you can effectively explain how your service can help them.
8. Create Content Strategically
Content marketing is another effective method for promoting products and services. This strategy involves writing blogs, using social media sites, providing useful information, and producing videos.
Knowing what the different strategies do can help you reach your marketing goals faster. Let's look at each one separately:
Publish blog posts regularly
Publishing a blog is a great way to educate people about your services and products. You can tell visitors about new features or limited-time deals.
Blogging also helps you show up in search results easier.
When choosing topics for your blog, match users' search intent through the sales funnel. Learning how to format your online articles for SEO makes it easier to rank on search results. Of course, don't forget to produce content that users will find valuable. Determine how your services can solve their pain points and use your blog to market what you can offer.
If you're marketing a local business, try SEO strategies tailored to a specific region, such as:
Posting geo-targeted content
Registering your company for a Google Business profile
Registering your address
These SEO strategies will help you rank higher in regional searches for your services.
Use social media
Posting on social media can help you get to know your customers better. You can also pay money to advertise on Facebook, which might give you a lot of money back.
If you want to try different ways to advertise your business online but need more time to do it yourself, you can hire a company to help.
Upload videos
A survey by Wyzowl showed that almost 90% of people watching a video were convinced to purchase a product or service. Most respondents said they watched a video to get more details.
People like seeing video content from brands they like. So, even if you already produce videos, try making even more.
Video is important for services because it can show people how they work. You can share video content by putting it on YouTube, social media, or your website.
Provide welcome deals and free initial consultations
You can give special deals or free consultations to new customers. Doing so will help them overcome their worries and start a long relationship.
You can also offer discounts for multiple visits. Give rewards to existing customers who bring in new ones too.
People referred by someone else are loyal and stay longer with you. So, it is a good way to get more people interested in your business.
9. Productize Service
Understanding what your customers need can help improve how you serve them. 
For example, a business consultant can make an online course for people who want to start their own company. A web designer could make templates and sell them instead of working with customers directly.
Productizing your service helps you make money without putting too much pressure on you.
You can reach more people and simultaneously offer the same service to multiple people. You'll save time while still providing value to your customers. 
10. Monitor the Results
If you try the marketing services strategies above, how will you know if they work?
You can measure which ones work best by using these metrics:
Click-through rate (CTR)
CTR is the number of people who click on something after seeing it divided by the total number of people who saw it.
You can check organic (unpaid) CTRs from search engine results using a website tool like Google Analytics.
If 6-7% of people click on your ad on Google Ads, that's good.
On Facebook Ads, it's ideal to have 2-5% of users click the ad. Email marketing campaigns can be considered to perform well if more than 2.6% of people click the ad.
If not enough people click on your ads, try different layouts and messages. A/B testing for FB ads can be a great way to determine what works best.
Conversion rate
A conversion happens any time a user takes a desired action. If you use your website to secure consultations or appointments, you can check your conversion rate to see if your strategy is effective.
Conversion rate means the number of people who take action after seeing information on a site.
Sales results
Marketing tools help you see which ways of marketing are working the best. They can tell you if your strategy is successful or not.
They also track the sales you make on websites and how much money people spend.
Final Thoughts on Marketing of Business Services
Choose the ideal marketing strategies for your business and try them out, carefully monitoring the results.
If you are starting a new company, use these techniques to start it off well. Meanwhile, if you have an existing service business, use these strategies to help you scale effectively.
Is your company seeking to enhance its marketing strategies? AdvertiseMint, the premier social advertising agency specializing in Facebook & Instagram ads, can assist you.
Check out AdvertiseMint's user-friendly marketing guides and the related articles section of this blog post.
Frequently Asked Questions on Marketing of Business Services
How is a pure service business different from other businesses?
A pure service business sells services as its main product.
Some examples of pure service businesses include:
Computer service bureaus
Law firms
Plumbing repair companies
Motion picture theaters
Management consulting firms
Is it effective to use service-based businesses?
Service-based businesses often face a more challenging marketing task. However, you can promote your services through digital marketing strategies, including paid advertising and posts.
What makes marketing a service different from marketing a product-based business?
When you market a service, people buy something they cannot see or touch. When you market an item, you offer something people can touch and see.
Related Articles