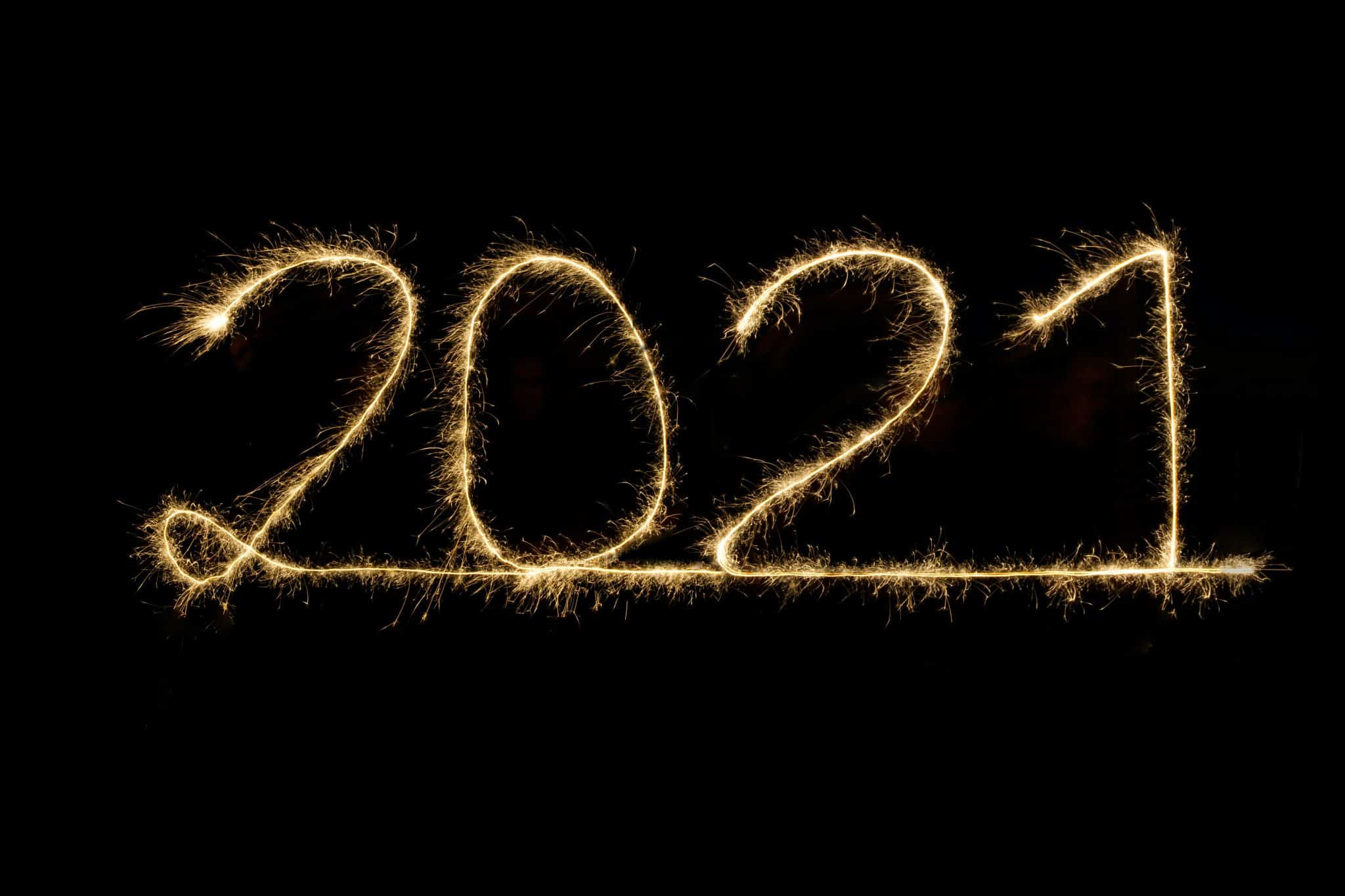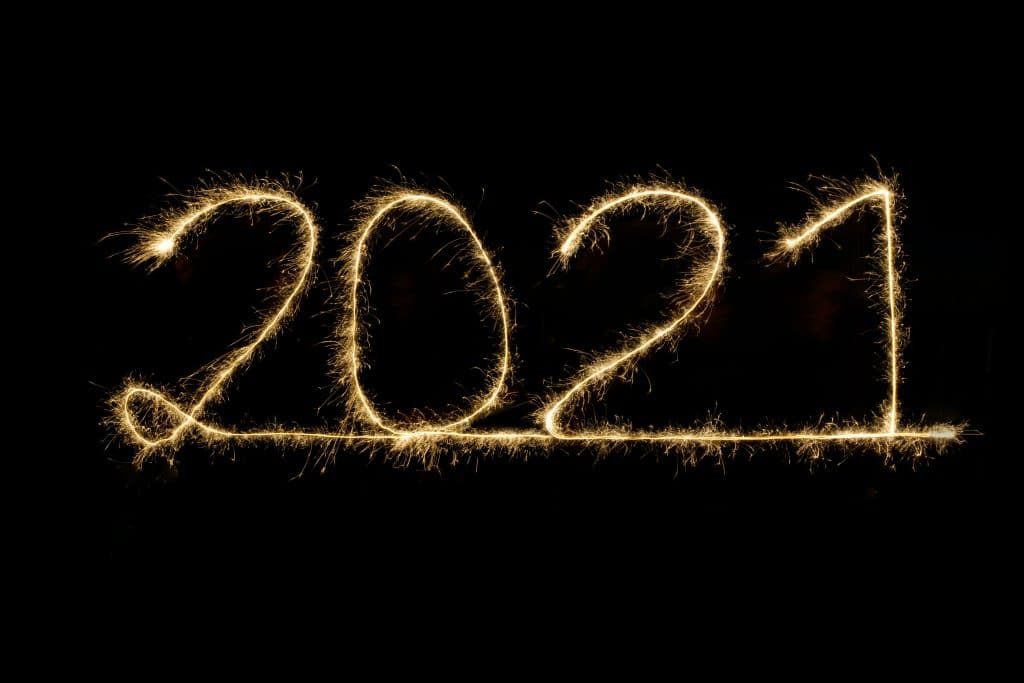 Moritz Knöringer on Unsplash
Future-proofing marketing strategies for the upcoming year is something that B2B marketers do without fail, and it's a crucial task in their marketing arsenal. However, considering the unpredictable events of 2020, preparing for 2021 looks quite daunting. But in such uncertain and scary times, robust preparation can be the only key to achieve desired business goals!
Now, B2B marketers have learned how to handle and bring traction when surviving in the "new normal," but finding viable ways of supporting evolving buyers' journeys and dynamic revenue goals is something they still need to figure out. 
To design a holistic B2B marketing strategy that is ready for 2021, marketers need to pause, reflect, learn from their mistakes and plan for the year ahead because guesswork wouldn't help in a pandemic-hit economy!
Despite the uncertain B2B landscape of 2020 and things looking scary for 2021, you can leverage various techniques to make your marketing strategy ready to cope with the unpredictability that lies in the future. Before diving deep into those measures, how about brushing-up our B2B marketing basics!
Is Creating A B2B Marketing Strategy Tough?
B2B marketing is also known as industrial marketing, where the fundamental purpose is to promote an organization's products and services to other companies and not individuals. Creating a robust B2B marketing plan is quite challenging and way more complicated than the B2C landscape because more people engage in the buying process. Decision-makers and B2B sales require deliberation from prospects. For B2B marketers, generating leads and validating the ROI of their marketing efforts are the two crucial challenges!
Source: Sales Hacker
Looking at the challenges B2B marketers witness in regular days, it would be difficult to assess what kind of hurdles lie in their path of building a marketing plan for 2021. However, a cautious approach and taking small steps to prepare and face the year ahead with confidence could be the game changer! 
Irrespective of the challenges, creating a proven B2B marketing strategy framework that's 2021 ready is crucial for identifying your ideal customer profile, best marketing channels to generate leads, and most prolific market segments.
Many B2B organizations create a marketing plan comprising 40-page documents emphasizing different aspects such as their mission, vision, and values. However, it makes things messy, and nobody has a clear idea of what's going around! With 2021 around the knocking at the doors, you can't afford to leave any stone unturned!
What Are the 3 Ways to Ensure Your B2B Marketing Strategy Is 2021 Ready?
As your B2B organization is still absorbing the aftershocks of the global health crises, we've put together a couple of proven tips to ensure your B2B marketing strategy is ready for 2021 and capable of securing the ultimate results. 
For creating a holistic B2B marketing strategy, you should work in three phases that are as follows:
Pre-planning: Identify what you need to do before planning your 2021 B2B marketing arsenal.
Planning: Based on the insights of the pre-planning phase, you should cherry-pick your B2B marketing strategies.
Executing: Determine how you will implement your B2B marketing strategies.
Now, each of these three phases will have separate actions and measures. Let's look at them in detail.
I. Pre-Planning Phase
This phase is all about doing pre-planning so you can pick the most relevant B2B marketing strategies for 2021. The crucial steps involved in the pre-planning phase are as follows.
1. Understand your target audience, their preference, and pain points.
When functioning in the B2B landscape, it's mandatory to understand your target audience; otherwise, your B2B marketing campaigns won't work in 2021. As a B2B business, you target many people, and your ideal buyers can be both companies or decision-makers.
Try to figure out who you are targeting before moving ahead with your B2B marketing plan by determining details such as:
Company size

Location of the organization

Type of the company

Designation of each decision-maker within the organization

Pain points or problems faced by the target buyers currently
Source: Single Grain
Identifying all of this information about your ideal B2B audience is referred to as a "buyer persona" that helps you create a relevant marketing campaign tailored to suit the customers' specific needs.
Understanding your target audience and various aspects, such as their inclinations, issues, and behavior, are quite challenging, but you can equip your sales team with one of the best sales prospecting tools, like RingBlaze, LeadFeeder, and LimeCall, to help them boost their prospecting efforts and analyze website visitors to identify ideal customers.
2. Define your B2B organization's goals.
Nobody does marketing just for the sake of it, as everyone has specific objectives to achieve. Before moving further with planning your B2B marketing strategy, you must define your specific goals. Lack of goals will make your 2021 B2B marketing strategy directionless, and you'll be unable to analyze if it's a success or failure.
Analyzing your priorities and establishing clear goals will help you identify what you want to achieve from all of your marketing campaigns in 2021. There are different type of B2B marketing objectives, such as
Increasing email sign-ups

Boosting conversions/sales

Increasing leads

Building brand awareness or market reputation

Increasing newsletter subscribers
While setting your marketing objectives for 2021, make sure that these are SMART: specific, measurable, attainable, relevant, and time-bound. SMART goals aren't generic but specific to your B2B organization and help you in driving results. 
An example of a SMART goal is to increase leads by 30% by the end of the second quarter. This objective has a time limit and can be easily measured.
3. Understand your budget constraints.
Getting an idea of your budget is crucial for designing a B2B marketing plan for an upcoming year. Considering the statistics provided by Marketing Charts, it's clear that in the B2B niche, there will be maximum spending on various digital channels in 2021.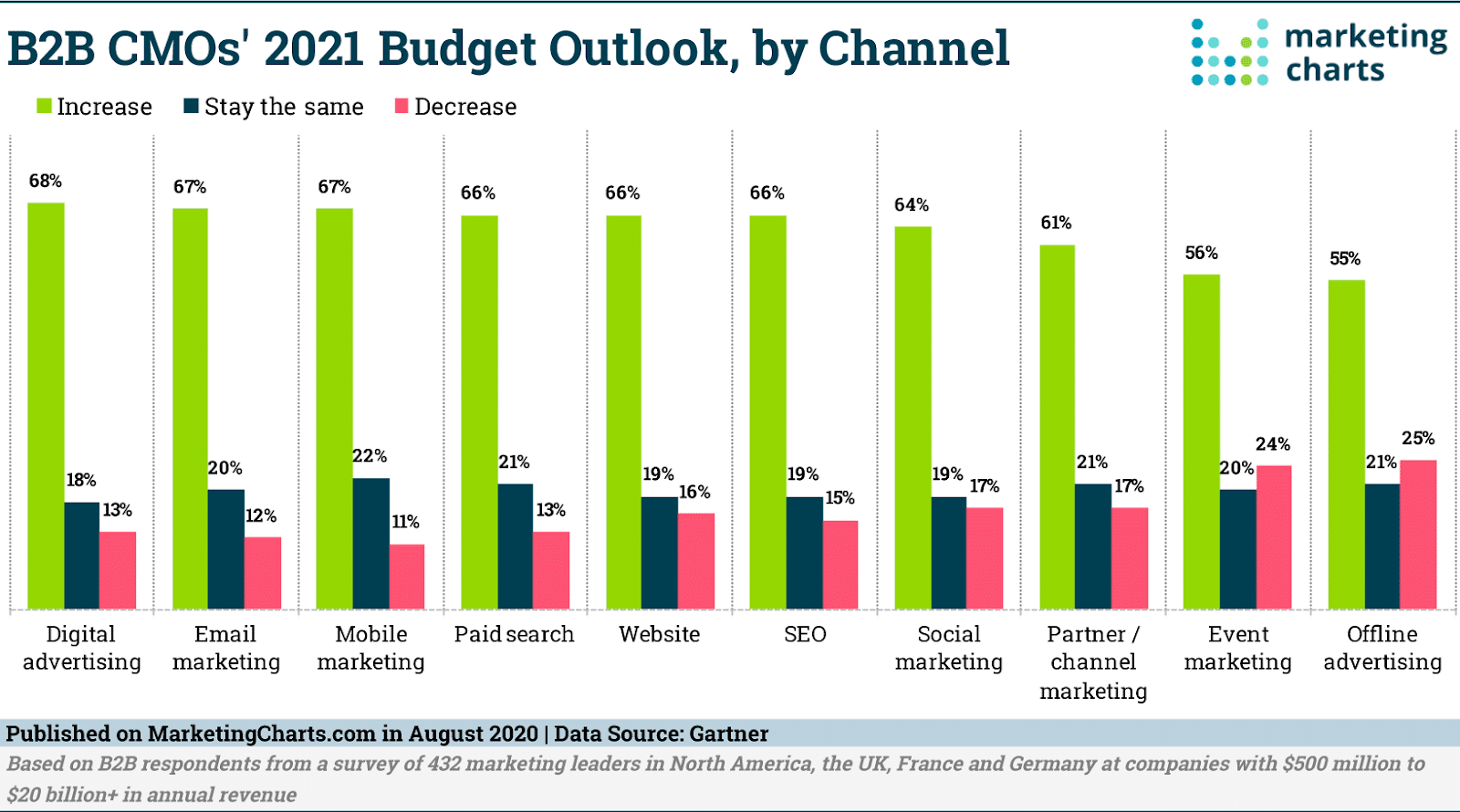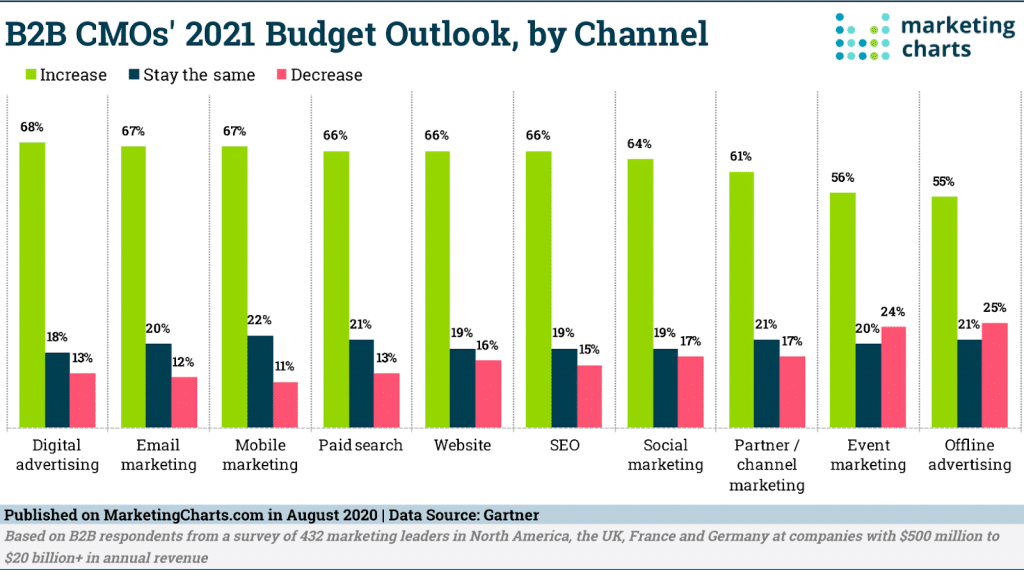 Source: Marketing Charts
The trends and studies give you a direction on how you should plan your budget for the 2021 B2B marketing plan. Based on the market scenario, you can establish your budget by keeping the following costs in mind:
What tools you will need to manage your B2B marketing campaigns in 2021.

Whether you are going to outsource your marketing initiatives or will be doing in-house.

What type of training your B2B marketing employees will require.
Considering potential B2B marketing costs will help you allocate sufficient funds for running effective marketing campaigns in 2021.
4. Dig out the strategies of  your competitors
Understanding the B2B market and your customers is crucial, but there's no way you can ignore your competitors. Doing a competitor analysis is a must for designing a bullet-proof B2B marketing plan for 2021. Your audience continuously judges you against your key competitors and will switch to one of them if they find that you aren't offering what they're getting elsewhere!
One of the biggest perks of B2B competitor analysis is that it allows you to keep your finger on your niche's pulse and lets you dig out which specific marketing strategies will help you boost conversions and drive revenue. Competitor analysis is an integral element of your entire B2B marketing plan.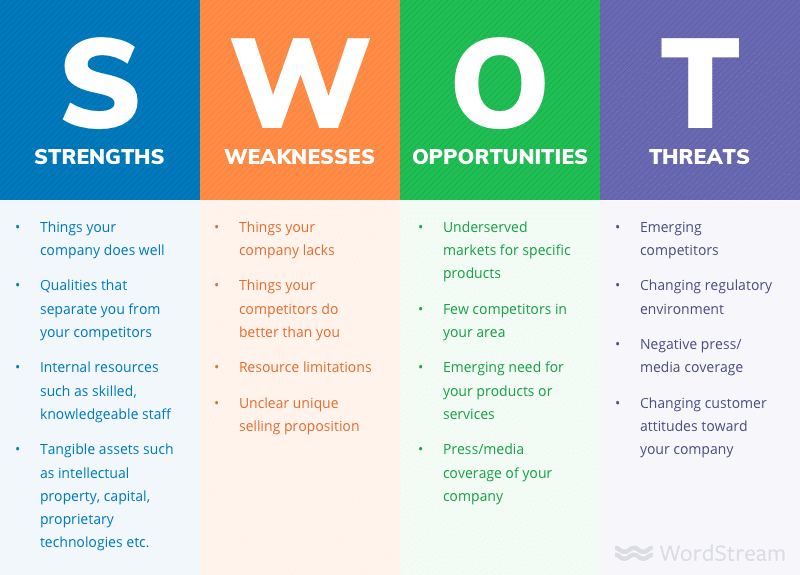 Source: Single Grain
Conducting a B2B competitor analysis will help you in many ways, such as
Identifying your key competitors.

Studying the type of products and services your competitors are offering.

Discovering what your competitors are doing online.

Analyzing the differences and similarities between your and your competitors' B2B businesses.

Highlighting your strengths, weakness, and unique selling points.

Understanding how your competitors address their customers' pain points and which strategies they leverage for doing the same.

Studying competitors' websites to get an idea of their navigation, design, page loading, time, landing pages, mobile experience, etc.

Getting an idea of the advertising strategies your competitors are leveraging.

Analyzing your competitors' social presence and observing whether you are ranking higher for specific keywords in their comparison.

Studying the specific organic keywords for which your competitors are ranking higher than you.

Observing the type of engagement your competitors are garnering on social media channels.

Analyzing the kind of customer and employee reviews and ratings your competitors get to understand their image in the B2B market.
Performing a detailed competitor analysis will help you refine your 2021 B2B marketing strategy based on your findings. You can identify and use your competitors' specific techniques to convert more leads and ensure that whatever you are doing, it's better than your competitors.
You can use one of the best tools for conducting a comprehensive B2B competitor analysis such as Moz, Ahrefs, Majestic SEO, and SEMrush. These tools will help you spot the opportunities and threats you have to consider for keeping your B2B business afloat in 2021.
5. Be flexible in embracing shifting priorities by conducting market research
The year 2020 has been an unprecedented roller-coaster ride for B2B businesses as it demonstrated how rapidly industries could change and even slump altogether. As B2B marketers, one of the essential attributes to learn in 2021 would be being flexible in shifting marketing priorities and understanding how the B2B market might change in the coming time.
With robust market research, you can identify threats before they arise and hit your B2B business hard in 2021. You will get extra time to plan, prepare, and adapt to these potential transitions and come-up with relevant back-up plans. You can also discover potential opportunities and patterns ahead of time, so you have a chance to make the fullest out of them.
But this isn't going to be as easy as it seems because there are many teams involved in translating B2B organizational goals such as market penetration, sales targets, and market positioning into relevant and useful strategies.
You should leverage one of the best team collaboration tools for keeping all your teams, including sales, customer support, marketing, and the upper-level executives, on the same page. It will help you keep track of the shifting priorities and changes in the B2B economy.
In 2021, when your B2B company will be experiencing the aftershocks of the pandemic, having a flexible approach and observing the changing market landscape will help you in identifying the following factors:
Which B2B business verticals or market geographies are losing momentum?

Which specific B2B business line or products are performing poorly?

Which new avenues for B2B companies may be emerging on the horizons?
You can use advanced technologies such as predictive analytics to create super-targeted B2B marketing campaigns for 2021. Also, by leveraging this technology, you can identify high-intent, in-market leads, and prioritize prospects based on their preferences and pain points. 
Having an idea of shifting B2B market priorities and taking those changes into account will refine your marketing plans and reshape your strategies in the direction where the market is leading. So, in 2021 that will be full of endless metrics and measures as a B2B marketer, your responsibility would be to dig deeper into the market landscape and discover hidden truths and trends.
II. Planning Phase
Once your pre-planning completes, you can dive in straight and start picking the B2B marketing strategies. Let's take a look at the effective B2B marketing strategies that'll work in 2021.
1. Analyze your B2B website and make sure there are no gaps
There can be nothing worse than having an outdated B2B website in 2021. Your priority is analyzing your portal and ensuring that the design, user interface, and navigation is seamless. Apart from these aspects, two crucial factors need your attention:
Optimize your B2B website's loading time: Google and end-users both hate slow-loading websites as they offer poor user experience. You can't take the risk of losing potential leads and search engine rankings in 2021, so make sure that your B2B website loads quickly. You can leverage tools like Google PageSpeed Insights to let you know your website's current loading speed. Using this tool, you can gain insights on how you can optimize your web portal's loading time.

Source: WebFX
Offer seamless website experience to mobile users: Google takes the mobile-first approach to rank websites in search results and what isn't optimized for mobile devices lag in rankings. So, for grabbing a higher position in search results, you should make sure that your website is mobile-friendly. You can use the Mobile-Friendly Test Tool to analyze your B2B website. Suppose you found that your B2B portal is non-optimized for mobile devices. In that case, you must incorporate responsive design that will make your website capable of offering a seamless experience to everyone, irrespective of the device. 

Source: WebFX
2. Embrace empathy while crafting your marketing messages
We dwell in a human-first world where showing empathy is the key to a person's heart! While dealing with the B2B landscape, you must embrace a customer-centric approach and craft messages accordingly. According to CMI, most of the organizations have customized their messaging strategy to cope up with the pandemic and grab leads even in the challenging times.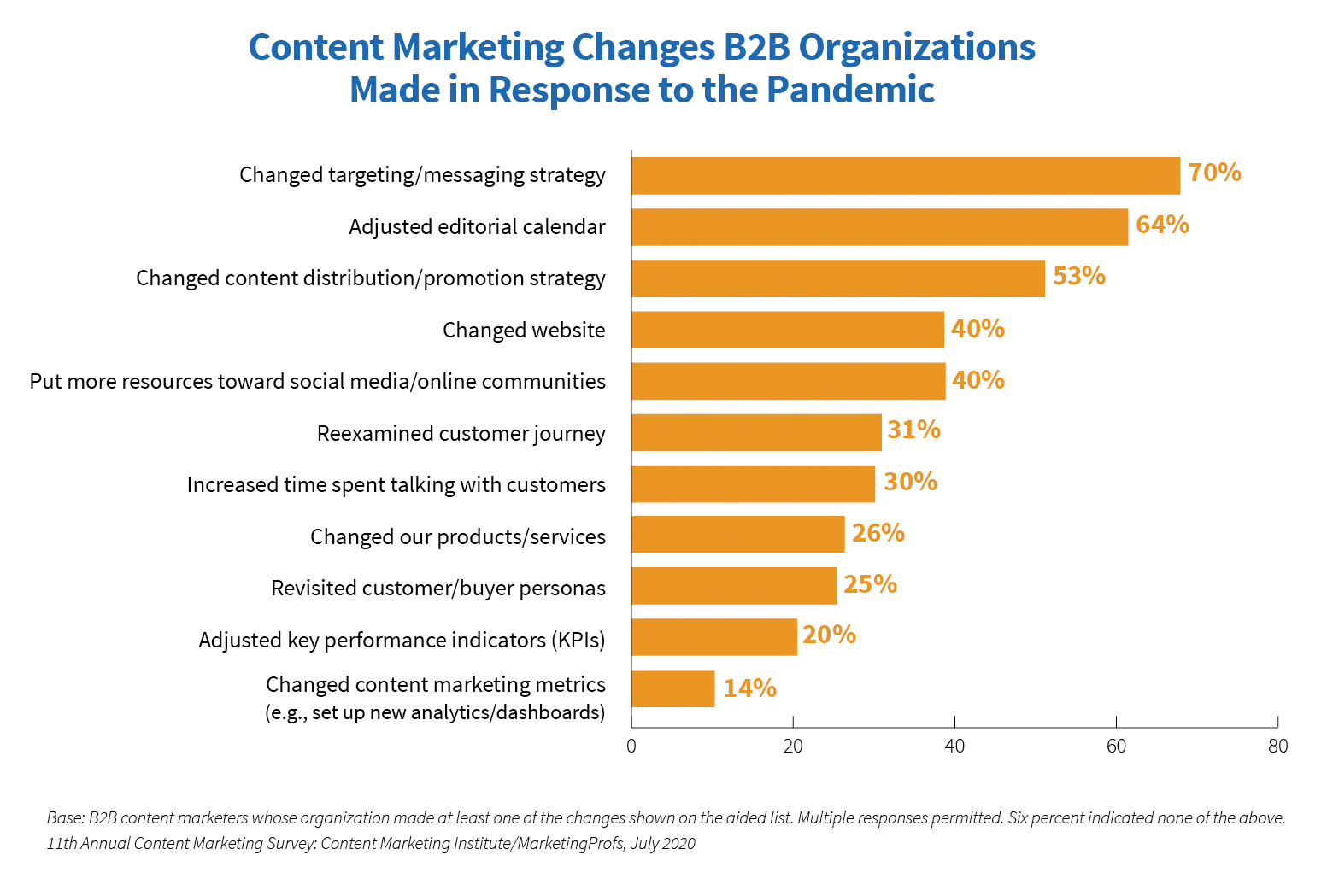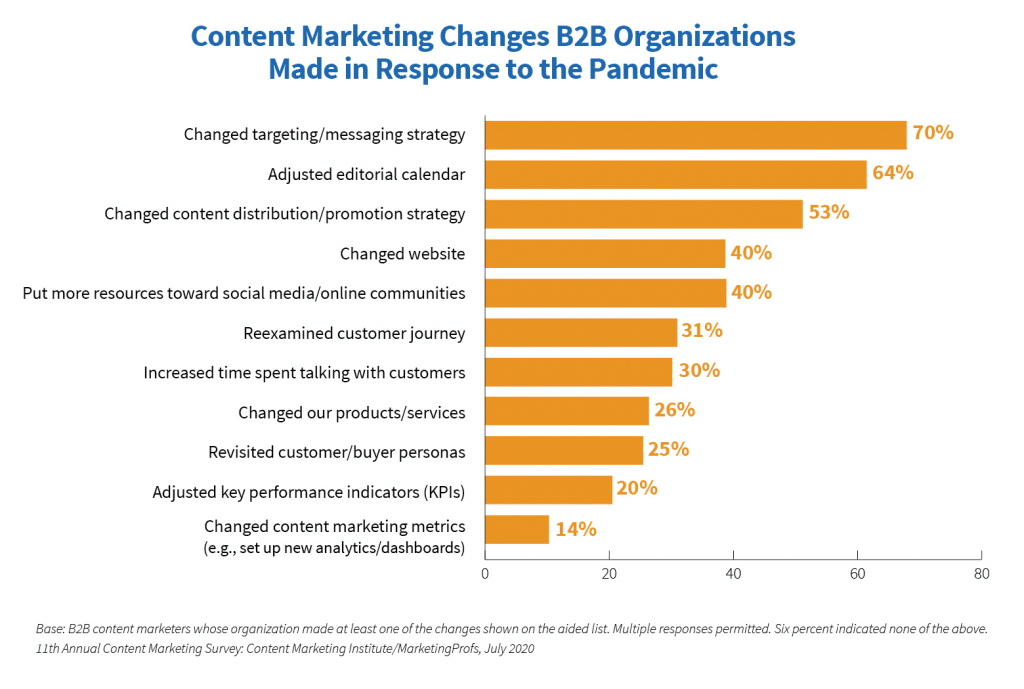 Source: Content Marketing Institute
However, tailoring your marketing messaging depends on your business's specific goals, but while entering 2021, you must ensure that your messages are relevant and empathetic enough. Craft messages that facilitate customer education and resonate with different buyer segments' specific requirements to ask for more!
Each of your marketing messages should be capable of hooking the audience and demonstrating how your products and services can let them achieve a desired future state. It will help if you learn the art of compelling storytelling to connect with your audience and build brand awareness for your B2B business.
Avoid talking too much about your company in your B2B marketing messages and structure the stories with buyers in mind.
A couple of pointers that you must keep in mind when crafting B2B messages for your organization in 2021:
Be specific about the issues of your target customers.
Take inspiration from your current customer base while creating and optimizing your marketing messages.
Train your sales team to be solution-focused when dealing with potential customers.
In 2021, you'll see that building brand awareness will continue to be an effective strategy as B2B companies will be surviving in a virtual world. Your messaging, brand identity, and similar techniques demonstrate both your experience and the specific needs of your customers.
When you'll embrace empathy and put your customers first in your B2B marketing messages, you'll be able to build relationships that last and convert maximum leads in 2021.
3. Pay attention to SEO and integrate relevant keywords in your B2B website
There'll be no survival without SEO for your B2B website in 2021 as 70% of B2B customers perform online research on search engines before choosing products. Without proper SEO, you won't be ranking higher on search engine results and lose many potential customers.
Integrating SEO in your 2021 B2B marketing arsenal, you need to perform extensive keyword research. Conducting keyword research helps your B2B website rank higher for the right phrases in search engine results to let your target audience discover your business quickly. Ranking high for the right keywords allows you to grab the leads that are interested in your offerings.
Identifying relevant keywords for your B2B business isn't easy. Let's assume you have an architecture business in New York; the keywords "New York architects" or "architecture firms in New York" are more relevant to your business than the keyword "architects in New York."
You can use many tools for performing keyword research, such as Google Adwords Planner, Google Alerts, Ahrefs, KeywordsFX, LSI Graph, etc. For example, for the keyword "architecture firms in London," Ahrefs shows the following details:

Source: Grow
While exploring your keyword options, you must look for long-tail keywords that comprise at least three or four words because long-tail keywords have a better search intent, and you can figure out what your prospects want.
4. Plan to invest in PPC advertising in 2021
Pay Per Click (PPC) advertising is a paid advertising technique where you invest in creating paid ads that appear on the top of search engine results. The reason why PPC advertising will be crucial in 2021 is that there is a lot of noise in organic search results, and you can cut through the noise and scale your business quickly by creating profitable PPC campaigns.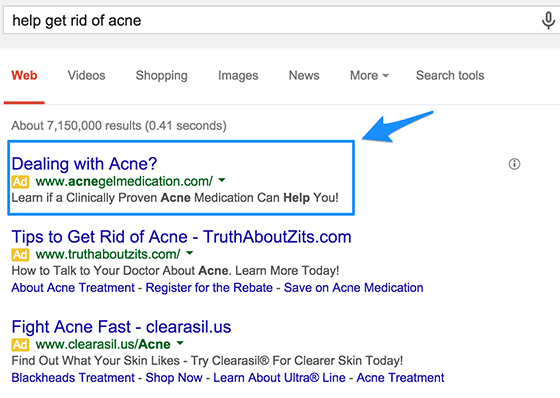 Source: One IMS
Along with putting your B2B brand on the top of search results, PPC ads let you connect with the right audience and measure your campaigns' progress. When considering PPC as a potential B2B marketing strategy for 2021, you must 
Design a customized landing page for PPC ads: Most of the B2B companies use an existing landing page on their portal as the target page for their PPC ads, which isn't a good idea. You should give a personalized experience to your prospects, and hence having a customized landing page for PPC ads is crucial. A tailored landing page delivers relevant information to the leads via PPC ads and helps them keep engaged.
Leverage Long-Tail Keywords: Keywords are the backbone for PPC ads, just like SEO, because when a prospect types a relevant keyword in search, it triggers your PPC ad to appear in the results. Paying attention to long-tail keywords can help you get the most out of your B2B PPC campaigns. Long-tail keywords are particular, and there's less competition, which means the cost per click will be lower because not many B2B companies bid on them, and you will get more clicks for your budget.
Take help from ad extensions: Ad extensions help you add more information to your PPC ads and persuade more people to click on them. Various ad extensions, such as callout extensions, highlight your B2B products or services and site link extensions to add more links to your B2B website.
5. Content marketing has become more important than ever
While planning your content marketing strategy for 2021, you should keep in mind that people will be working remotely and are dependent on content even more for finding answers to their problems and relevant information.  So, you need to do content marketing smartly for driving leads down in your sales funnel. Remember, not every prospect is equal, so you must keep a few pointers in mind while planning your B2B content marketing initiatives for 2021:
Create a range of content pieces: Creating only one or two types of content won't help you in 2021. Still, you have to broaden your perspective and develop various content such as case studies, blogs, sales sheets, infographics, videos, eBooks, guides, etc., to appeal to different decision-makers in your B2B audience base. You can create engaging videos with online video templates that you can easily customize by adding sound effects, music, text, motion, and exciting animations. Moreover, podcasting is one of the rapidly growing forms of content that's extremely powerful when it comes to generating B2B leads. Podcasting helps you know more about your target audience by sharing insights, building healthy relationships, and making them thrilled to know your B2B brand. So, podcasting is a must-have in your 2021 B2B marketing arsenal!
Come up with stories that align with your users' intent: If your content fails to match your search intent, you won't be driving any leads. Search intent is the art of understanding what users expect to see or read when they look for a particular topic. It will help if you research what others have written about a particular topic when creating a similar piece by searching for the seed keywords for that topic. It will allow you to create content that offers relevant information to the target audience. To make your stories more fun, you can leverage animation software to create animated GIFs and grab the target audience's attention. It makes your copy visually appealing and lets you gain an edge over your competitors.
Make a habit to post content regularly: If you aren't publishing content regularly, you are losing many potential buyers as there's no option for them to discover your B2B business. Posting quality content often will help you drive more traffic to your B2B web portal and build a loyal audience base from where you can grab leads quickly. However, handling various content formats and posting them regularly on different channels, and coordinating with guest publications isn't a cakewalk. A content calendar can help you in planning your 2021 content publishing and let you stay on track. With the help of an editorial calendar, you can keep all your team members and guest bloggers in one place, do follow-ups on time, and meet deadlines to ensure that every content piece you produce is high-quality well-timed.
6. Add social media and video in your 2021 marketing arsenal
There were 3.8 billion social media users in 2020; however, as per Statista, half of the globe is anticipated to leverage these channels by 2021. Massive, isn't it? Being B2B marketers, is there any way you can take advantage of such an extensive social media customer base?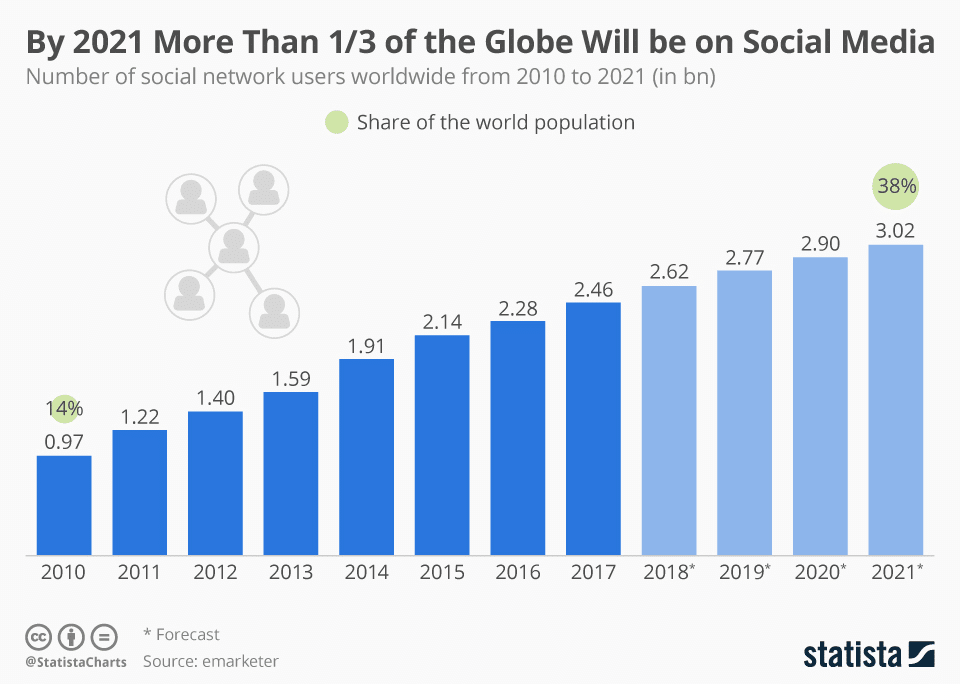 Source: Statista
You can get an idea of the crucial marketing theories and apply them in your 2021 B2B social media campaigns that drive maximum clicks, conversions, and engagement. Social media channels allow you to connect with your target audience and give them real-time updates related to your business and industry or share knowledge, such as:
Communicate updates on new content pieces or blogs

Announcing new and updated service offerings

Sharing industry expertise with the target audience

Updates about any changes to availability or operations of your B2B organization

Conducting FAQ sessions with the target audience for solving their pain points or doubts
One of the most effective ways of leveraging social media channels for grabbing B2B leads in 2021 can be live videos that have been dominant on Instagram and Facebook since 2016. It's a fact that live videos aren't a new trend, but in 2021, they'll become a valuable asset for B2B marketers!
LinkedIn has been one of the best social media platforms for B2B marketers because it helps build long-lasting business relationships with prospects. On LinkedIn, you have the liberty to target people based on their location, occupation, expertise, company, designation, etc. 
On LinkedIn, you can find most of the entrepreneurs and C-suite executives engage professionally. You can listen to what these higher-level people discuss and what professionals who might need your products or services are talking about on this platform to figure out their preferences and pain points.
Some of the most useful features for B2B marketers are LinkedIn InMail and LinkedIn Sponsored Content and videos. By following the best LinkedIn video tips, you can boost engagement by making your content super enjoyable and standing out on your followers' feeds.
Producing more video content in 2021 can help you increase your B2B brand awareness and conversions. According to Grand View Research, the market-size of live video streaming will evolve at a rate of 20.4% from 2020 to 2027 due to advanced technologies such as Blockchain and Artificial Intelligence (AI):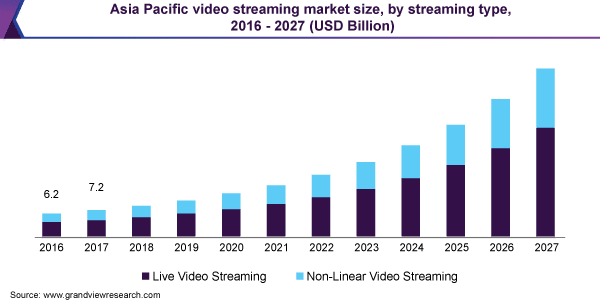 Source: Grand View Research
Recently, LinkedIn has introduced its live video feature that allows B2B brands to connect with potential buyers and broadcast their content in real-time with their network for:
Sharing exciting company updates

Offering industry advice

Answering their questions by hosting Q&As

Providing live event coverage

Revealing a new product

Offering how-to videos or product demos

Giving behind-the-scene glimpses of your organization
The best part about doing live videos for your B2B brand is that there are boundless opportunities to leverage different social media platforms in unique and groundbreaking ways. 
Live streaming is here to stay, and leveraging live videos in 2021 will allow you to interact with your target audience in real-time and develop deeper connections for moving potential leads down through your sales funnel.
However, keeping your social media profiles loaded with unique content all the time isn't easy. Using social media content calendars can help you plan your updates and posts properly and avoid the last minute hassle!
7. Leverage email marketing for building personal connections with target audience
Email marketing is one of the most effective B2B marketing strategies. It helps you connect with decision-makers directly by sending tailored content to bring them closer to conversion. While adding email marketing to your B2B marketing plan, make sure you have kept the following points in mind:
Refrain From Sending Only One Type Of Emails: If every email of yours will be a sales pitch promoting your products and services, then your potential buyers wouldn't be interested in partnering with you. So, you need to have a range of emails in your B2B marketing arsenal for keeping your target prospects engaged. Blog posts, videos, infographics, product tutorials, etc., are a few types of content you can send in your emails. You can also create email newsletters to provide useful information to your target audience and be on the top of their minds.
Make Sure To Segment Your Subscribers: Segmenting your email subscribers is crucial if you want to send tailored information to different groups of decision-makers in your B2B audience base. One of the most common ways of segmenting your audience is based on their designation within the organization. For instance, you can segment purchasing managers into one group and send them emails to demonstrate your offerings' value. Likewise, you can keep financial officers in one segment and share content showing how your products or services fit within their budget.
Leverage Email Marketing Tools For Making The Process Hassle-free: Creating and sending emails to so many audience segments is a daunting and time-consuming task. You can use one of the best email marketing services to help you create, send, and track all your B2B email campaigns effectively. Using these tools saves a lot of your time that you can invest in more important tasks! 
8. Leverage the power of data to fuel your 2021 B2B marketing strategy
Data is the new black in the B2B landscape as data-driven marketing is gradually gaining popularity for various reasons. B2B companies realize the significance of accurate data collection, analysis, and reporting as data has become a crucial decision-making factor for them.
The simple principle behind data-driven B2B marketing is that it allows marketers to know more details about each prospect, which helps them market to every one of them in the best possible manner. Leveraging the power of data to refine your B2B marketing plan for 2021 can let you reap benefits such as:
Divide customers into different segments by collecting data related to your target audiences' demographics, age, gender, buying preferences, pain points, etc. Build specific buyer personas to let you engage with each group and build long-lasting relationships.
A highly targeted buyer persona helps B2B marketers to have a clear idea of who they are marketing to based on which they can identify tailored marketing strategies.
Ensure that you successfully fulfill your target audience requirements by interacting with your customers and target audience and knowing their views about your products and services.
Identify what worked in the past and where you've invested resources but couldn't reap the rewards. Having access to accurate data can boost your B2B marketing efforts and the ROI of every campaign.
With the help of data, B2B marketers can measure their marketing campaigns' success rate and leverage tools to hyper-segment their marketing campaigns and better audience targeting for optimizing conversions.
Although it's impossible to know everything about your website visitors, you can use tools such as Reveal and Clearbit to grab some crucial information, such as the company where they work. 
In case you observed multiple website visits from the same organization, it could be an indication that they're interested in your offerings where you can develop an account-based marketing strategy to convert such visitors.
Based on the data gathered, you can analyze the outcomes and guide your marketing team to discover innovative and engaging marketing campaign ideas for 2021. These valuable inputs will help you make better choices for 2021; although no one can predict future events, having a vision, and preparing according to the past results wouldn't harm you in any way.
9. Don't forget personalization for driving more B2B leads in 2021
One of the most significant concerns for B2B marketers is lower conversion rates. Despite working hard to drive more traffic to their websites, that happens because your prospects land on your web portal after seeing one of your ads, but unfortunately, they don't find what they were promised in the ad and hence switch their ways!
The most common cause of website visitors leaving your portal is that you show the same landing page or the message to each of them irrespective of at which specific stage they're in your sales funnel. But personalization can be the game-changer in fixing this issue for your B2B brand in 2021!
B2B buyers usually spend very little time on websites, and if your portal has a signup form with multiple fields, your completion rates are expected to be at the lower end. But how about asking only the visitor's email address and pre-filling other details like company or designation using data enrichment tools like Clearbit.
It will work for high-value leads, but not all leaders are equal. In such a case, your sales team can prioritize marketing qualified leads (MQLs) and identify the ones that are high-intent leads and are closest to making the buying call. 
For doing this, you can use machine learning technology that uses past conversion data to create effective lead-scoring models by predicting the value of the users.
Embracing personalization in your 2021 B2B marketing arsenal will be helpful for your sales team. You'll get an opportunity to treat website visitors better and serve them relevant information that'll ultimately yield higher close rates.
10. Embrace conversational AI
If you think that your B2B buyers make the purchase call without any research, you are highly mistaken. They take various approaches while considering to buy your products or services, such as:
Doing online research and comparing options

Asking friends and family members for referrals

Checking the online reviews and ratings given by other customers
A B2B buyer performs extensive research before landing on your website or making the buying call. With the help of conversational AI, an artificial intelligence technology, you can train chatbots to respond intelligently to the website visitors and keep them engaged!
Chatbots are changing how B2B companies used to engage with prospects online. They ask a series of different questions to the website visitors while exploring your website and identifying at what particular stage these prospects are floating in your sales funnel.
Based on the chatbots' inputs, you can determine the ideal next steps to convert more prospects.
III. Execution Phase
You are done with your pre-planning research and have picked the specific marketing strategies you will leverage in 2021. Now, it's time to plan for the launching of your B2B marketing campaign. 
Suppose you want to get the maximum benefit out of your 2021 B2B marketing initiatives. In that case, you should keep your sales and marketing teams in sync by using one of the best collaboration tools so that everyone is on the same page and actively contribute to your marketing campaigns' success. Keep the following points in mind while planning to launch your 2021 B2B marketing plan:
Market By Keeping Different Marketing Personas In Mind: It's a fact that B2B marketing appeals to a range of decision-makers, and if you want to appeal to all of them, keeping marketing personas in mind is extremely important. These personas reflect your real customers' inclinations and pain points and help you effectively serve every potential buyer. Let's assume you create a marketing persona for financial managers; then you know that one of the most significant pain points is the cost, and based on that, you can plan how to market your offerings to them.
Never Forget Your B2B Sales Cycle While Marketing: The sales cycle for B2B businesses is longer, and you must keep this fact in mind while marketing because having a marketing plan wouldn't accelerate the selling process. Focus on content marketing and email campaigns for keeping decision-makers engaged with your business and keep coming back to learn more. Moreover, it will help if you keep a longer sales cycle in mind when designing new marketing campaigns to make sure that you are chasing leads towards conversion rather than waiting for them to turn into customers automatically.
Monitoring Of Your B2B Marketing Campaigns Is A Must: Suppose you think that your job will be free after launching your B2B marketing campaign. In that case, you are highly mistaken because monitoring and keeping track of your efforts is crucial to ensure that you are leading in the right direction. There are many metrics that you should track to measure the progress rate of your B2B marketing campaigns, but a few crucial ones are:
Dwell time

Clicks

Open rated. Leads

Conversions

Form submissions
Different B2B marketing campaigns will have other metrics to track to measure your initiatives' success. In case you find that your marketing campaigns aren't producing the results they're expected to have, you can refine those campaigns to yield better outcomes.
Finally, It's The Time To Get Ready for 2021!
Thinking more strategically is crucial for B2B marketers for planning how to pull up their marketing game to be ready for 2021. So, figure out the game changers that might be beneficial for your B2B business and evaluate your past actions to prepare for the next year that's knocking at our doors. 
Plan to invest in marketing technology and digital marketing tools to identify, reach, and engage the target audiences better and faster. So, why wait? Get ready to welcome 2021 with some of the coolest as well as effective B2B marketing game plans!
By Dhruv Maheshwari