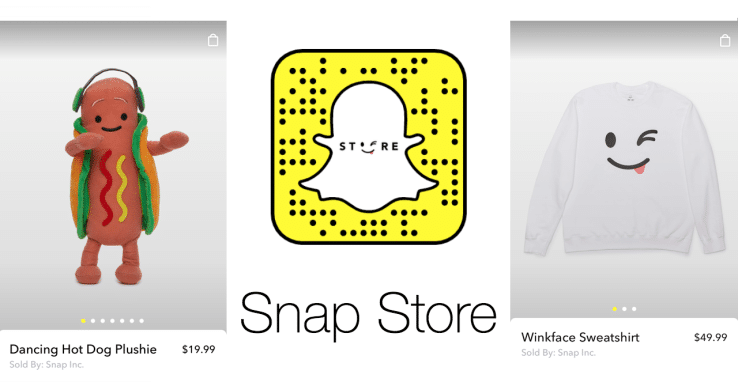 Today, an in-app merchandise store for Snapchat; tomorrow, an in-app commerce platform for other brands, perhaps? Snap Inc. recently introduced the Snap Store. Located in the Discover section, it showcases Snapchat merchandise. For instance, users can purchase a $20 Dancing Hot Dog Plushie or a Streak Hat for $29.99. For limited-time, exclusive items, users can scan the store's Snap Code with their Snapchat camera.
According to Tech Crunch, the Snap Store doesn't appear to be designed for generating significant revenue for the company as of yet. Rather, it's intended to build loyalty with the Snapchat brand, as well as create some free marketing when buyers wear the merchandise.
However, Tech Crunch foresees the promising potential for steady revenue if Snap decides to charge brands a cut of what they sell or allow brands to purchase ads that market their own stores. With the uncertainty currently revolving around Snapchat's revenue stream, this convenient, in-app commerce experience could be great news for the company as it will be reaching the app's wide and loyal teen and Millennial audience.
Tech Crunch says users can subscribe to the Snap Store to have it appear in Discover whenever new products are added. Reportedly, there are scheduled "product drops" when new items are introduced.
The Snap Store Experience
Items in the Snap Store up to this point, according to TechCrunch, include
Dancing Hot Dog Plush Doll: $19.99
Streak Hat: $29.99
Winkface Sweatshirt: $49.99
Dog Lens Tee: $29.99
Bring Back Best Friends Sweatshirt: $49.99
When users purchase an item, the entire checkout process takes place within the app. Tech Crunch believes Snap may be gathering users' checkout information for database purposes, suggesting there may be more ways to buy within the Snapchat app in the future.
It seems as if Snap is introducing bits and pieces here and there of a full, in-app marketing experience that may lead to an e-commerce platform. For instance, Snap recently introduced deep links, which prompt users to re-engage with previously visited sections of an advertiser's app. Essentially, Snapchat is growing in ways that allow users to conveniently remain within the app while unobtrusively marketing at the same time.
All in all, the Snapchat marketing scene is incrementally looking more appealing.
Comments
comments