Social media marketing and digital media have gone a long way since their conception. They have created a marketing landscape that has been proven to be highly effective, especially in times as bizarre as the present.
According to Econsultancy's report, one in four online purchases are now made on social media for the fourth quarter of 2020. And here's what online shoppers purchase most: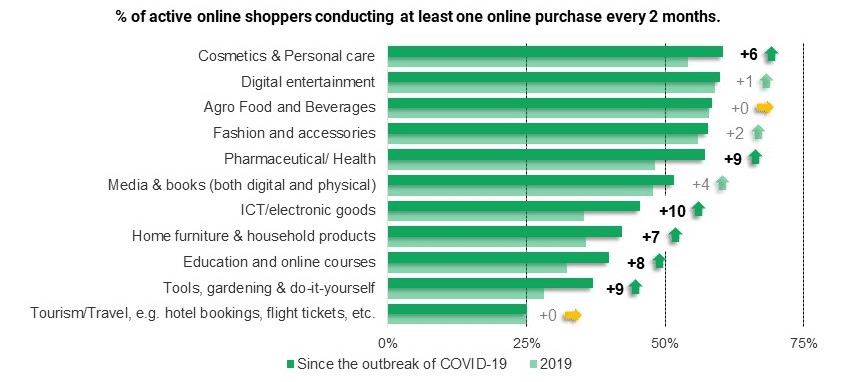 The fact that beauty brands are highly active on social media and strive to create relatable content according to their users' interests and likes is no secret. In fact, it seems like the marketers in charge don't just know every trick in the book — they know how to use it as well.
But how is your brand going to enchant its audience like a beauty brand? What is it that their strategy can teach you? Well, buckle up, because if there's one thing a beauty brand's marketing strategy can teach you, it's how to stand out and get your conversion going in a gigantic industry.
Be Consistent
The best way to create content is to align your marketing strategy with all of the platforms you're going to use and the content you're going to make for them. In other words, you need your content to have consistency. Your audience should get the same feeling when reading your blog posts as they do upon reading one of your blog posts or seeing a story on your Facebook or Instagram. To do that, you need to be very careful when studying your buyers and building your personas.
Once you decide on the type of customer that would be ideal for your brand, create a consistent tone of voice across all platforms and stick to it. Your brand's tone should be evident in all your brand's marketing components, digital or otherwise. Every picture on social media, the email copy you write, and every hashtag you decide to use needs to lead consumers back to you.
Here's an example: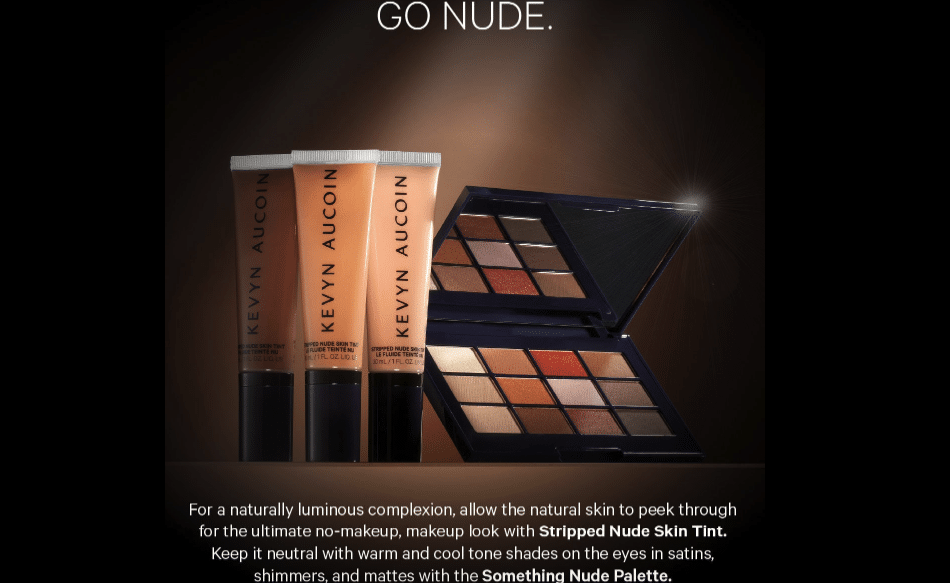 This is an email from the beauty brand Kevin Aucoin. It specializes in high-end and long-lasting cosmetics. The brand states that its products "[…] reflect artistic expertise and philosophies, which is deeply rooted in values of empowerment, originality, and inclusivity. It is a brand for anyone and everyone, and made accessible by way of innovative, easy-to-use and beautiful formulas."
Let's see if their website supports this statement: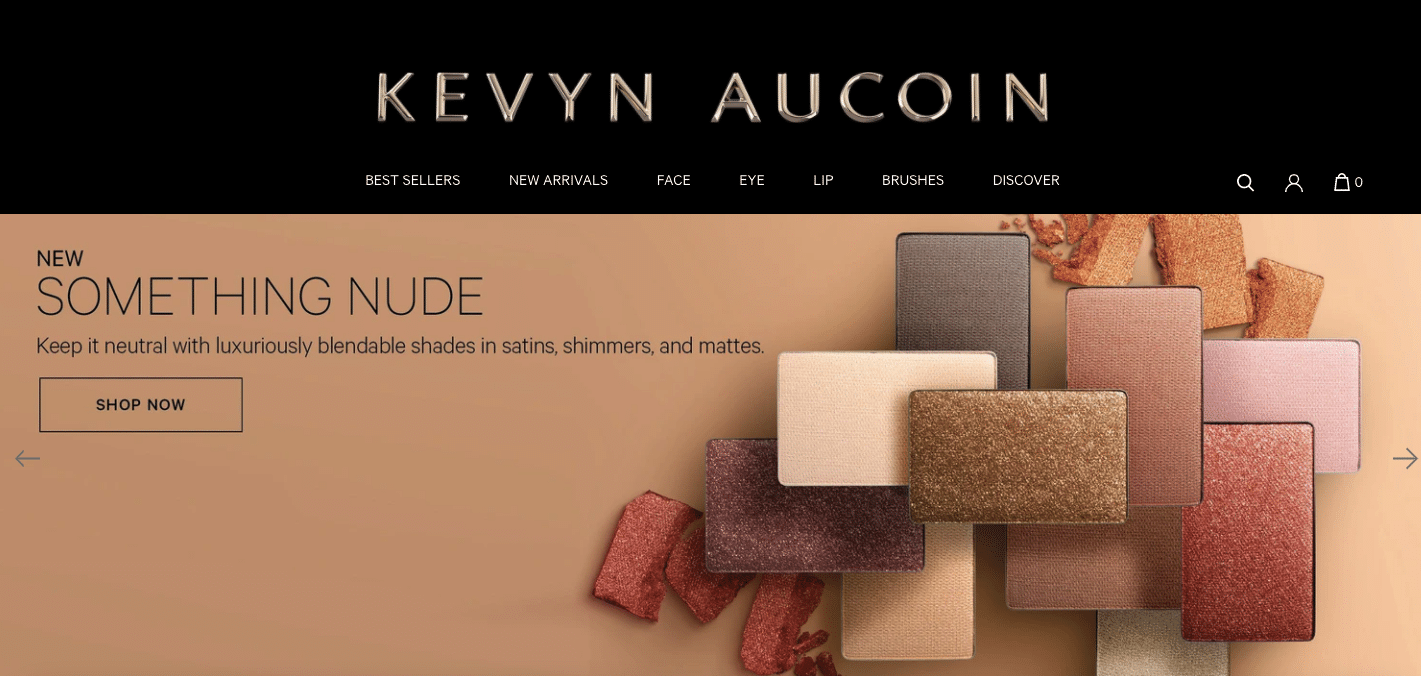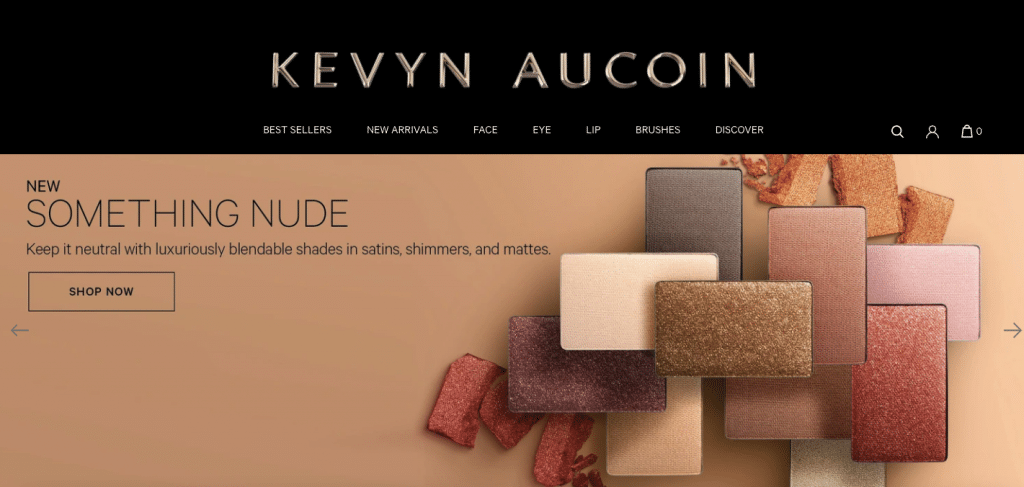 How about their Insta feed?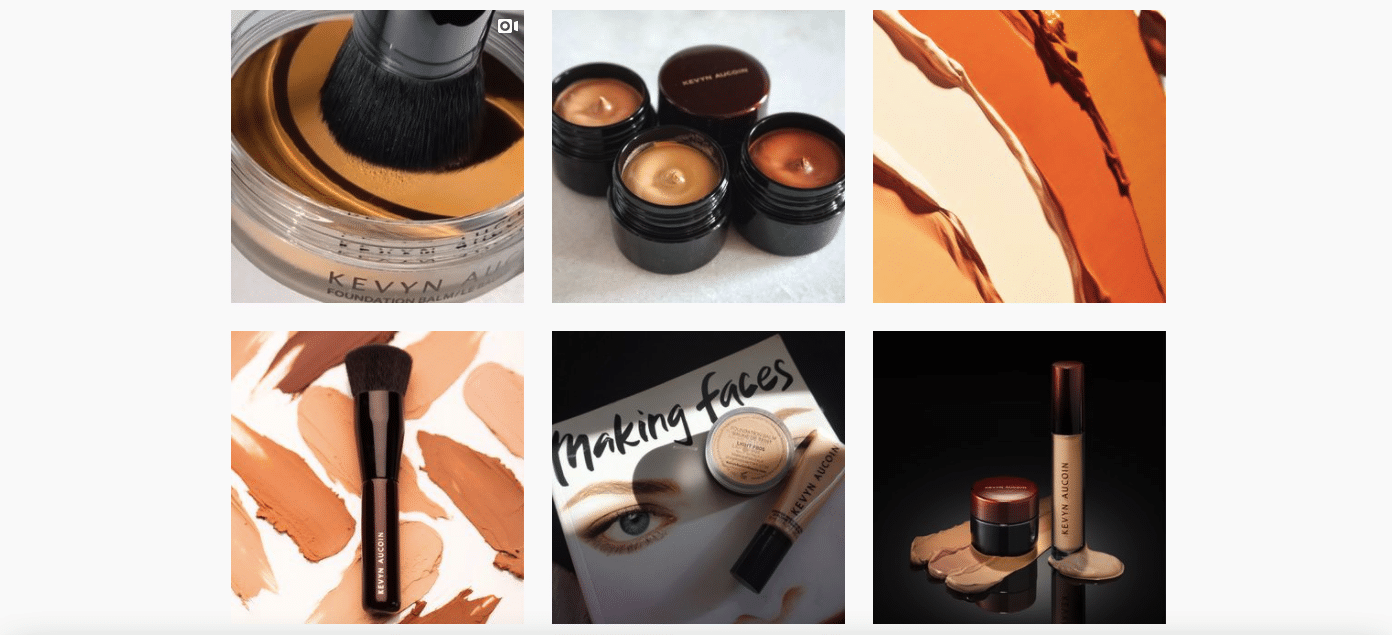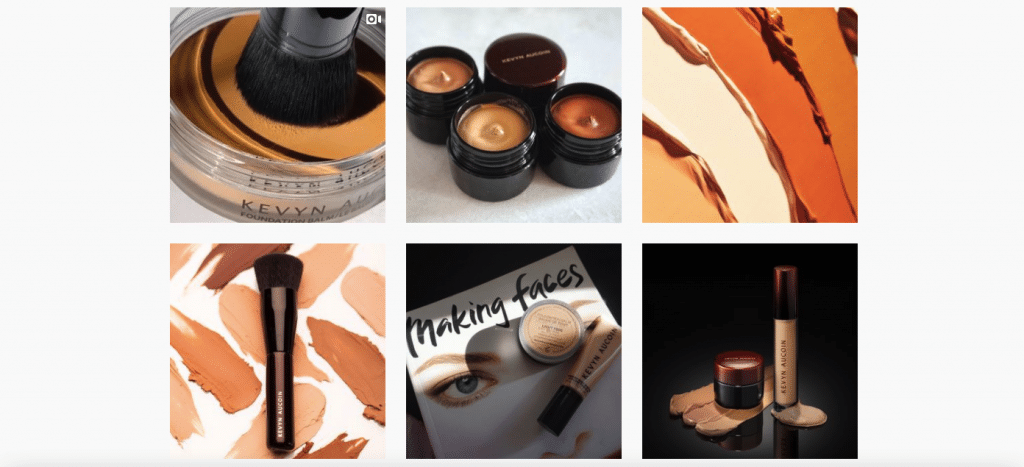 Their content is consistent across platforms. Of course, consistent content doesn't mean unchanging. It would be best to modify your tone to fit the platform's demographics while staying true to your brand's values. An act like this will create trust and authority between you and your audience and make your content easily recognizable and relatable.  After all, it's no secret that all of us beauty-brand-and-cosmetics connoisseurs can tell which post or email belongs to which brand with just a glance. At the end of the day, you really want this kind of visibility.
Connect
There is no beauty brand that doesn't connect with its prospects on social media. This is what you need to do as well. Connect with your prospects, engage with them, and open a real dialogue that will be inclusive and interesting. Your content strategy should be clear about involving social media posts that show how your brand can interact with its followers and prospects. That's the sheer power of social media that has turned the beauty industry into a real giant.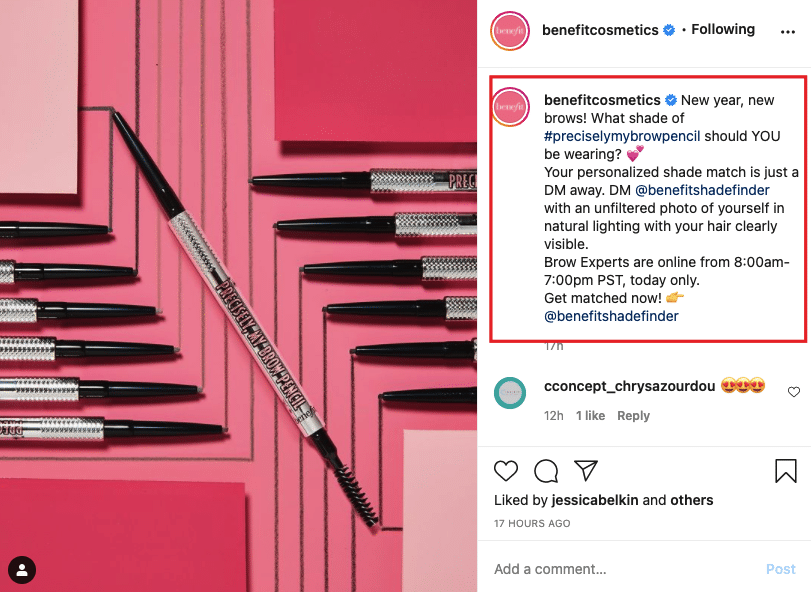 A TV spot could never do what the example above did. Interacting with your prospects on social media gives the brand a more friendly and relatable look and makes prospects think they're talking to a friend. Use that friendly disposition to your advantage.
Be One Step Ahead
Prospects today are more aware of how their actions impact society and the environment and how one can become an Instagram influencer and achieve growth by showing their true self when promoting products. This is mainly why social media platforms hold such power. People using them can speak up against (or in favor of)  anything, everything, and everyone, including brands and influencers. And this can influence the way they purchase things. An example of such action is the way that Rihanna markets her beauty brand, Fenty Beauty.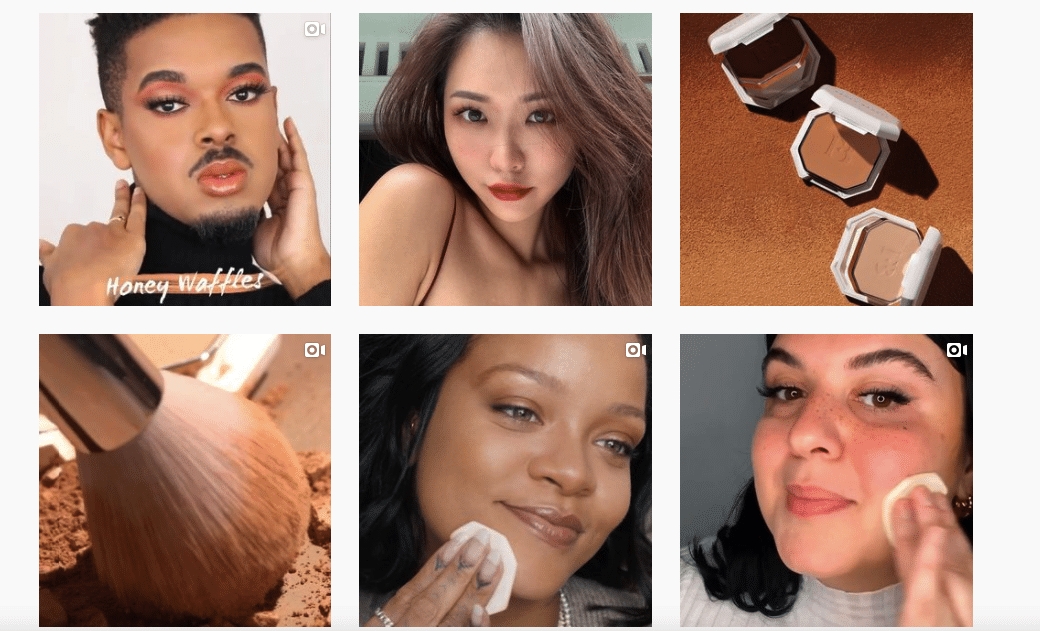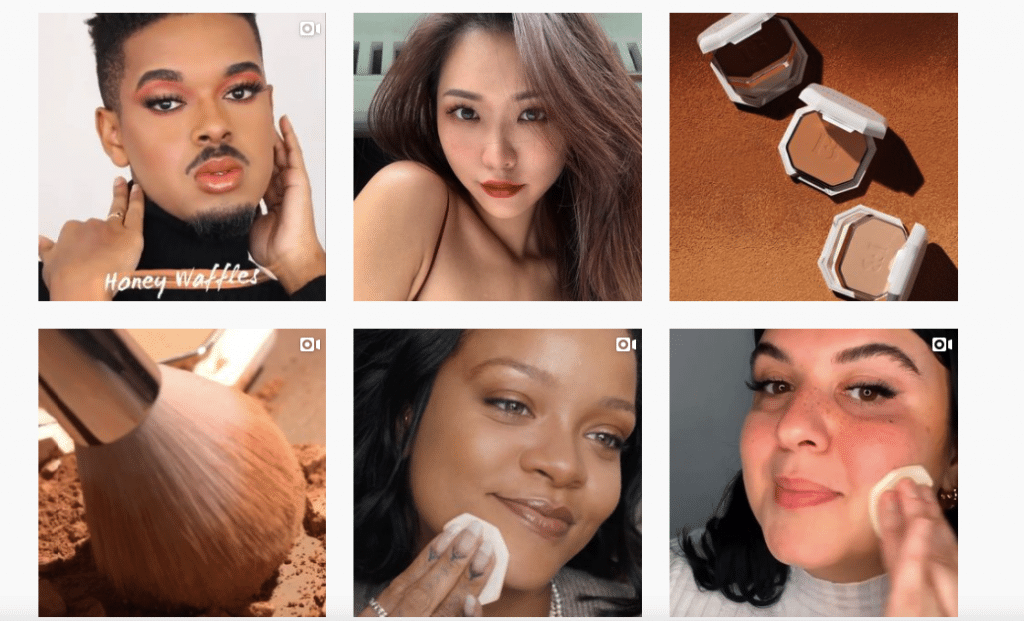 She uses herself as an influencer, as well as people of all sizes, genders, and races. This makes for an inclusive brand image that can guarantee Instagram growth, or any social media and digital growth, for that matter.
Another example is MAC: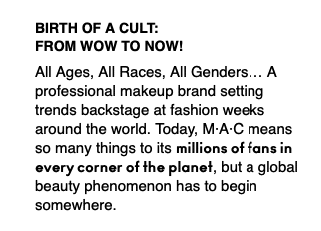 Using its brand's mission statement down to a tee, MAC decided to collaborate with Caitlyn Jenner as a brand ambassador, showing that its products are, indeed, accessible to all.
So, what can you steal from this? Being inclusive and having an eye for things that matter to your audience is what counts in 2021's social media marketing and beyond.
Perfect Use of Stories, Hashtags, and Loyalty
Platforms like Instagram and Twitter are almost impossible to navigate without hashtags. They make things much easier; a branded hashtag can team up all of your posts, while the right hashtag can tweak the algorithm a little bit and help you end up on the Discover page.
Facebook, on the other hand, lacks the same extensive hashtag use. However, using hashtags on Instagram that lead to your Facebook shop via engagement and product tags on stories is a real winner.
Creating branded hashtags for giveaways or creating hashtags for Instagram posts that aim to urge users to open a dialogue with your brand can help a brand's social media presence overall. Especially when people are "trained" to use those hashtags when referring to your brand. Similar to that is the social media stories feature that can go in a little deeper, as it can help engage your users further by allowing them to create content for you, also known as user-generated content (UGC).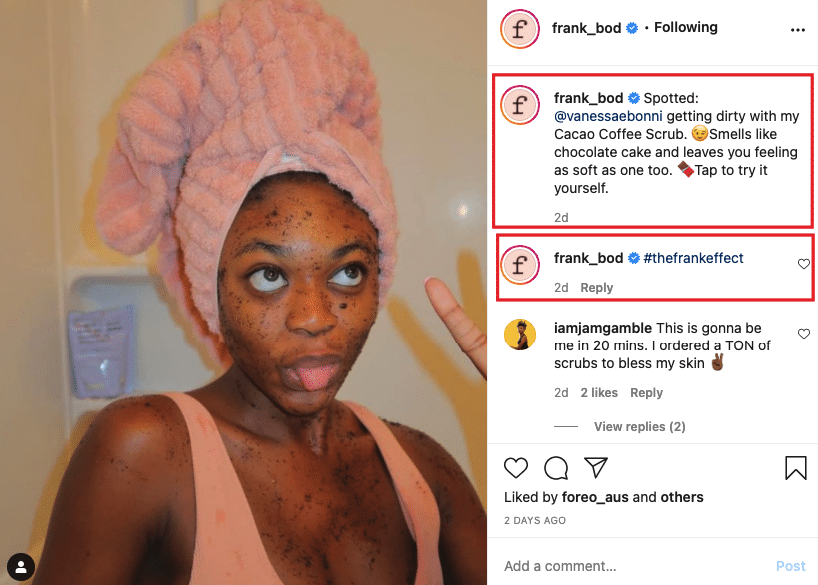 This is one of the best uses of hashtags and UGC. Their stories feature followers that use their branded hashtags, sneak peeks to new products and offers, even polls and questions.
The technique to steal from that is to use these features as much as possible. Stories engage better than almost anything else because their existence is based on fear of missing out, or FOMO. They disappear after 24 hours so, if the audience wants to interact with your brand and be in the know, it needs to be quick on its toes. 
Your audience will follow and engage with your content, making your brand unforgettable and boosting customer loyalty. Just make sure that your content is relevant. You can even break it down into parts that resonate with a popular trend or topic, a social justice issue, or something a chunk of your audience would resonate with. This tactic will give your brand a much-needed push and allow you to appeal to a broader audience as well.
The Takeaway
Beauty brands can use social media marketing like nobody's business, and the results are evident. By pinpointing your niche and your buyer personas, staying true to your brand's tone, and never forgetting today's societal issues, your brand can be as successful as a beauty brand and gain the same amount of exposure. And the same amount of revenue, of course.