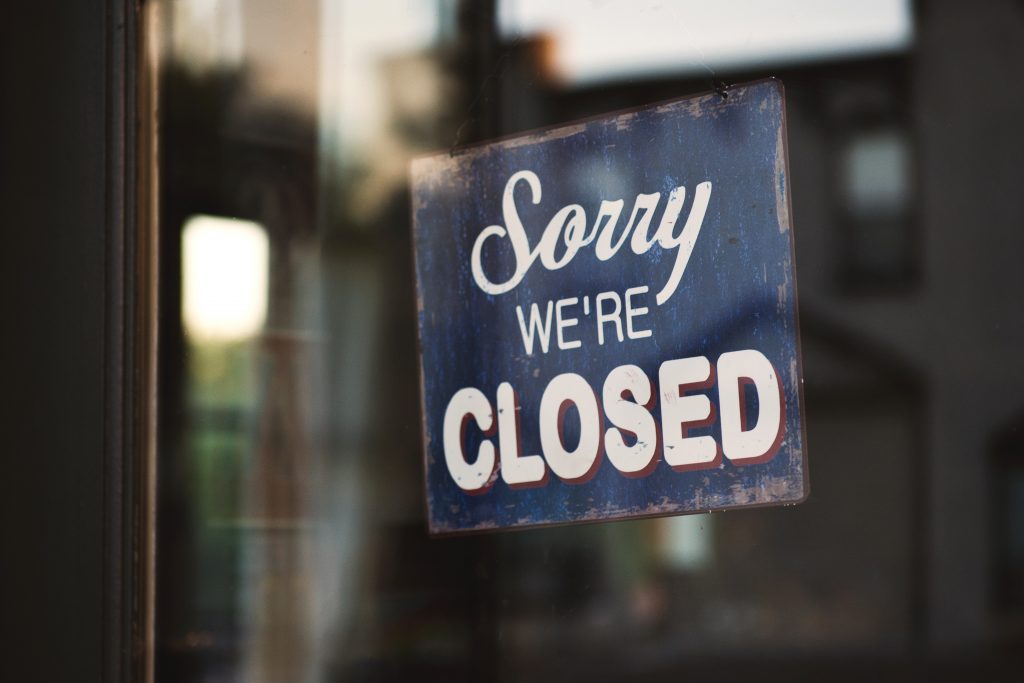 As days turn into a full month, business owners can't help but wonder if the COVID-19 closures will ever come to an end. Although Governor Newsom first planned to slowly reopen California sometime in May, that date has once again been moved to mid June.
When will these business closures come to an end? The future may be uncertain at the moment, but the governor does have a tentative timeline in place for reopening the economy, a plan vetted by medical epidemiologist and infectious disease expert Dr. Robert Kim-Farley. Here's what's in store for California in the coming months.
The Plan to Reopen California
Stay at Home Order: The stay-at-home order remains active today and will continue to remain active until the end of May or mid June. During this time only essential businesses — such as restaurants, factories, and grocery stores — will remain open.

Reopening of Lower Risk Workplaces: Lower-risk workplaces, such as retail with curbside pickup, modified schools, childcare centers, offices that require on-site workers, and some public spaces will be opened sometime in mid June through July.

Reopening of Higher Risk Workplaces: Personal care businesses, such as gyms, movie theaters, churches, and hair salons, and personal gatherings, such as weddings and church services, will be reopened in August or September. If not, sometime in the late summer or early fall.

Full Reopening: Other high-risk businesses, such as concerts, conventions, and sports events, will be reopened in the middle or latter part of 2021.
How Bad Are the COVID-19 Cases in California?
Although Californians are understandably frustrated by the stay-at-home order and the statewide shutdown of businesses, exercising caution while reopening the economy is needed in curbing the spread of COVID-19. From April 19 to 25, 11,777 new cases were recorded in California, says a report by the Los Angeles Times, bringing the total to 56,306 confirmed cases as of May 5. Total deaths reached 1,260.

What to Do in the Meantime
There are several measures you can take to protect your livelihood during the COVID-19 closures.

Apply for a disaster loan: The Small Business Administration Disaster Loan offers California businesses loans related to economic damage from the COVID-19 pandemic. Applications are open now. 

Apply for the Small Business Finance Loan: The Small Business Finance Center offers loans to small California businesses affected by the COVID-19 crisis. Qualified businesses must have 1 to 750 employees.

Avoid layoffs with the Rapid Response Program: The Rapid Response Program helps business owners discuss needs to prevent layoffs. The program provides guidance with unemployment benefits, Trade Adjustment Assistance Act benefits, COBRA benefits, and re-employment services.

See if you are eligible for non-traditional loans: You can work with the Los Angeles Economic Development Corporation to see if you can qualify for non-traditional loans.

Apply for the Upwork Grant: If you often hire Upwork freelancers for projects, you may be eligible to apply for the Upwork grant, awarded to businesses working on ways to mitigate the effects of COVID-19 on individuals and communities. Approved applicants can receive up to $25,000.

Sell and Advertise on Google for free: Google is allowing merchants to sell products on its Google Shopping page for free. It is also offering businesses that have advertised on its platform for a year free advertising.

Apply to Facebook's Small Business Grants Program: Facebook is giving each eligible small business a total of $4,000 in cash and ad credits (the latter optional). Applications close May 6, 2020 at 11:59 p.m., EDT.

Apply to the Paycheck Protection Program: The Paycheck Protection Program offers assistance to businesses looking to prevent layoffs. The program offers loans of up to $10 million, partial loan forgiveness, and payment deferment.

Advertise on Yelp for Free: If you own a nightlife or restaurant business, you can advertise on Yelp's platform for free.
Apply for Facebook's newsroom grant: Facebook is giving away a total of $100 million to local and international newsrooms that cover information about COVID-19.
By Anne Felicitas