May 24, 2017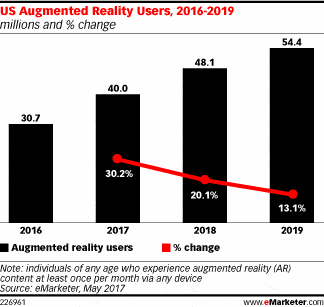 Augmented reality (AR) and virtual reality (VR) usage for 2017 is projected to span across 40 million users monthly in the U.S., according to recent eMarketer statistics. In particular, AR usage is at an all-time high, which is great news for Snapchat.
High #AR usage in the US is great news for @Snapchat. #digitaladvertising #lenses #geofilters
Click To Tweet
Snapchat, which offers geofilters and Lenses (AR technology), is a significant driver in increased AR usage, according to eMarketer analysts. Up 30.2% over last year's calculations, AR usage will continue to increase, reaching over 54 million users by 2019.
What Is AR Exactly?
Examples of AR technology include added stickers or animations to video (AKA, Snaps), such as the "taco head" lens Taco Bell offered to Snapchat users on Cinco de Mayo.
Although Snapchat currently dominates in AR offerings, eMarketer predicts that Facebook Stories will continue to grow as an AR platform over the next several years.
What about VR?
According to eMarketer, VR usage is not as populated in the U.S. Estimated numbers for monthly VR usage in 2017 is only at 22.4 million.
What Is VR Exactly?
By eMarketer's definition, VR consists of 360-degree videos or imagery through technology. For example, video games that use headsets to give users a 360-degree, realistic experience are considered a form of VR. Additionally, 360-degree Facebook and YouTube videos are categorized as "VR".
Why Is VR Not as Popular as AR?
It's a matter of expense, plain and simple. VR typically involves expensive technology to accomplish the advanced, real-world experience. AR, on the other hand, as through Snapchat lenses and geofilters, is free to the average user.
As far as advertising goes, AR is currently the marketing path to target over the next few years.
Comments
comments