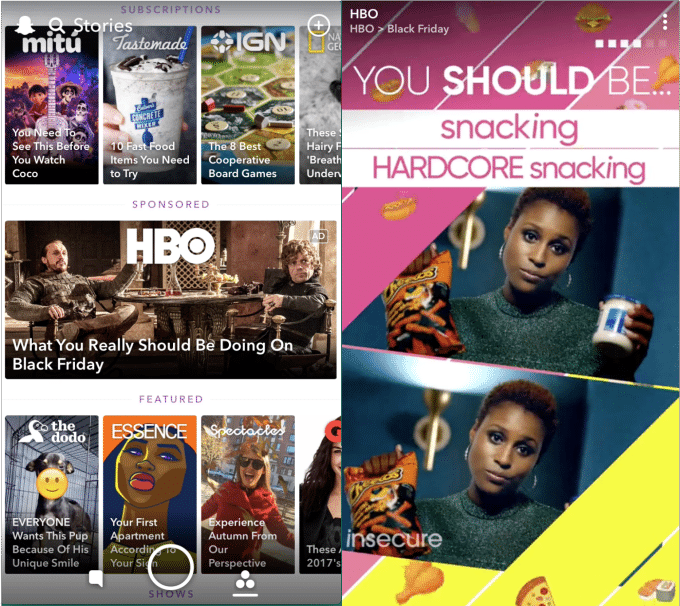 After a discouraging Q3 2017 earnings report, Snap bounced back with a recent rollout of two new ad formats, Promoted Stories and Augmented Reality Trial.
Promoted Stories
Promoted Stories ads, according to TechCrunch, consist of a series of three to ten Snaps that make up a slideshow-type format. These ads will either automatically progress into the next Snap or allow users to manually tap through them. Like all Snapchat ads, Promoted Stories ads come with analytics that include insights on impressions and conversions. Promoted Stories run for one day in a given country and have the potential to reach 88 million users.
Augmented Reality Trial
Augmented Reality Trial ads, or AR Trial ads, allow users to play with its AR features while also increasing awareness for an advertiser's brand. For instance, if advertisers want to promote a new car, they can use an AR Trial ad to let users place that digital car lense anywhere in their environment through their phones. Users can change the car's colors and walk around it as though the car is in the real world.
Promoted Stories and AR Trial ads, which can be swiped up to visit a brand's website, will likely keep users engaged with ads. These two new ads are solutions to users quickly skipping Snapchat ads to get to the next Story.
Snap has been diving deep into advertising options for brands as a way to boost its revenue this year, such as with the rollout of Snap Pixel, Context Cards, and Advanced Mode for Snapchat's Ad Manager. Hopefully, its efforts will not prove fruitless.
Comments
comments