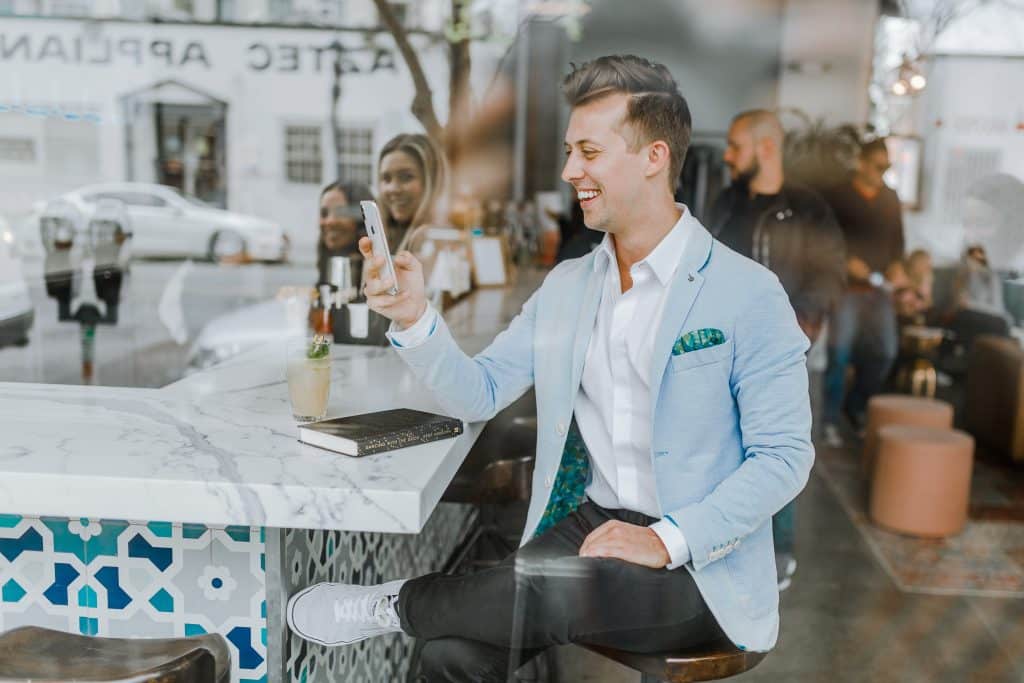 Austin Diste / Unsplash
The days when most people discovered local businesses around their neighborhood only offline are long gone. Today, potential local customers do online research before visiting your local business. According to the Local Consumer Review Survey, 93% of people use the internet to find local businesses and 87% of consumers read online reviews. 
Since modern customers spend a considerable amount of time on social media, these channels have become important in local business discovery as it's convenient for consumers to use them. The Instagram community has reached one billion monthly active users which means your local customers are most likely to be on the platform. 
Simply put, your local business should have an Instagram presence to reach your target audience and turn them into customers.
Why Use Instagram for Local Business Promotion?
If you're thinking about creating a social media marketing strategy for your local business, it's time to focus on Instagram marketing, as it has a variety of benefits for businesses operating in a specific area:
Increase brand awareness:

Instagram is a global network with one billion monthly active users, which means practically every local business can find its audience on the platform. As a result, it helps promote your company and get more customers.

Reach your local customers:

According to

Instagram

, 90% of users follow at least one business in-app, which means people are interested in brand communication on the platform. When it comes to local businesses, your potential customers are also happy to discover your brand and therefore having an Instagram presence helps reach a wider audience of local customers.

Support local businesses during COVID19:

Instagram takes care of businesses who use this platform, so it has introduced features like the "support small business" sticker and gift e-cards that support local businesses during uncertain times and turn their followers into supporters.
Now that you know the importance of Instagram for local businesses, here are nine Instagram marketing hacks that help to reach your target audience and turn them into customers:
Talk About Your Local Business in the Bio Section
The average attention span is eight seconds, so you don't have much time to hook your target audience and spark their interest in your brand. Since the Instagram bio is the first thing people see when visiting your account, it's important to talk about your business. To make the most out of your bio section, switch to an Instagram business account. It unlocks business-specific features, like categories and CTA buttons, so you can provide visitors with detailed information about your local business, just like in the example below: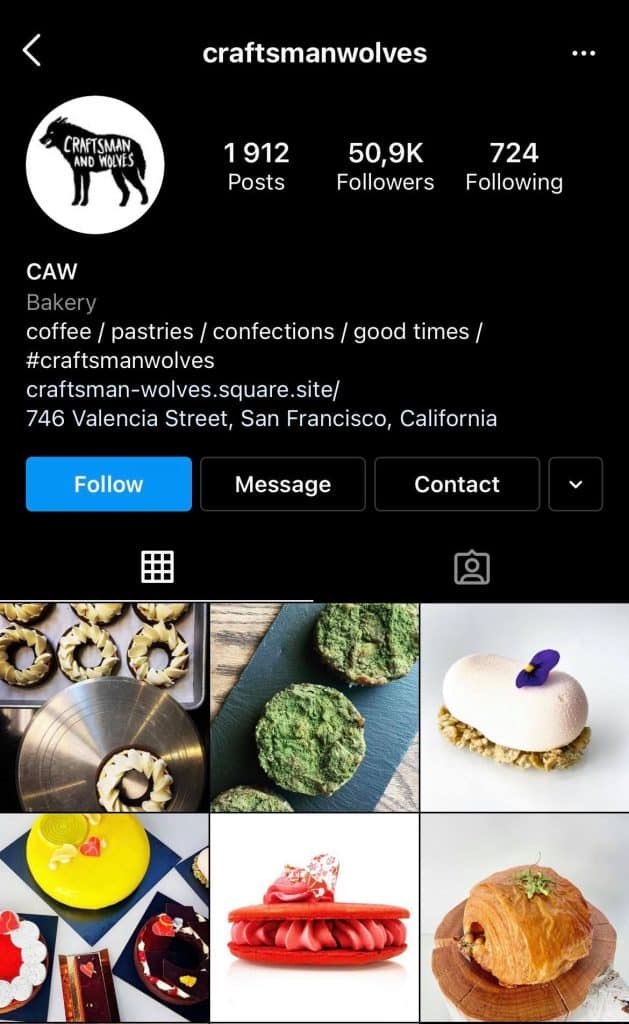 Val Razo / AdvertiseMint
Here's how to talk about your local business in the bio section:
Choose a relevant category (cafe, bakery, hotel, bookstore, etc.)

Describe your business in 150 characters

Use a branded hashtag

Insert a website link for

more website traffic

Include relevant contact buttons 

Add location to your Instagram bio
Use Story Highlights to Showcase Services
The best way to reach your target audience and tell potential customers about your local business is to interact with engaged users. Thus, consider creating Instagram Stories. Being limited to 24 hours in its lifespan, Instagram Stories creates a sense of urgency that encourages people to watch. In fact, 500 million use Instagram Stories daily. 
If you want to save your best Stories and help people find out more about your business without spending much time, lay a bet on Instagram Story Highlights, a folder section of stories that appear below your bio section. Here's how one hair salon uses Instagram Story Highlights to provide visitors with more information about its services. Voodou has separate folders for client selfies, reviews, info on opening hours, and products.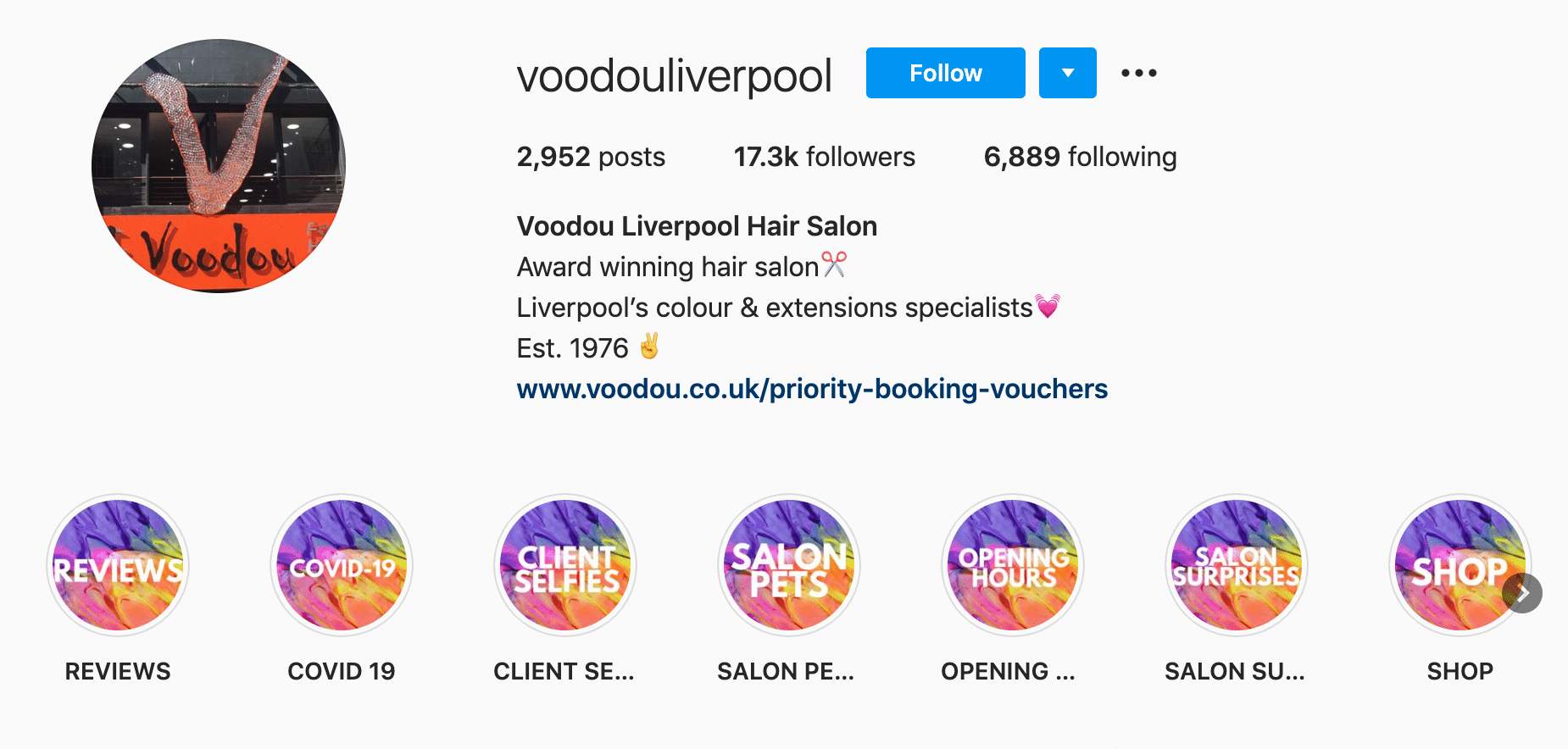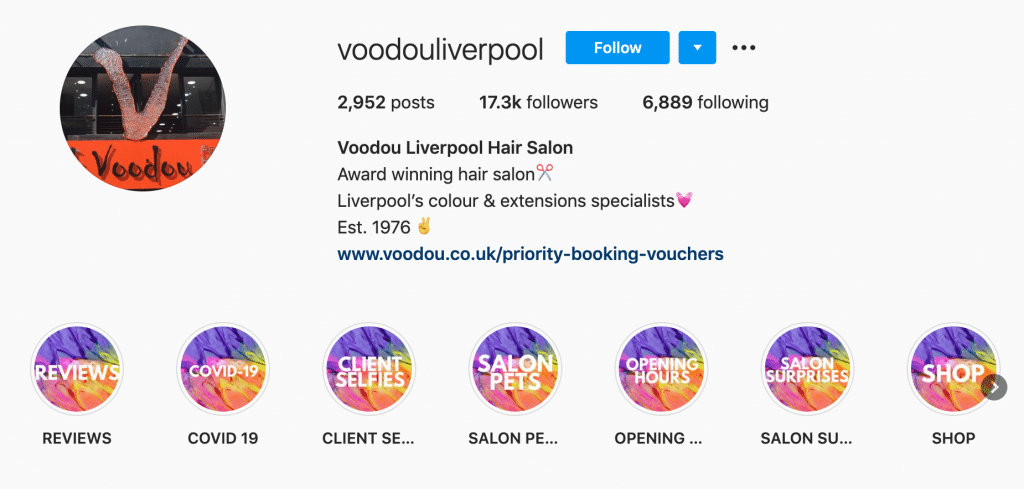 Val Razo / AdvertiseMint
To create similar eye-catching Story Highlight covers for your folders, use a photo editing tool like InstaSize (iOS) as it allows you to make covers that fit your brand identity without putting much time and effort.
Optimize Instagram Posts for Local Search
Instagram is an international social media platform, which means people from all over the world use it daily. To make sure your posts reach the right target audience who lives close to your location, it's important to optimize posts for local search. Here are the main features for local search optimization:
Geotags in posts and Stories

Geo hashtags (#Chicago, #USA, #Brooklyn, etc.)

Tagged geofilter

for Stories
Plus, when it comes to promoting your local business on Instagram, it's highly important to publish posts when your target audience is active on the platform and interested in learning more about local businesses in the neighborhood. To make sure your posts go live at the right time and therefore reach your local community, not only should you know the best time for posting, but you should also consider using one of the best time-saving tips and schedule your posts in advance with social media tools.
Feature Your Happy Customers 
Local customers pay close attention to reviews. If your local business has many satisfied customers, it's more likely word-of-mouth marketing will bring more visitors to your business. When it comes to Instagram, one of the best ways to show that your customers are satisfied with your business is to share their happy photos on your profile. Not only does it help people feel valued, but it also shows other potential customers that other people choose your business, which means it's worth giving a try.
To encourage more customers to take photos of themselves in your location, check out small business loyalty program ideas and implement the best one that turns your customers into brand advocates. For example, a coffee shop can give a free cup of coffee in exchange for sharing a photo in your location with a tag.
Spread the Word about Your Branded Merch
With a sense of belonging, when people want to be a part of something important, branded merch is one of the best ways to support your company and help your customers be a part of your business. What is more, branded merch is a great way to promote your company and earn more money.
As specified in the Sellfy's guide to custom merch, wearing your own merch in your Instagram photos or videos is one of the most appealing strategies that give people a sneak peek of the cool designs while parking interest in your products. What is more, this strategy sets an example for your customers who can also take photos of themselves wearing your merch and therefore spread the word about your business among their followers. Check out an example below: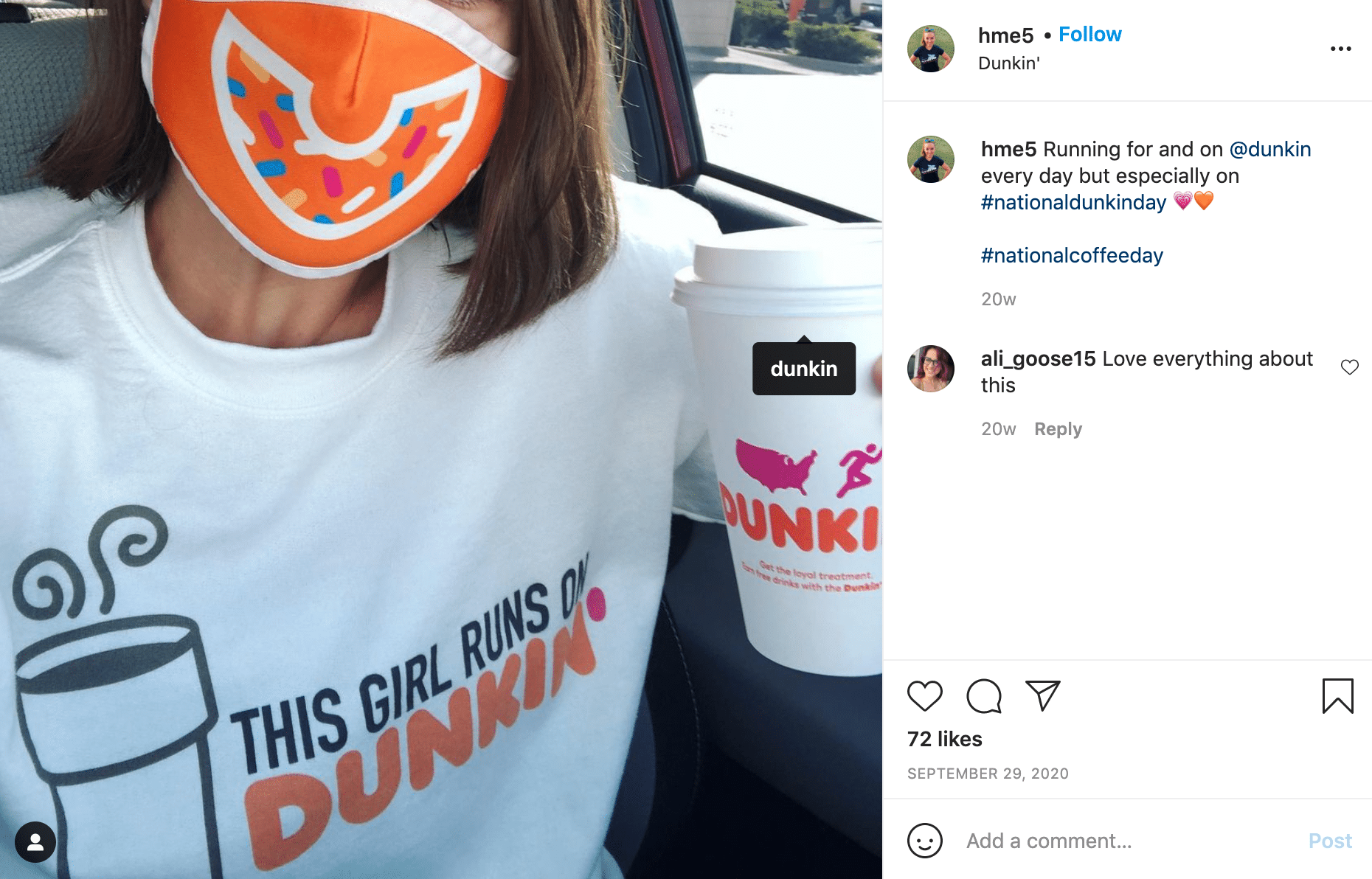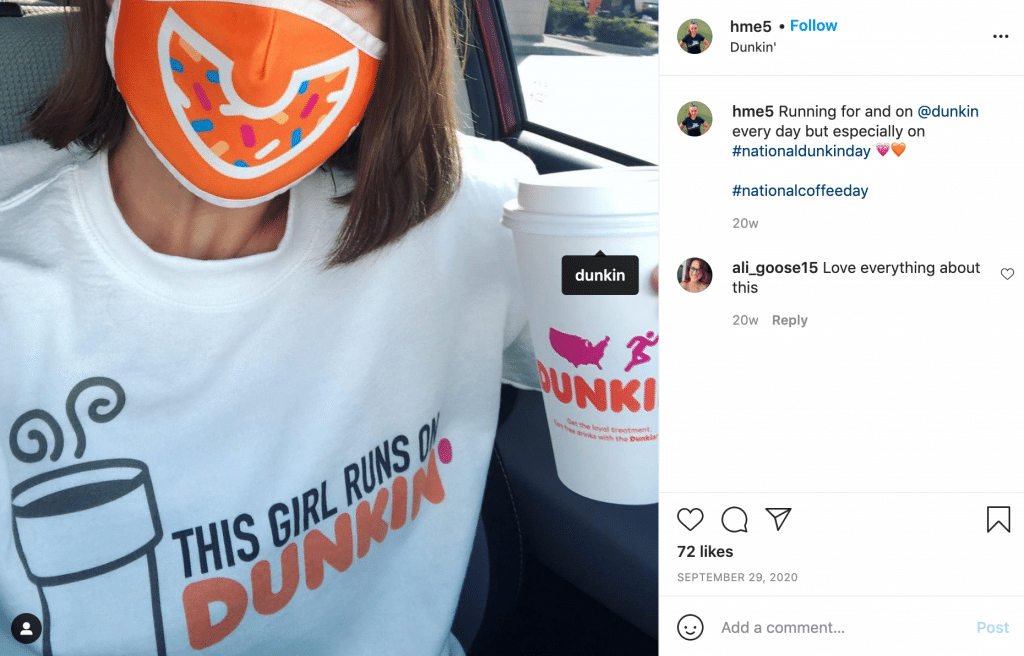 Turn to Local Influencers for Endorsements
Living in the era of influencers, when people trust the recommendations of leaders as much as their real-world friends, influencer endorsements have become one of the most effective forms of advertising. As a local business, it's a good idea to team up with influencers whose followers are more likely to live within your specific area and therefore might be interested in your company. Moreover, it helps reach a wider audience without spending much time or effort. 
Here are the top three types of Instagram influencers and how to collaborate with them:
Nano-influencers

(up to 1k followers): These influencers have personal connections with most of their followers, so their recommendations sound trustworthy. What is more, nano-influencers are more likely to do product endorsements in exchange for branded freebies or free goods.

Micro-influencers

(1-10k followers): These influencers have a small yet loyal following, which will help them attract more local customers to your business. Thus, it can be a good idea to invite them to visit your store and do a review.

Macro-influencers

(less than 10k followers on Instagram): They may have access to website linking on Instagram Stories, which means you can ask influencers to talk about your business in Stories and add a link to your website. It can result in

more traffic to your local business

.
Give Away Gift Cards or Coupons
Instagram giveaways have great potential for businesses. According to one research, accounts that do Instagram giveaways grow 70% faster, and these posts generate 3.5 times more likes and 64 times more comments, which means higher engagement rates.
If you want to promote your Instagram account with giveaways, that's great. But if you want to turn your participants into local customers, think about prizes you give away. For local businesses, it can be a smart idea to give away gift cards or coupons so that only people who live or work within your location will be interested in participation. Here's an example of this strategy in action: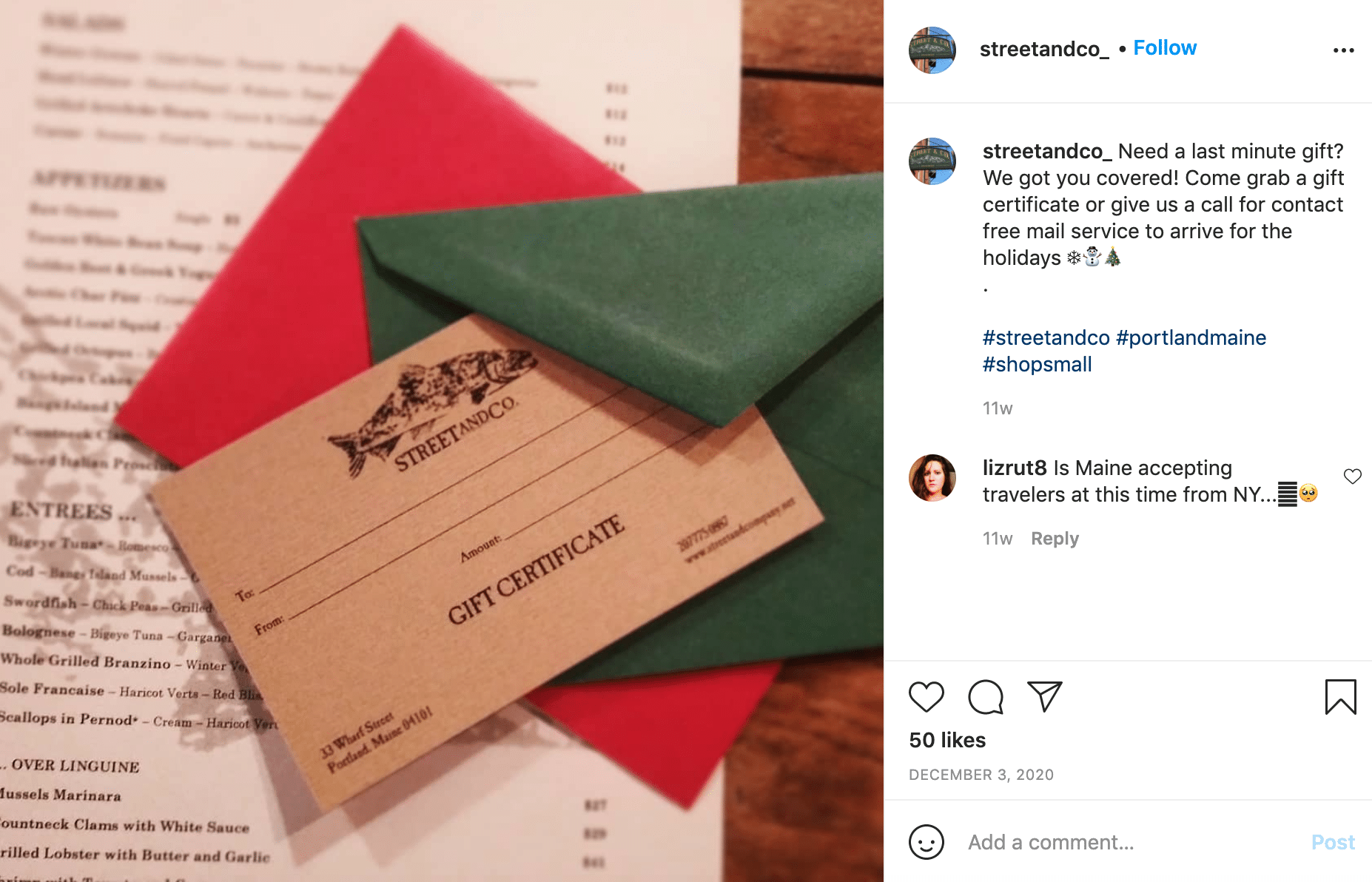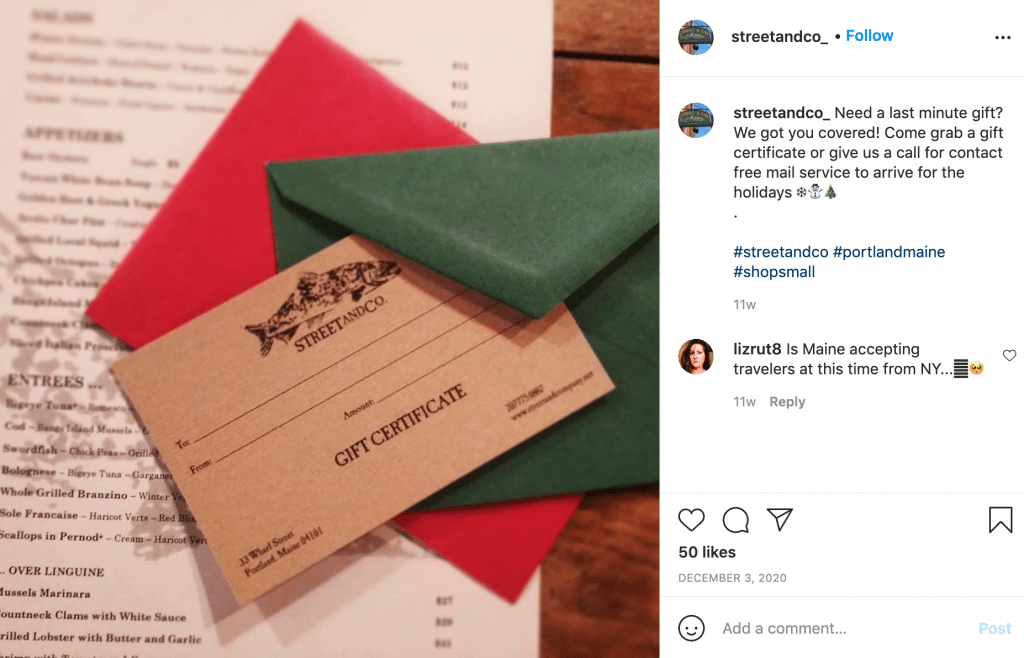 By giving away gift certificates, not only do you attract the right audience, but you also give your participants freedom of choice, which can positively affect customer appreciation and therefore turn your participants into brand advocates.
Go Live to Show Local Events
Live stream is a powerful marketing tool these days. Being available for a short period of time, live stream encourages users to join your session, as people are afraid of missing out on something important. Live stream is just another great way to show your local business in real-time and therefore attract more customers. To engage your community, ask your marketing team to make up several topic ideas for live sessions: Show your events, take users behind the scenes, show your workday, etc. 
When you know what your customers are interested in, you can create a live session that encourages more people to join it, which means business promotion for your local business.
Reach Your Customers with Ads
One of the easiest and fastest ways to reach customers on Instagram is to create eye-catching Instagram ads, especially since you can set up Instagram advertising and target people based in specific locations and demographics.
Let's take a look at TreatWell, for example. The company ran Instagram ads to spread the word about its services and encourages viewers to book beauty appointments online. The campaign resulted in 19% more bookings than its goal.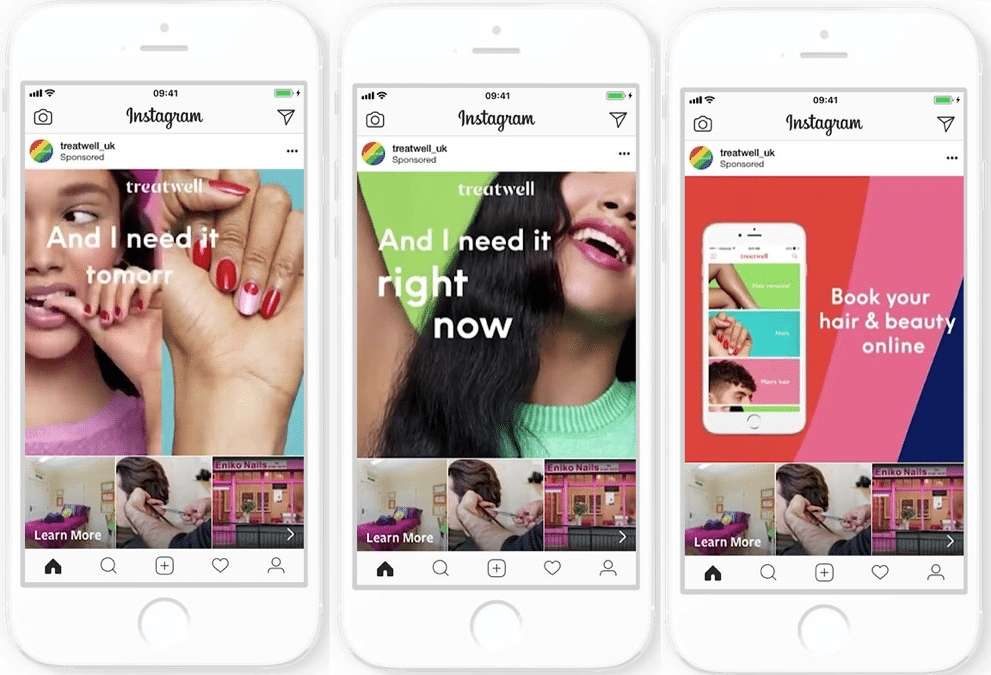 If you have a loyal customer base, that's great. This means you can also create push ads and turn your customers into Instagram followers who can also share your company's news with their friends and family. 
The Bottom Line
Modern customers turn to social media channels to discover new local businesses. Since the number of Instagram monthly active users is predicted to grow, having an Instagram presence isn't optional for local brands anymore – it's necessary.
For local businesses, Instagram gives an opportunity to reach more customers who are interested in businesses in a specific area, no matter where your business is situated. Thus, check out the above-mentioned Instagram marketing hacks and jump on the bandwagon to find your customers online with ease.
By Val Razo